Credit markets have remained largely range-bound. The 10-year Treasury yield, trapped between the opposing forces of a weak economy and massive inflationary measures by the government, has fluctuated within a relatively narrow range of 3.75% to 4.25% since the beginning of May.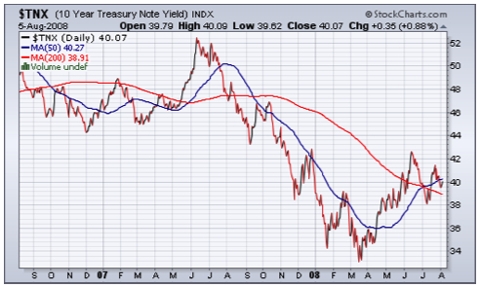 Treasuries may remain range-bound while economic weakness persists, but our assumption is that the longer-term trend is in the direction of higher yields. Given the inflation backdrop, Treasuries offer very little value at present yield levels, and supply/demand fundamentals are deteriorating due to rising federal budget deficits and liabilities.
• The 9.8% yield available from the SPDR Lehman High Yield ETF (NYSEARCA:JNK) is attractive on a relative basis, but conservative investors seeking income may want to wait to see if higher yields develop as defaults rise. Historically, absolute yields in excess of 10% have been an effective threshold for the high yield asset class to be considered attractively valued and for investors to be adequately compensated for the risk inherent in junk bonds.
• Investors willing to attempt a little bargain hunting in the financial sector may be interested in the PowerShares Financial Preferred ETF (NYSEARCA:PGF), which holds a portfolio of 42 preferred stocks issued by large financial firms (for fund details, see bottom table). The top holdings in the fund are preferred stocks issued by ING, Metlife, HSBC, Royal Bank of Scotland and Credit Suisse. The attraction of the fund is its 8% current dividend yield, 100% of which qualifies for the 15% rate on stock dividends.
Click to enlarge tables: