Western Asset Management has recently gotten into the Mortgage Real Estate Investment Trust game with the launch of Western Asset Mortgage Capital Corporation (NYSE:WMC) on May 15th. WMC pays a quarterly dividend of $.85/share (15.3% annualized dividend yield) and 17% of the May IPO was collectively purchased by Pine River Capital and the Southern California Edison Company (Employee) Retirement Plan Trust. WMC paid a Q2 2012 dividend of $.38 per share for the partial quarter period that it operated in. WMC's partial quarter dividend of $.38/share represented an estimated $.76/share quarterly dividend distribution assuming it paid the same level of dividends throughout the quarter and the $.85/share dividend represents a nearly 12% increase relative to the previous quarter's estimated quarterly dividend distribution of $.76/share. WMC also priced a secondary offering of stock as Q3 2012 ended.
We remembered Western Asset Management as one of the big three fixed income investment management boutiques behind PIMCO and BlackRock. WAM was founded in 1971 as a subsidiary of United California Bank and acquired by Legg Mason (NYSE:LM) in 1986. WAM's growth was bolstered by the acquisition of Lehman's London-based asset management operations in 1996, the Singapore-based Rothschilds Asset Management in 2003 and Citigroup Asset Management's fixed income asset management operations in 2005. Until 2008, WAM had an almost impeccable reputation with regards to fixed income investment management. When the financial crisis was at its worst points in 2008, the performance of WAM's mutual funds and separate accounts were putting up subpar performance against its competitors. According to Morningstar, nearly all of its bond funds put up performance that ranked within the bottom 10%-35% with regards to the applicable fixed income peer groups. WAM has recovered from this low and its funds have earned a weighted average Morningstar Star Rating of 4.1 for its taxable bond funds as of Q3 2012.
Western Asset Mortgage released its Q2 2012 EPS report on August 14th for the 47 days it was in operation during the period. The company generated $.41/share and paid a $.38/share dividend for the period. Core Earnings for WMC was $.47/share and the difference between GAAP EPS and Core Earnings was due to $5.3M worth of derivative losses which was mostly offset by $4.44M in net realized and unrealized gains from MBS securities held by the portfolio. During the quarter, WMC received over $204M in equity capital from its IPO and entered into repurchase agreements with nine counterparties to provide in excess of $1.9B in available financing. The company utilized $1.74B of those repurchase agreements to end the quarter with an 8.3X leverage ratio.
When analyzing any company but especially mREITs, we believe it is of the utmost importance to compare our focus company against blue chip competition as well as similarly sized competitive peers. We will compare WMC against the industry's two biggest firms by size, which are Annaly Capital Management (NYSE:NLY) and American Capital Agency (NASDAQ:AGNC). While WMC only had $2.06B in assets as of Q2 2012 versus the $85B at AGNC and $128B for NLY, it is managed by Western Asset Management and WAM is no shrinking violet in terms of fixed income management. Western Asset Management manages $443B as of last year ($446B as of Q2 2012), including $61.5B in mortgage assets. With regards to WMC's mortgage assets, $37.6 billion was invested in Agency RMBS, $13.8 billion in non-agency RMBS, $2.4 billion in CMBS, and $7.7 billion in ABS.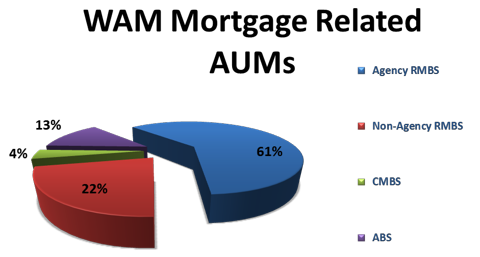 (Click to enlarge) Source: Western Asset Mortgage Capital
Western Asset Mortgage also recently priced a 12M secondary share issuance at $22.20 just before the end of Q3 2012. All three mREITs utilize 100% agency guaranteed MBS paper in the investment portfolios of the firms. WMC's weighted-average annualized net interest spread was 2.45%, which compares favorably to the 1.65% at AGNC and the 1.59% at Annaly. WMC's portfolio is invested 80% in call protected 30 year fixed rate agency guaranteed MBS, 11.5% in call protected 30 year fixed rate agency guaranteed MBS and 8.5% in Agency CMOs.
Source: Most Recent Quarterly Reports for WMC, AGNC and NLY
WMC did not release a CPR rate during the quarter but based on the fact that it received $8M in principal payment proceeds on its $1.9B in the partial quarter, we estimate that its total annualized repayment rate was an estimated 3.34% for the quarter. This impromptu repayment rate took into account all principal payments regardless of whether such payments were scheduled principal payments or unscheduled principal prepayments. This compared favorably with AGNC's 10% Q2 2012 CPR Rate and Annaly's 19% Q2 2012 CPR Rate. AMTGE's estimated premium to book value of 11% is lower than AGNC's 16.44% but higher than the premium to book values of Annaly and Armour, which have premiums to book value of less than 4%.
Source: Most Recent Quarterly Reports for WMC, AGNC and NLY
In conclusion, Western Asset Mortgage Capital is a solid new entrant in the mREIT industry. We were especially interested in the company because we were impressed with its 15.3% annualized yield based on its first full quarter per share dividend distribution. While we are not expecting much in the way of future dividend increases, we like that the company sports a 15.3% dividend yield, which is slightly higher than the 14.45% at American Capital Agency and the 11.88% at Annaly. We also like that all of its gains and losses flow through the income statement so we don't have to reconcile between net income and comprehensive income and we like that WMC's premium to book value is at a much lower level than AGNC and even Annaly.

(Click to enlarge)
Sources: WMC's Q2 Earnings Release, Dividend Notice, Secondary Notice and Our Estimates
Disclosure: I have no positions in any stocks mentioned, and no plans to initiate any positions within the next 72 hours. I wrote this article myself, and it expresses my own opinions. I am not receiving compensation for it (other than from Seeking Alpha). I have no business relationship with any company whose stock is mentioned in this article.