Commodity Chart Of The Day
Daily RBOB
(click image to enlarge)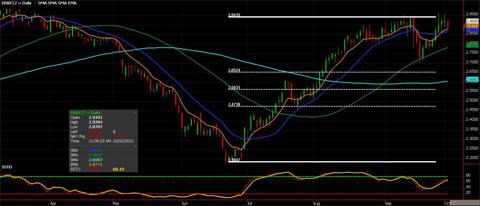 In the last two weeks, RBOB has traded back near its contract highs, gaining 7% and lifting prices within spitting distance of $3/gallon on the November contract. I'm operating under the influence that the same level that rejected higher trade three weeks ago and in the early part of 2012 will prevent much higher pricing.
As one can see, even in the last few days, the bulls could not hold onto gains. First, we must see a trade back under the 8 day MA, identified by the orange line. I do think we can garner some momentum, especially if oil backs off as forecast. The green line that prices bounced off of two weeks ago is the 50 day MA, which has supported since early July. A close under $2.70 should open up a further retracement that would likely result in a trade closer to $2.50 by year-end. Being this is the November contract, if prices do retreat and traders want to capitalize, they will need to roll to forward contracts.
Because RBOB is so volatile, I generally trade this market with some sort of options spread.
Risk Disclaimer: The opinions contained herein are for general information only and not tailored to any specific investor's needs or investment goals. Any opinions expressed in this article are as of the date indicated. Trading futures, options, and Forex involves substantial risk of loss and is not suitable for all investors. Past performance is not necessarily indicative of future results.
Disclosure: I have no positions in any stocks mentioned, and no plans to initiate any positions within the next 72 hours. I wrote this article myself, and it expresses my own opinions. I am not receiving compensation for it. I have no business relationship with any company whose stock is mentioned in this article.