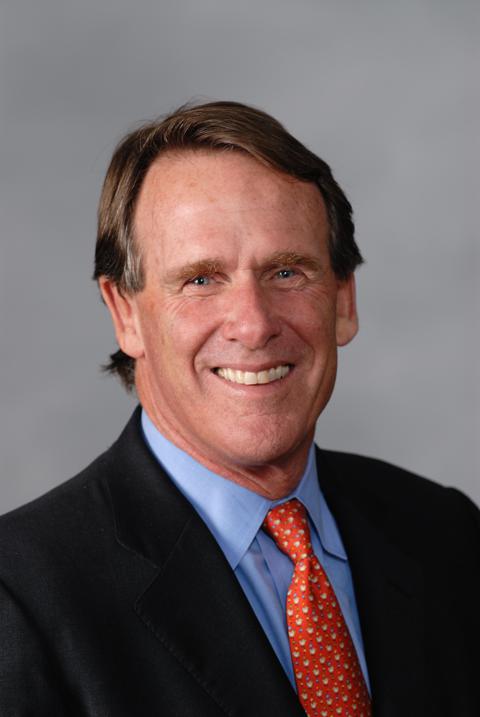 F. Philip Handy is CEO of Strategic Industries, a portfolio of companies in diversified service and manufacturing businesses. He also is on the board of directors of wire and cable distributor Anixter International, building materials systems provider Owens Corning, and others. Previously, among other positions, he was vice president of Donaldson, Lufkin and Jenrette and CEO of multiple bank holding company Combanks and was CEO and chairman of Chart House Restaurant Group and Rewards Networks.
Harlan Levy: What's your take on the U.S. economy in light of last week's poor U.S. economic data - not to mention the unabated European sovereign debt crisis, with mass demonstrations in Spain and Greece over austerity, and weakness in China and India?
Phil Handy: There's a great deal of uncertainty in the environment. American corporations have plenty of cash in general, but they're waiting to spend it when the environment becomes much clearer. The election has a lot to do with it. Sequestration at the end of the year (Congress' automatic year-end $1.2 trillion in spending cuts from defense and all social safety net programs as well as expiration of the Bush tax cuts) has a lot to do with it. Europe has a lot to do with it.
It's not as bad as 2008 and 2009, but it's characterized by uncertainty, which is not good for investments. So as long as American businesses aren't investing and there's a slowdown in China, and until we get some clarity after the election, and we deal with sequestration at the end of the year, there won't be clear visibility for American businesses to make some investment decisions. That's not good for the economy.
H.L.: Do you see the economy stumbling along through the end of the year?
P.H.: At best.
H.L.: What's your prediction for the U.S. economy next year?
P.H.: We're doing budgets for all of our companies, and we're looking at 1 or 2 percent growth. I see nothing to change that.
If housing starts grow up a little bit next year to 750,000 or 800,000, including multi-family, it should give a little bit more robustness to the housing market, but that's a pretty anemic number, and it's still a long way from the 1.7 million in '07 '08 before we went into recession. And there are still a lot of unemployed construction workers.
H.L.: What are the strong areas of the economy?
P.H.: Technology. We still lead the world in tech. Read the Wall Street Journal about tech start-ups and venture capital ideas. Tech is still an extremely robust part of the economy, which is reflected in San Francisco real estate values and elsewhere where that's strong. It's hard to see any other parts of the U.S. economy that are very robust and exceed the 1 to 2 percent GDP growth.
H.L.: What are the weak areas?
P.H.: Well, capital spending is down. Discretionary capital expenditures are clearly on hold in my judgment. I think the governmental sector, the implosion of regulations - the Dodd-Frank Act - is probably creating the biggest negative impact on American corporations in governance in things like lending money for mortgages, which has a thousand new regulations and 980 pages of Dodd-Frank. That's a real impediment to the American economy.
H.L.: Should banks and investment banks be separated?
P.H.: I always thought the Glass-Steagall Act was not very effective. I think the balance sheets are much more important than what businesses they're in. As long as they're leveraged 20 or 30 to 1 I think you've got some real risk. I've been the CEO of some pure banks, and I promise you they take as much risk as an investment bank does when you have a highly leveraged balance sheet and not much margin for error even in the banking business.
I don't view the elimination of Glass-Steagall as adding that much risk to the situation.
H.L.: What should be done to tamp down on excessive risk?
P.H.: The only thing -- which I'm not suggesting -- is put some mandates on leverage, which is the essence of the risk. But I think government regulation of leverage would be extraordinarily unfortunate. We should honor the historic commitments to shareholders and bondholders, as opposed to the GM bankruptcy situation, where the government basically ran roughshod over legal rights when it reorganized the company. They didn't honor the traditional rights bondholders thought they had when they bought the bonds. The government basically created new rules which should not have been allowed. Anyway, I just don't think the federal government should be passing regulations on the banking industry at this point.
H.L.: The stock market seems to ignore bad news and rally in fits and starts. Will that continue, or is a correction ahead?
P.H.: The stock market is trading at pretty low multiples as it is, which reflect the levels of uncertainty. It started from a low base and is higher, but it is taking into consideration the 1 or 2 percent of GDP growth and has pretty anemic multiples as a consequence. I don't see a big rally or big downward draft or risk in the stock market.
The election will probably weigh on that, but you'd have to say the Obama lead in the polls is probably reflected in the market.
H.L.: Do you think the deadlocked stand-off between Republicans and Democrats in Congress over ways to avoid the fiscal cliff will continue so that we go over the cliff? If so, how bad would it be?
P.H.: It's not clear to me what's good for the country. Sequestration - across-the-board cuts in every single area - is short-term disastrous for the economy, but maybe it will bring us to reality more quickly than if we didn't get there. Pushing forward the debt ceiling and pushing forward the entitlements without regard to what the long-term cost is I personally believe is very bad policy.
Sequestration would be short-term bad, and maybe it would be long-term good.
H.L.: Should the Bush tax cuts be extended for the rich and the rest of us?
P.H.: Raising taxes at this point in time would be the worst thing for the economy imaginable. It's a large part of the uncertainty that's having an impact on the macro-economic situation. I think the tax cuts would be highly beneficial to job growth and to investment, which leads to job growth.
H.L.: Don't you think it would lower revenues and greatly inflate the deficit?
P.H.: No. Hardly. I think we can take a lesson from Reagan tax cuts and do just the opposite.
Disclosure: I am long AAPL. I wrote this article myself, and it expresses my own opinions. I am not receiving compensation for it (other than from Seeking Alpha). I have no business relationship with any company whose stock is mentioned in this article.