A 94% YoY decline for the first half of 2012 in the earnings of BYD Company Limited (OTCPK:BYDDY), a Chinese manufacturer of electric automobiles, mobile phone batteries and solar panels, came as a shock to investors. The company became renowned worldwide after Warren Buffett bought almost 10% of the company's stock back in 2008 for $230 million. The company's stock has lost almost half its price since the earnings release on August 28 this year. The fall in the stock has also been criticized by Buffett's followers, who think that Buffett should have anticipated the decline well before the earnings release.
Buffett's investment multiplied to $1.2 billion in 2010, but since then, it has been falling, and is now worth only $416 million. Buffett can make a gain of 80% on his initial investment if he decides to sell his holding. However, this is the last thing that BYD will want.
The target price for the stock has already been slashed by 97% of the current price to 41 cents (in Hong Kong Dollars) by CLSA, a Hong Kong investment company. CLSA believes that:
"The company is likely to deteriorate further due to declining business in mobile phone components, rechargeable batteries, and new energy."
BYD Highlights First Half 2012
The company makes its revenues in the following manner: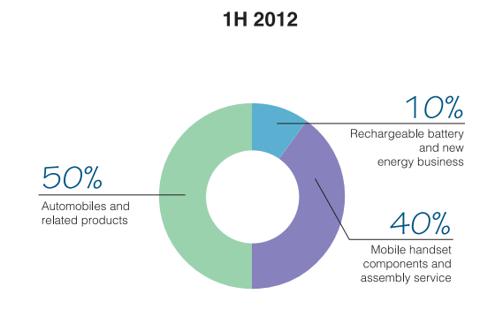 Source: Half Yearly Report
The turnover declined by 0.39% YoY. The gross profit declined by almost 12%. It all translated into a 94% decline in net profits and a 92% decline in EPS reported for the first half of the year.
BYD operates in three segments:
Automobile business.
Handset components and assembly services.
Rechargeable battery and new energy business.
Automobile Business
The automobile business reported a revenue increase of 12% YoY. However, it is important to note that the increase was achieved, not because of increase in volumes, but because of favorable pricing. The volume fell 9% and the company attributed lower volumes to a slowdown in the Chinese economy and intensified competition from local brands.
Despite the slowdown, the company has been working to improve its product mix. Last year, it added S6 and G6 to its product line. S6, a compact SUV, has shined for the company, as 100,000 units of the company's first SUV have already been sold, making it the fastest-seller in the SUV market. G6, with an average monthly sale of 3,000 vehicles, has also been a hit.
After the state announced the Energy Saving and New Energy Automobile Industry Development Plan (2012-2020), the company has shifted its focus to electric cars. The company's K9 electric bus and e6 pure electric taxi are prime examples of this shift. Chairman Wang Chuanfu expects that one out of every five alternative energy vehicles sold would be a BYD product. No doubt, electric and hybrid car sales saw a sharp YoY increase of about 164% in June 2012; however, not much upside is expected from this end in the near future. This is because of a fire incident with the e6 that burned and killed three vehicle owners in May 2012. Also, BYD has been producing electric vehicles in small quantities, which means that the company does not think that its EV technology is ready to be used on a large scale. Currently, only 200 units of the K9, and 300 units of the e6 taxi are operating in the company's home town, Shenzhen.
The company's F3 is one of its most successful cars, one that actually helped the stock climb. At the time when Buffett bought BYD's stock, the F3 was China's best-selling car. However, now it has fallen to the 27th spot.
Handset Components and Assembly Business
This segment provides vertically integrated one-stop services like designing and manufacturing of handset parts like keyboards, LCD modules and chargers. Its major customers include Nokia (NYSE:NOK), Huawei, Apple (NASDAQ:AAPL), Motorola (NYSE:MSI), HTC (OTC:HTCKF) and ZTE (OTC:ZTCOY). The segment recorded a YoY decline in sales revenue and operating profit of 11% and 10.2%, respectively. This happened due to intense competition, and a decline in purchases by major customers. The company has tried to revamp the competition landscape by bringing in smartphones, and by acquiring emerging terminal manufacturers; however, these initiatives cannot offset the decline in revenues accredited to major customers.
Rechargeable Battery and New Energy Business
This segment provides lithium-ion batteries that are used in mobile phones, cameras and other electronic devices. This segment is also responsible for providing solar panels. The solar panels business has been hit hard due to the difference in demand and supply of solar panels, which led to a massive fall in prices of photovoltaic products. The demand for mobile phone batteries is expected to remain weak in the near term. However, BYD believes that given the strong demand of solar panels in the Asia Pacific region, market demand is expected to increase to 17.2GW by the end of this year.
There have been other factors as well that did not bode well for the stock:
Excessive selling of BYD stocks by senior executives; 13 million shares sold for 184 million Yuan in July.
Recently, BYD Vice President Yang Longzhong resigned. He did not cite any problems with BYD as reasons for his resignation.
Conclusion
The only strength that the stock currently has is that it is backed by Warren Buffett's investment. Electric vehicles seem to be another growth prospect; however, it will take some time for the company to repair the damage done to its image by the fire incident. BYD has been hit hard by weak growth in the Chinese economy, as well as the European crisis, which has considerably hurt its solar panel business. The growth story in all segments is not strong at all, and does not justify holding the stock. The stock price will slip drastically if Buffett sells his holding.
Disclosure: I have no positions in any stocks mentioned, and no plans to initiate any positions within the next 72 hours.
Business relationship disclosure: The article has been written by Qineqt's Industrials Analyst. Qineqt is not receiving compensation for it (other than from Seeking Alpha). Qineqt has no business relationship with any company whose stock is mentioned in this article.