Introduction
The latest version of David Fish's U.S. Dividend Champions (also known as the Dividend Champions, Contenders and Challengers, or CCC lists) spreadsheet is now out, and it's time to go Dog shopping again! For those of you who haven't been following along with the home version, the DGI Lite Portfolio consists of 7 of the highest-yielding Dog (aka underdog) stocks over 6% yield chosen from the combined CCC lists back in November and December 2011, equally weighted at $5000 each, and an additional stock bought from dividends in March 2012. Foreign stocks, Master Limited Partnerships, stocks that paid less frequently than quarterly, and any stocks with red dates were screened out per the Rules stated in the original articles.
Please note, this method is based on only ONE metric, and that's yield. It completely ignores the business fundamentals, and therefore carries much more risk that things can go south in a hurry, so you know the drill: Don't try this at home! Also known as, "Always do your own due diligence."
Meet The Dogs
These are the 7 stocks that came up in mid-November 2011, including one replacement in December 2011, to start the portfolio:
Omega Healthcare (OHI), Old Republic Intl (ORI), Pitney-Bowes (PBI), PennantPark Investments (PNNT), Senior Housing Properties (SNH), Triangle Capital (TCAP), and Vector Group (VGR). This assumes a starting amount of $35,000 and free trades to get started. In March 2012 (end of Q1), a new CCC Dog, Dynex Capital Inc (DX), was added to the pack by trading in all the warm and fuzzy dividend puppies, and again in June 2012 (end of Q2), as Dynex had a higher yield on the CCC lists than any of the current Dogs at both points in time. While this is very close to my actual portfolio, it isn't an exact match as the screening rules weren't in place until August 2012.
Currently, the DGI Lite Portfolio kept on Seeking Alpha ended the Q3 2012 like this, with the Dividend information pasted in: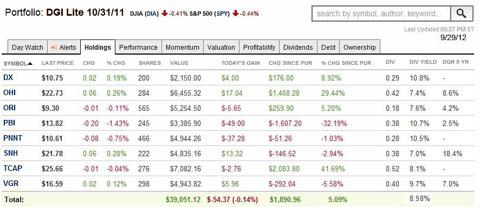 Fetch That Kibble!
Two of our Dogs have run quite fast and fetched home more kibble, so have grown quite plump, while one old Dog has become slow and hasn't fetched as much so has grown pretty lean. The rest are up a little or down a little, depending on the day. We will be looking at selling some or buying others at the end of the year. Our Total Return so far is $39,051.12 + $841.40 current dividends = $39,892.52. The original seven buys were $34,940.18, for a gain of $4952.34, or a 14.2% return so far this year. Good Dogs!
Since this is a dividend growth portfolio, each Dog needs to produce more dividend puppies per year than the year before, and all of our Dogs combined need to produce more total puppies per quarter. The Dogs are on schedule as of the end of Q3; the shaded cells indicate the dividend raises so far this year, including an additional 14 shares (5%) from VGR. Six of the Dogs have continued to increase their dividends so far, and two still to go. We now have $841.40 in dividends to spend. Time to go Dog shopping!

How Much Is That Doggy In The Window?
Our Dog Shopping List is the latest version (September 2012) of the CCC lists. Stocks with yields above 6% from each list are combined into one and sorted by yield, high to low. Removing the foreign stocks and the Master Limited Partnerships leaves 10 stocks: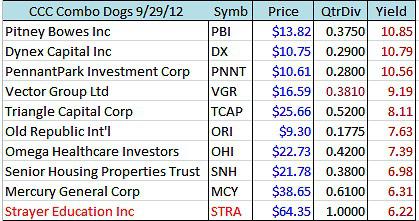 Those top Dogs are looking mighty familiar; our 8 Faithful Dogs still have the top spots. Our Old Dog, Pitney Bowes, wins the high yield race this time, with Dynex and PennantPark very close behind. Two new stocks showed up in the +6%, Mercury General (NYSE:MCY) and Strayer Education (NASDAQ:STRA). Since Mercury General's yield is lower than our current Dogs, no need to add it at this time. And Strayer Education is definitely in the red danger zone, as it is past due on raising its dividend for the year, so that rules it out.
The top 3 contenders are all extremely close, let's run the numbers, rounding up to $850 as there has been a little extra cash left over:
PBI would be $850/$13.82 per share = 61 shares x .3750 = $22.88 additional dividends per quarter
DX would be $850/$10.75 per share = 79 shares x .2900 = $22.91 additional dividends per quarter
PNNT would be $850/$10.61 per share = 80 shares x .2800 = $22.40 additional dividends per quarter
By A Whisker!
Looks like Dynex edged out Old Pitney by a whisker. Adding more Dogs to the Dynex position is quite satisfactory, as that kennel still has lots of room for more Dogs to equal the other starting positions. Sure enough, our proposed new dividend income for Q4 just misses $870 by a hair. The shaded cells indicate the new shares added in Q4 as well as the dividend raises throughout the year.

With 2 dividend raises still to come in by the end of the year, our Dogs should finish out the year in fine shape for the Annual Vet Check with around $3300 for the year. Good job, Magic Dividend Dogs!
Please note this light-hearted look at my "Adventures in Investing" is not meant as advice for anyone else, nor in any way to demean those who take investing as serious business. I am fortunate that I have a pension and can afford to indulge my adventurous little heart with my investments.
Disclosure: I am long DX, OHI, PBI, PNNT, VGR. I wrote this article myself, and it expresses my own opinions. I am not receiving compensation for it (other than from Seeking Alpha). I have no business relationship with any company whose stock is mentioned in this article.