The most interesting thing about Chevron (NYSE:CVX) from a value investor's standpoint is the big pile of cash the company is sitting on. Chevron held $41 billion in cash from operating activities in the bank at the beginning of 2012.
Interestingly enough, Chevron is not the only oil giant with a big stash of cash. Exxon Mobil (NYSE:XOM) currently holds $18 billion in cash, while ConocoPhillips (NYSE:COP) currently holds total cash of $6 billion. So maybe we should be calling these companies big cash rather than big oil.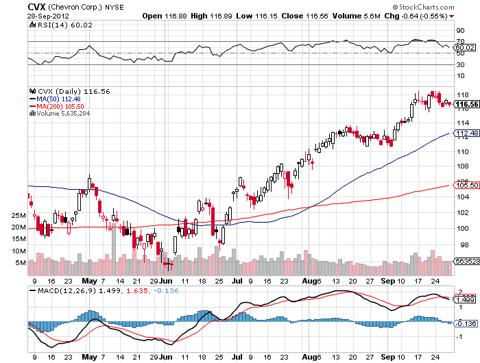 Yet it hasn't done as much for Exxon Mobil, which has seen a comparable rise but not to the extent Chevron has in recent months. Having a lot of cash on hand doesn't always impress the market.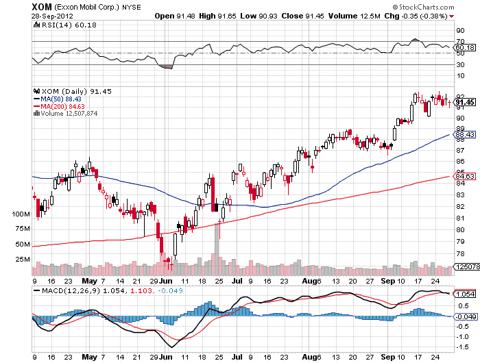 The big question that value investors have to ask themselves is: What will Chevron do with all that cash? The most likely possibility is that the company will start buying other energy companies. That might be good for Chevron, but is it good for the shareholders? After all, a lot of them like Chevron's $3.60 dividend rate more than news stories about mergers.
The big speculation is that Chevron might try to buy the basket case known as Chesapeake Energy (NYSE:CHK), which is still one of the nation's largest natural producers. Chesapeake has lost more than half of its value in the last year after the collapse of natural gas prices. The problem with this is that Chesapeake's price keeps fluctuating, as you can see.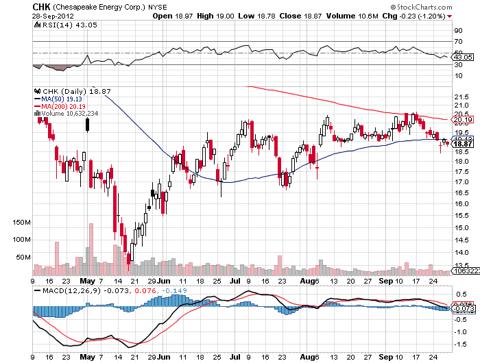 Despite its well-publicized troubles, Chesapeake doesn't look like a traditional value investment. Its price has risen all summer; although it fell somewhat in recent days. One problem has been that Chesapeake has been selling off assets, such as natural gas fields, which is presumably the reason why Chevron might want it. Chesapeake just sold most of its Permian Basin Assets to Royal Dutch Shell (NYSE:RDS.A) for $6.9 billion.
A better strategy is one that Chevron is already following: simply buying up choice assets at Chesapeake's fire sale. Chevron has reportedly bought 264,000 acres in the Permian Basin from Chesapeake. The cost of that purchase has not been divulged to the press. Chesapeake is still looking for buyers for its holdings in the Mississippi Lime gas formation located in Oklahoma and Kansas.
If it bought Chesapeake, Chevron would also buy Chesapeake's legal and other problems. Simply buying its assets seems like a cheaper and more prudent strategy, particularly if it can buy them at a good price.
Another possible target for Chevron is the lesser known Hess (NYSE:HES). Hess has a market cap of $18.35 billion and operations all over the world. Among other things, Hess is a major player in the Bakken, and it is active in other areas where Chevron operates, such as Azerbaijan and Australia, so its operations might be a good fit for Chevron.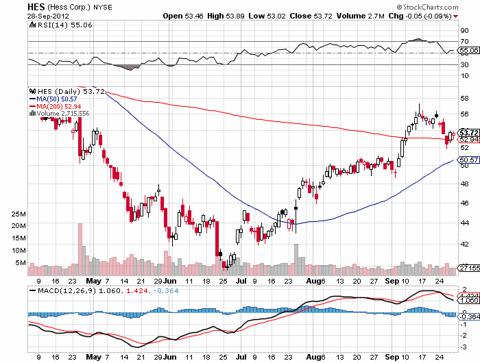 Hess might be a little expensive for Chevron, particularly because of its price. Hess is not a bargain, but it doesn't bring the baggage that comes with Chesapeake.
An even better strategy for Chevron might be to spend some of that cash on exploration and development of offshore natural gas fields in Australia. The company has discovered 15 new natural gas sources off that country's West Coast since 2009. The latest is the Satyr-2 discovery in the Carnavon Basin, the greater Gorgon area.
Chevron's investments in Australian natural gas include a 73% stake in the $29 billion Wheatstone LNG (liquefied natural gas project), which is supposed to export 5.9 million tons of LNG to Japan a year. Chevron's partners at Wheatstone include Royal Dutch Shell, the Apache (NYSE:APA), the Kuwait Foreign Petroleum Exploration Company, and Kyushu Electric Power. Chevron also owns 47% of the Gorgon Project on Barrow Island. Gorgon is expected to ship 15 million tons of LNG when it goes into operation in 2014. Chevron's partners in the Gorgon include Exxon Mobil, Royal Dutch Shell, and Osaka Gas.
Australian natural gas is a great investment because of growing demand for it in Japan. Japanese power companies need to buy large amounts of LNG because all of that nation's nuclear power plants will be shut down after the Fukushima. LNG now sells for about $13 an mmBTU in Japan compared to $3 for the same amount in the U.S. Japanese electric companies will have to burn LNG to generate the additional power the nation needs. Tokyo Electric Power alone is expected to buy up to 25 metric tons of LNG this business year alone.
From a value investor's point of view, Chevron's best course of action is to concentrate on expansion in Australia. That's the asset that looks most likely to produce large amounts of additional cash in the near future.
Disclosure: I have no positions in any stocks mentioned, and no plans to initiate any positions within the next 72 hours. I wrote this article myself, and it expresses my own opinions. I am not receiving compensation for it (other than from Seeking Alpha). I have no business relationship with any company whose stock is mentioned in this article.