Ellen Glasgow, an American novelist, once said that "All change is not growth, as all movement is not forward." That just may be the case for Bristol-Myers Squibb (NYSE:BMY), at least in the short term.
2012 is proving to be a pivotal year for the company with regard to what could be its new future. Entrenched between a quest for new markets and the loss of existing ones, the company has made some important choices and will soon discover their outcome.
The Metabolic Scenario
Since it was approved in summer 2009, Onglyza, a DPP-IV inhibitor for diabetes treatment, has started to change Bristol's metabolic therapeutic area landscape. Currently, Onglyza accounts for a relatively small chunk of Bristol's revenues, but JPMorgan forecasts predict that by the end of the decade this diabetes drug may generate around 20% of the company's revenues.
Following a CRL (complete response letter) issued by the FDA in February in which concerns were raised regarding Dapaglifozin (a drug that's part of the new class of SGLT2 inhibitors), Bristol had to turn outside itself to seek growth. So, in June of this year it, along with AstraZeneca (NYSE:AZN), purchased Amylin Pharmaceuticals (AMLN). This purchase expanded Bristol's pipeline in the diabetes realm, making Byetta and Bydureon (drugs aimed at the type 2 diabetes market) part of its drug portfolio.
However, competition in this field is fierce. For example, in the GLP-1 receptor agonists market, which is the class in which Byetta and Bydureon are inserted, Novo Nordisk's (NYSE:NVO) Victoza is the detached leader, dominating near 60% of the market. When combined, Byetta and Bydureon only control a limited portion of this market. According to Amylin's report, until now Bydureon, which is the recently approved drug, has only gained market share by cannibalizing its brother Byetta. In spite of that, the numbers show that since Bydureon and its superior indications have entered the market, the GLP-1 class has gained new life. It is currently growing at a faster pace, as it is seen as a more efficient alternative by patients and physicians.
Regarding the DPP-IV inhibitors class, Onglyza is also entering a very competitive battlefield. It's one where Merck's (NYSE:MRK) Januvia leads and where companies like Eli Lilly (NYSE:LLY) and Boehringer Ingelheim co-developed Tadjenta, which also has an important market acceptance.
Onglyza had revenues of $333 million in this year's first half, which represents 73% growth on a yearly basis. By 2020 it is expected to be worth around $2.5 billion in revenues, becoming one of the top three sellers in Bristol's pipeline.
On Oct. 3, the FDA will state its opinion regarding another drug that came with the Amylin package. The drug is called Metreleptin and it aims to treat rare forms of lipodystrophy. Due to its orphan drug status, I expect it to be approved by the FDA. However, because Metreleptin will have a limited market, a substantial impact on Bristol's revenues is not expected to occur.
Patent Deadlines
Nowadays, one of the major problems in American Big Pharma is that it faces a patent cliff. In Bristol's case, 2012 is the climax of that issue.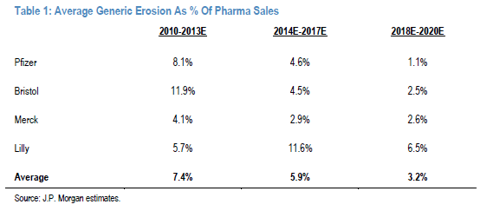 Comparing four of the top pharmaceutical companies, JPMorgan has predicted that this year and the next will be critical to Bristol's overall revenues with a generic erosion of nearly 12%, bigger than in any of its peers. In no other product is that erosion more visible than in the company's top seller, the cardio drug Plavix. In just this year's first quarter, Plavix has seen its sales plummet by 33%. For a drug that represented almost 35% of Bristol's sales, the last quarter is showing that this number has declined to 25%. What's even more disturbing is that this particular erosion will improve its pace, making Plavix a marginal drug in Bristol's pipeline not in a space of years, but months.
The question here is: If that's the case, why isn't the stock price declining faster?
One of the answers to this question may come from the highly anticipated Eliquis, which is being co-developed with Pfizer (NYSE:PFE). Eliquis is a drug from the cardiovascular therapeutic area, aimed at reducing the risk of stroke and systemic embolism in patients with nonvalvular atrial fibrillation (NVAF). Despite having received a CRL form the FDA on June 22 requesting further information on data management and verification from the Aristotle trial, Bristol was fast to move and a new PDUFA date is already assigned with a goal date of March 17, 2013. Most analysts believe that Eliquis will then be finally approved. And it's vital for Bristol that this happens.
Projections say that by 2015 it may be worth around $3.5 billion, making it the company's blockbuster drug. It's certain that the road ahead won't be an easy one. Its most direct competitors are paying attention, with Bayer (OTCPK:BAYZF) and Johnson & Johnson (NYSE:JNJ) marketing their top drug Xarelto, and Boehringer Ingelheim doing the same with Pradaxa. However, the biggest hurdle that Eliquis faces is that it must prove itself superior to the much cheaper warfarin, either in terms of efficacy or safety. Warfarin dominates the class, with 60% of the market, and gaining market share here is were the gold is. That said, price is a strong barrier to entry and the reimbursement issue will play a major role in Eliquis' success.
Valuation
Bristol currently trades at a P/E of 16.2, which is a premium value when compared to its direct competition. The company has a current market capitalization of nearly $57 billion, providing investors a dividend yield of 4.03%.
As I mentioned above, this year and the next will determine whether or not Bristol will be able to face the expected sales erosion that is already happening. Don't think that this is something only happening to Bristol, as the other major drug makers face the same problem. The deal with Bristol is that it will probably be one of the first to surpass this issue and to see its revenues grow again above the current point, probably in 2014.
Another thing I believe is keeping the stock at a relatively controlled standpoint is its generous dividend yield. Despite not being as spectacular as dividends from REITs, it has the advantage of being much safer in the long term.
Technical Analysis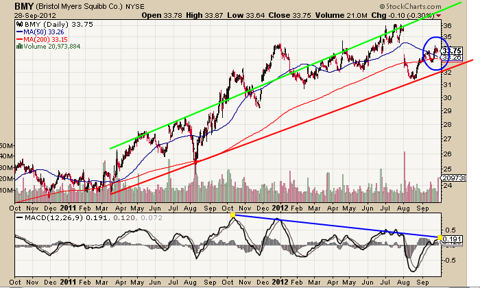 Since late 2010, an ascending channel has been formed from around $23.80 to the maximum of $36.34 on July 2, 2012. This is one of the most profitable patterns for investors to follow, providing clear entry and exit points as well as stop-loss areas. Bristol stock is currently trading near the channel's support line, which is around the $32 mark. A bearish divergence is clearly visible in the MACD indicator, which started in late 2011 when the price was near $35. Also, the moving averages are about to touch, which should be carefully watched in case the 50-day MA crosses beneath the 200-day MA.
I believe that an entry near the support line, or even slightly beneath it, should be a good entry point in the medium term. As stated above, until the end of 2013's first quarter (the Eliquis FDA decision), I don't expect the price to break this pattern.
Final Remarks
Unlike the company analyzed in my last article, Bristol-Myers Squibb is not a picture of aggressive growth, but instead of a gradual shifting of focus.
The next quarters will tell if the company's interesting pipeline is actually converted into visible revenue, or if more hurdles will continue to get in the way. It's already a given that in the short term the revenue decline of some therapeutic areas (namely cardio) won't be compensated by the rise in others, such as virology or metabolic.
From an investing perspective, and believing that in the cardiovascular therapeutic area an FDA Eliquis approval can sustain the revenue hemorrhaging, the current stock price appears to be an interesting entry point. If all goes according to plan (something that oftentimes does not happen in the biotech field), the medium term may show the stock going above the $40 mark, which would be 20% above where it currently trades.
Disclosure: I have no positions in any stocks mentioned, and no plans to initiate any positions within the next 72 hours. I wrote this article myself, and it expresses my own opinions. I am not receiving compensation for it (other than from Seeking Alpha). I have no business relationship with any company whose stock is mentioned in this article.