Ann Taylor (NYSE:ANN) and Ralph Lauren (NYSE:RL) are two high-end fashion brands that have outperformed the S&P 500 in the past five years (see graph) and also have similar valuations based on a number of factors. However, Ralph Lauren has outperformed Ann significantly. Is this trend going to continue or is Ann going to turn the tides? This article will look at each company's fundamentals, strategy, and competitive position and attempt to evaluate which company offers a better investment opportunity in the next five years.
ANN & RL five year performance compared to the S&P 500: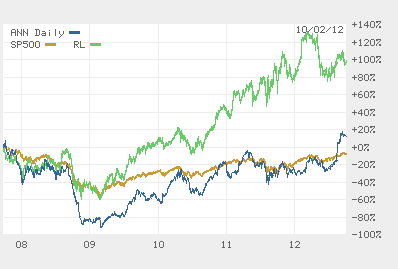 Fundamentals
Ralph Lauren and Ann have a market capitalization of $13.8 billion and $1.8 billion, respectively. Ralph Lauren has a relatively small amount of long-term debt ($260 million) and pays a quarterly dividend of $0.40 per share for an annualized yield of about 1%, while Ann has no debt and does not pay a dividend. Both companies have solid balance sheets with Ralph Lauren having $1 billion in cash and Ann $132 million. For comparison, three major competitors fall between Ann and Ralph Lauren in terms of size with Chico's FAS (NYSE:CHS) having a market capitalization of $3 billion and no debt, PVH (NYSE:PVH) with $6.6 billion but also $1.7 billion in long-term debt, and Lululemon Athletica (NASDAQ:LULU) with $8.2 billion and no debt.
The two companies are returning cash to shareholders by repurchasing shares. Ann Taylor repurchased 1.6 million shares for about $40 million in the second quarter (ended July 28, 2012) of its fiscal 2012 and Ralph Lauren repurchased 2 million shares for about $300 million during its first quarter (ended June 30, 2012) of its fiscal 2013. Following the end of the latest quarter and an additional share repurchase authorization in the amount of $500 million, Ralph Lauren has $777 million authorized to repurchase. Ann has $109 million remaining under its own stock buyback plan. Chico's has $149.4 million left under its buyback plan as of its most recent quarter end while PVH and Lululemon do not repurchase shares currently.
In terms of forward price to earnings (NYSE:PE) ratio, Ralph Lauren (PE of 19) has a higher valuation compared to Ann (16) and is also more expensive based on price to earnings to growth (PEG) ratio of 1.35 compared to a PEG ratio of 1.05 for Ann. Compared to the industry sample and based on these two ratios, Ralph is undervalued compared only to Lululemon (PE of 37 and PEG of 1.75). Ann is similar to Chico's, with PE and PEG ratios of 16 and 1, and PVH, with 14 and 1.05. Based on price to sales ratio, Ralph Lauren is again the more expensive stock with a ratio of 2, compared to 0.8 for Ann. Chico's, PVH, and Lululemon have price to sales ratios of 1.2, 1.1, and 7.0, respectively. Finally, based on an inventory to enterprise value ratio, Ralph Lauren's 7.3% ratio seems more favorable to 13.7% for Ann. Having larger inventory means slower sales, more markdowns, and ultimately lower margins. For comparison, Chico's, PVH, and Lululemon inventory to enterprise value is 7.4%, 11.1%, and 1.2%.
Overall, based on fundamentals, Ann appears to be a better investment choice. The only concern is its inventory levels at the end of its latest quarter. However, Ann is making improvements in its inventory management and as mentioned during its most recent earnings call, the build-up in inventory was due to earlier receipt of goods in transit. In fact, its LOFT brand had inventory shortages in July of 2012.
Strategy And Competitive Position
Ralph Lauren is a more diversified brand than Ann in terms of products and geography. Ann has only recently decided to offer international shipping and expand internationally (Canada). Ralph Lauren, on the other hand, is a global company with over 50% of sales coming from abroad and 38% from Europe and Asia. While Ralph Lauren does not provide too much information about its performance by region, the company management admitted that the recession in Europe and a slowdown in Asia are having a negative impact. Also, the company recently closed its stores in Argentina and also reduced its Chinese distribution network by 60%. A recent warning by Burberry sent the stocks of many luxury retailers down, including that of Ralph Lauren. In other words, a strong international exposure could be a negative for Ralph Lauren due to economic and political reasons. Ann's cautious expansion in Canada and reliance on the domestic market could prove to be a more prudent approach going forward.
In addition to being more globally diversified, Ralph Lauren has over 20 brands and sells different categories of apparel, footwear, accessories and home goods to men, women, kids, and babies. I recently purchased a Polo sweater for my son from Marshall's. It appears that there is little incentive for customers to buy full-priced Ralph Lauren from its own stores or a variety of third party stores. In contrast, Ann has two major brands, Ann Taylor and LOFT, and sells exclusively to women. This makes it easier to balance prices and trends and overall places the company in a better position competitively. Also, Ann is virtually the only company with an established name in the luxury business, which sells exclusively through its own channels and only to women. Thus, the brand recognition is much stronger and not as diluted.
Finally, Ralph Lauren, who is 73, recently extended his employment contract with the company through 2017. While he might be a capable CEO and chairman for years to come, he might not have the energy and skills required to lead a global retailer in its successful growth as suggested in this article by Women's Wear Daily. In fact, the company has admitted that it was slow in its expansion in Asia and it had an image hiccup by making the U.S. Olympics team suits in China. Katherine Krill, the CEO of Ann, despite her younger age appears more careful and risk averse. Instead of simply growing the company as quickly as possible she is expanding more cautiously.
Conclusion
Going forward, Ann seems to win over Ralph Lauren as an investment choice for the next five years. The common stock is undervalued compared to that of Ralph Lauren. In addition, Ralph Lauren's growth could be behind the company and Ann, which is just recently starting to look abroad, could be in the beginning of a strong and profitable growth period. Competitively, Ann is a more focused company and has less exposure to economically challenged European and Asian economies. Women, especially in the U.S., appear to be the only island of hope for the global luxury apparel and accessories industry due to secular increases in their earning and spending powers. Ann is well positioned to capitalize on that.
Disclosure: I have no positions in any stocks mentioned, and no plans to initiate any positions within the next 72 hours. I wrote this article myself, and it expresses my own opinions. I am not receiving compensation for it (other than from Seeking Alpha). I have no business relationship with any company whose stock is mentioned in this article.