By Jason Napodano, CFA
On October 1, 2012, Neurocrine Bio (NASDAQ:NBIX) announced it had initiated a phase IIb clinical trial with its proprietary Vesicular Mono-Amine Transporter 2 (VMAT-2) inhibitor, NBI-98854. The phase IIb "Kinetic Study" (NCT01688037) will seek to enroll 120 patients at up to 40 medical centers with moderate to severe Tardive Dyskinesia and underlying schizophrenia or schizoeffective disorder. Neurocrine plans to test two dosing regimens of once daily NBI-98854 over a six-week placebo-controlled period.

The primary outcome of the study is a comparison of placebo vs. active scores utilizing the Abnormal Involuntary Movement Scale (AIMS) at the end of week six. Following the six-week placebo-controlled portion of the trial, all patients will convert to the 50 mg dose in an open-label safety extension.
Management will employ a small panel of independent, blinded AIMS assessors to determine subject eligibility for the phase IIb study, with an emphasis on finding moderate to severe patients. Prior to the randomization of any subject, a video of each potential subject's initial screening AIMS evaluation will be reviewed off-site by a member of the panel to determine eligibility. The independent panel is the sole determiner as to whether or not the subject meets the AIMS severity criteria to be eligible for the study. Additionally, this central panel will continue to serve as independent quality control monitors of the AIMS assessments during the entire course of the trial.
Patients will receive AIMS assessments at baseline, week 2, week 6, and week 12. Top-line data from the trial is expected during the second quarter 2013. We expect the trial to cost approximately $6 million all-in. The goal of this Kinetic Study is to provide the necessary data and design for a planned pivotal phase III program.
Previous Work Validates Concept
On March 26, 2012, Neurocrine Bio announced results from the company's phase IIa program with NBI-98854. We believe the results were overall a positive for the company, despite what management referred to as "inconsistent and incorrect application of the efficacy assessment protocol" at one of the eight sites used during the trial. When this site was removed (post-hoc), analysis of the primary and secondary endpoints showed encouraging results.
The trial was a double-blind, placebo-controlled, design in which patients were randomized to receive either 12.5 mg or 50 mg of NBI-98854 or placebo for 14 days, then crossed-over to the placebo or active 12.5 mg or 50 mg arm for another 14 days.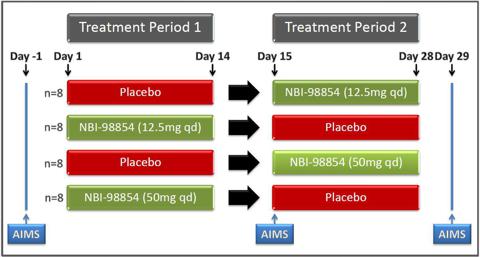 The primary efficacy endpoint in the trial was the change in AIMS from active to placebo groups. AIMS assessments were taken at baseline (Day-1), after the first period (Day-15) and after the second period (Day-29). The trial was powered to detect a three point change in AIMS from active to placebo group.
Secondary endpoints included the Clinical Global Impression of Tardive Dyskinesia (CGI-TD) and the Patient Global Impression of Change (PGIC) questionnaire. Management also measured adverse events, Brief Psychiatric Rating Scale (BPRS), Columbia Suicide Severity Rating Scale (CSSRS), Calgary Depression Scale for Schizophrenia (CDSS), Barnes Akathisia Rating Scale (NYSEARCA:BARS), and the Simpson-Angus Scale (SAS).
…Inconsistencies Found At One Site Lead To Post-Hoc Analysis…
Following analysis of the unblinded data, management found inconsistent application of the AIMS efficacy assessment at one of the eight clinical sites. Management noted that the issues were not a result of randomization or dosing errors, but rather incorrect application of the AIMS assessment that lead to discrepancies between the clinical scores and the video record of the analysis. Application of the AIMS assessment at the other seven sites was found to be consistent with the video record.
As a result, Neurocrine performed two analyses of the primary AIMS endpoint, one that included all eight sites and one post-hoc analysis that included only the seven sites in which the AIMS assessment was performed correctly. We present the results below on the primary AIMS endpoint for the active vs. placebo periods.

Analysis of the primary endpoint was also assessed on a change in baseline. The data below shows the post-hoc analysis including both crossover periods. The data show a significant reduction from baseline in subjects randomized to the 50 mg dose, which we believe is clinically meaningful for patients with Tardive Dyskinesia.

Responder analysis of the secondary efficacy endpoints conducted post-hoc showed strong trends in favor of both the 12.5mg and 50mg doses.

…Good Safety Profile…
Data from the trial showed that NBI-98854 was generally safe and well tolerated. The most common adverse event was headache. Treatment-emergent adverse events were limited, a surprise to management given the severity of the underlying schizophrenia and the rigorous trial protocol (patients had to come into the study center for several hours, once per day for 29 days). There were no serious adverse events during the active portion of the trial. One patient in the 50mg group discontinued due to akathisia (restless leg). One patient with a history of emphysema experienced an acute exacerbation of COPD after the trial completed. However, investigators deemed the episode not related to NBI-98854.

We note there was no drug-drug interactions seen during the study, a very encouraging sign considering patients were on a mix of typical and atypical antipsychotic drugs. Analysis showed no gender, smoking, or body weight impact on the results. Patients were assessed for depression, suicidal ideation, and Parkinsonism, with no effect found attributed to NBI-98854. A total of 37 patients were randomized for treatment, and 32 were included in the ITT database. 31 patients completed the study.
Background on VMAT2 & TD
VMAT-2 is a protein concentrated in the human brain that is primarily responsible for re-packaging and transporting monoamines (dopamine, norepinephrine, serotonin, and histamine) among nerve cells. Neurocrine's molecule, NBI-98854, is a novel, highly-selective VMAT2 inhibitor that modulates presynaptic dopamine release during nerve communication, while at the same time having minimal impact on the other monoamines thereby reducing the likelihood of "off target" side effects. NBI-98854 is designed to provide low, sustained, plasma and brain concentrations of the active drug to minimize side effects associated with excessive dopamine depletion.
We see Tardive Dyskinesia as a meaningful market opportunity for Neurocrine. There are an estimated 500,000 TD patients in the U.S. with no real treatment options. In January 2012, the U.S. FDA granted "Fast Track" designation to NBI-98854 for neuroleptic-induced Tardive Dyskinesia. NBI-98854 is patent protected until May 2029.
In addition, NBI-98854 may well be useful in other disorders, such as Huntington's chorea, schizophrenia, Tourette's syndrome, and Tardive Dystonia. We expect that management will move into a second indication, most likely schizophrenia, during the second half of the year. The above planned phase IIb trials in schizophrenia patients with TD should give us an early look at the potential for the drug in this indication. We are particularly excited about the VMAT-2 program at Neurocrine. It represents significant upside and diversification from elagolix. We note that management plans to retain the U.S. rights to VMAT-2 all the way to commercialization.
Impact On The Stock
The key driver for Neurocrine is elagolix, currently in phase II trials at Abbott Labs (NYSE:ABT) for uterine fibroids and phase III for endometriosis. The news today on NBI-98854 present investors with another shot on goal for Neurocrine. NBI-98854 is unpartnered, so if the company can succeed in the phase IIb Kinetic Study noted above, we believe a significant partnering opportunity exists in 2013. We encourage investors to familiarize themselves with both elagolix and NBI-98854. We have written extensively on elagolix in the past (link-1 & link-2). Between the potential for elagolix and now NBI-98854, we believe Neurocrine Bio represents an attractive long-term investment in the biotech sector.
Disclosure: I have no positions in any stocks mentioned, and no plans to initiate any positions within the next 72 hours. I wrote this article myself, and it expresses my own opinions. I am not receiving compensation for it (other than from Seeking Alpha). I have no business relationship with any company whose stock is mentioned in this article.
Additional disclosure: I am an employee of Zacks Investment Research. Additional information about Zacks and Neurocrine Bio are available on our website, SCR.Zacks.com.