A growth railroad stock is a rare thing, but we can find an apt example of such a stock in Kansas City Southern (NYSE:KSU). Earnings visibility till 2015, large growth in revenues expected to come from the cross border intermodal network, a unique network in Mexico, good exposure to oil and gas shale regions, and no exposure to met coal, which has been witnessing a declining demand, gives investors several reasons to buy the stock.
Railroads Industry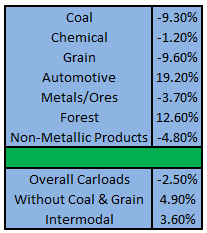 The table shows the WoW (week over week) comparison for the 38th week of the year. The table shows us that coal continues to spoil the carload figure. Grains, with low harvests, have also joined the league.
KSU's Growth Story
KSU is expected to make additional revenues of $470 million through 2015 via four new sources of revenue generation, which have been discussed below. This means a 23% boost compared with the 2012 base level.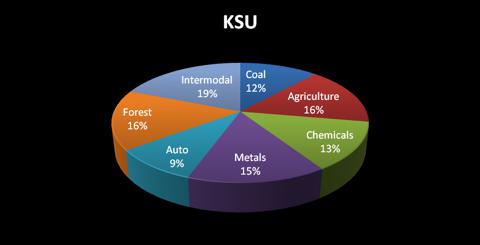 Cross Border Intermodal Network
The company believes that the potential addressable market for cross border intermodal will be 2.6 million truckloads per year. This is a 58% rise from the current Southern states that KSU caters to. However, KSU currently owns only 1%-2% of the market. The rise in market share is expected after KSU invests in this segment. KSU's current investment in new intermodal terminals like the Victoria-Rosenburg line sends a positive signal to the market. Estimates show that KSU will be able to achieve 7.5% of the expanded market and additional revenues of $250 million by 2015.
Automotives
There are 10 automotive assembly plants in Mexico, nine of which are being served by KSU and Ferromex. KSU currently owns 40% of the total carloads served between KSU and Ferromex. Firstly, KSU has an order in for 140 Automax cars. Automax's railcar is the largest railcar for hauling motor vehicles. Ferromex owns only 50 such railcars. According to economies of scale, these 140 new railcars will help KSU transport automotives at lesser costs.
Also, new automotive production facilities are being opened or are expected to be opened in Mexico in the next 2-3 years. The opening of a Honda plant in Celaya, a Mazda plant in Salamanaca, a Nissan plant in Aguascalientes, and an Audi plant, will all help boost future carloads. Till 2015, auto production is expected to rise by 41% i.e. one million units in Mexico. Also, current plants are expected to extend their existing operational capacity, which will also lead to a rise in carloads for KSU. The rate of growth of production is expected to be 8% in 2012, 6% in 2013, 11% in 2014, and at least 15% in 2015. An overall additional $68 million is expected from automotives through 2015.
Steel Products
70%-75% of Mexico's steel production is transported through railcars. 2011 figures show that 18.1 million tons of steel was produced in Mexico. With the additional five new facilities, 3.5 million tons is expected to be added in the next 12 months. KSU is expecting 60% of the total steel to be transported through railcars. Calculations show that this will bring incremental 16,300 carloads and incremental revenues of $16.3 million, given the current rate of $1,000 per carload of steel.
Crude Oil and Frac Sand
Bakken in North Dakota appears to be the greatest opportunity that KSU can avail since this region lacks a pipeline infrastructure. Also, KSU owns the land where it can benefit by connecting to nearby Gulf pipelines by building the Port Arthur Crude Terminal, in partnership with Savage. Also, demand for crude oil from Canada, which can be transported by KSU from Alberta oil sands, has also begun to rise.
As far as frac sand is concerned, the KSU network is well positioned to haul frac sand from the Midwest states through Kansas City down to shale regions such as Permian and Eagle Ford. Demand for frac sand is expected to rise by 15% per annum for the next couple of years, though it is largely tied to fracking activity in the shale regions already mentioned above. Estimates show that additional revenues of $32 million from crude oil and $35 million from frac sand transportation are expected through 2015.
Conclusion

KSU is an investor darling, given the lack of growth available across the transportation universe. However, bears believe that this has already been priced in the stock, as the stock trades at a sharp premium to the group. KSU's current P/E of 21x are above its five-year historical P/E of 19x.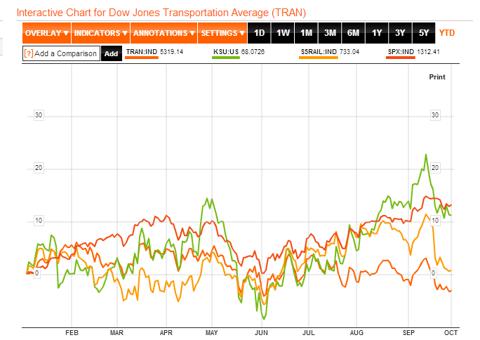 However, one should not forget that there was a time when KSU traded at a P/E of 55x. Also, the downgrading by UBS has led to an almost 7% price decline to date. This, coupled with healthy margins and a good dividend yield, make the stock a buy.
The Bearish Thesis:
However, bears paint another story, which is as compelling as the bullish version. A slower-than-expected growth in Mexico's GDP, from where KSU generates 50% of its revenues, a large exposure to agricultural products, which are expected to be down due to low harvests, and the valuation multiples at which KSU is trading being higher than other rails (they could compress given the weak stats that carloads are showing this year), all make KSU a sell rather than a buy.
Disclosure: I have no positions in any stocks mentioned, and no plans to initiate any positions within the next 72 hours.
Business relationship disclosure: The article has been written by Qineqt's Industrials Analyst. Qineqt is not receiving compensation for it (other than from Seeking Alpha). Qineqt has no business relationship with any company whose stock is mentioned in this article.