The investment case for emerging market currencies looks extremely compelling with a wealth of statistical evidence suggesting that such currencies have a structural tendency to appreciate. Now let us look at how it plays out after QE3. The money generated out of QE3 would find its way to geographies with potential of positive carry trades from higher interest rates. Emerging markets would be the major beneficiary of this trend with a positive GDP growth pickup and undervalued currencies. The U.S. dollar has tended to weaken post QE and a weaker dollar coincides with the emerging markets outperforming.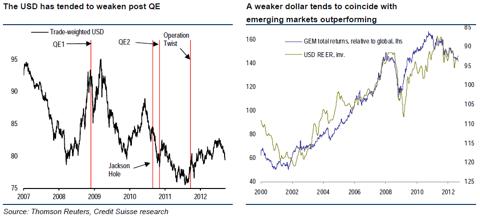 Emerging markets tend to outperform on the back of a weakening U.S. dollar. This is largely because emerging markets often use unsterilized intervention to cap currency strength, which leads to a printing of money and help local market performance.

Source: Financial Times
Policy makers in the emerging markets have resorted to intervention to stop their currency strengthening in the past. I have written about this with respect to Brazil involving in currency war in my previous article "Dilma's Rousseff Currency War." However intervention could be limited this season due to high domestic interest rates (relative to U.S.) that makes sterilization very expensive. They would also not consider unsterilized intervention as it could lead to liquidity and an inflation bubble. Many emerging markets are currently operating under a negative output gap and some are still trying to counterbalance the impact of the last surge in liquidity.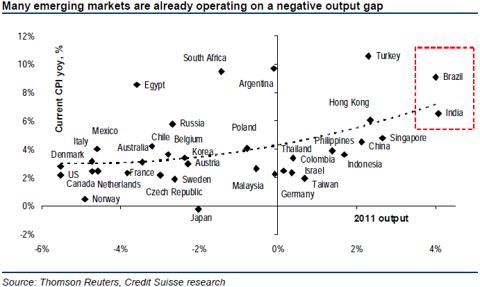 In my previous article "Why Emerging Markets will become a core of global tactical allocation" I have written about why Emerging markets (EM) will garner more share of allocation in an investor's portfolio. The combined output of the emerging world accounted for 38% of world GDP in 2010 (2x its 1980 share). IMF projects its share to increase to 55% five years from now. They have also attained critical mass, accounting for over half of the global consumption of most commodities, world exports, and inflows of FDI.
Investment Options
Amongst the BRIC economies, Brazil is the only country with purchasing power parity ratio close to 1. Russia, China and India have spectacular potential for currency revaluation with current PPP at 0.78, 0.66 and 0.38 respectively as their per capita economic output converges with developed market levels.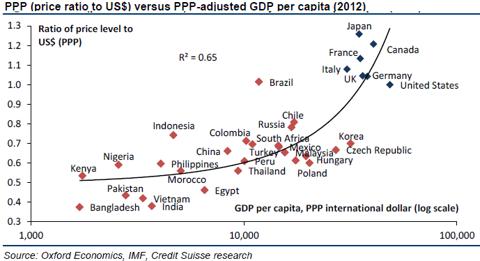 Investors can get exposure to emerging market currency through the following ETFs.
WisdomTree Dreyfus Brazilian Real Fund (NYSEARCA:BZF)
WisdomTree Dreyfus Chinese Yuan Fund (NYSEARCA:CYB)
WisdomTree Dreyfus Emerging Currency Fund - Active (NYSEARCA:CEW)
WisdomTree Dreyfus Euro Fund (NYSEARCA:EU)
WisdomTree Dreyfus Indian Rupee Fund (NYSEARCA:ICN)
WisdomTree Dreyfus South African Rand Fund (NYSE:SZR)
PowerShares DB USD Index Bullish (NYSEARCA:UUP)
WisdomTree Dreyfus Emerging Currency Fund
Currency Shares Mexican Peso (NYSEARCA:FXM)
Currency Shares Russian Ruble (XRU)
Investors can benefit from EM currency appreciation by buying in to developed market stocks with significantly high sales exposure to EM geographies. Also, currency appreciation would help consumption stocks by increasing their purchasing power more than export oriented stocks.
European Stocks

% Sales

% Sales

Sabmiller Plc

67%

Bmw

30%

British American

(NYSEMKT:BTI)

66%

Reckit t Benckiser

28%

Anheuser-Busch Inbev

(NYSE:BUD)

40%

Imperial Tobacco

(ITYBF.PK)

20%

Swatch Group Ag

50%

Telefonica Sa

(NYSE:TEF)

48%

Henkel Kgaa

38%

Telenor Group Asa

43%

Nestle S.A.

36%

Vodafone Group

(NASDAQ:VOD)

37%

Lvmh Moet Hennessy

35%

Wpp Plc

(WPPGY)

25%

Adidas Ag

35%

Teliasonera Ab

24%

Volkswagen Ag

32%

Sanofi S.A.

(NYSE:SNY)

28%

Diageo Plc

(NYSE:DEO)

31%

Novartis

(NYSE:NVS)

24%

US Stocks

% Sales

% Sales

Philip Morris

(NYSE:PM)

50%

Procter & Gamble

(NYSE:PG)

32%

Colgate-Palmolive Co

(NYSE:CP)

39%

Kraft Foods Inc

(KRFT)

26%

Yum Brands

(NYSE:YUM)

27%

Nike

(NYSE:NKE)

24%
Disclosure: I have no positions in any stocks mentioned, and no plans to initiate any positions within the next 72 hours. I wrote this article myself, and it expresses my own opinions. I am not receiving compensation for it (other than from Seeking Alpha). I have no business relationship with any company whose stock is mentioned in this article.