All through the third quarter, investors were looking over their shoulder waiting for the notoriously troublesome Q3 to re-emerge.
As a result, sellers built up high levels of short interest heading into Q4. Given markets have consolidated over the past two weeks. We are likely to see some covering.
Markets are typically strong in Q4.
Historically, early October weakness has provided investors with an excellent opportunity to buy ahead of higher prices by year end.
Investors looking to capitalize on lower prices may want to consider sectors and industries with the strongest Q4 tailwinds.
Three ETFs have significantly strong Q4 seasonality.
Using the Seasonal Investor database, I found 3 ETF's with a significant history of finishing the quarter higher, with each gaining in 9 of the past 10 years.
| Description | Symbol |
| --- | --- |
| iShares DJ US Basic Materials | |
| SPDR Consumer Staples | |
| SPDR Healthcare | |
Of the three, the materials (NYSEARCA:IYM) ETF has been most volatile. While the IYM has returned a median 10.22% in Q4, its wide swings result in a 15.83% standard deviation.
The consumer staples (NYSEARCA:XLP) and healthcare (NYSEARCA:XLV) ETFs have been less volatile, with standard deviations of 6.58% and 6.28%, respectively. But, in keeping with lower volatility, they've also posted lower quarterly median returns of 4.21% and 4.43%.
The following table breaks out their Q4 returns for each of the past ten years.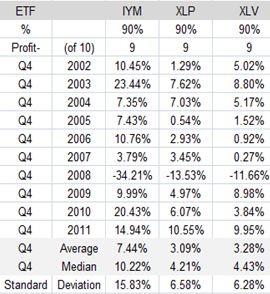 Investors looking for a broader list of choices will be happy to know another 13 ETFs have finished the period higher in 8 of the past 10 years.
Among them are biotech (NASDAQ:IBB), software (NYSEARCA:IGV), energy (NYSEARCA:XLE) and consumer discretionary (NYSEARCA:XLY), the latter of which benefits from the holiday shopping season.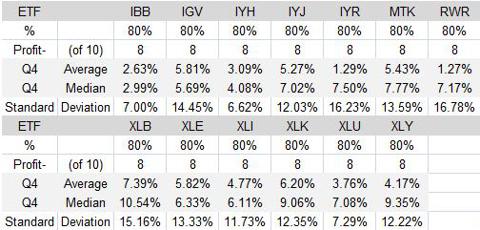 These seasonal tendencies suggest investors should be watching for entry points in basic materials, consumer staples and healthcare.
It also suggests investors buying October dips in aggressive baskets, such as technology (NYSEARCA:XLK), will also be rewarded for year end.
Disclosure: I have no positions in any stocks mentioned, and no plans to initiate any positions within the next 72 hours. I wrote this article myself, and it expresses my own opinions. I am not receiving compensation for it (other than from Seeking Alpha). I have no business relationship with any company whose stock is mentioned in this article.