The utilities sector ETF (NYSEARCA:XLU) replicates the yield and price performance of the S&P 500 index utility sector. XLU follows a passive investment approach; the fund has the highest holding in Duke Energy (NYSE:DUK), which represents 9.42% of the portfolio, followed by Southern Company (NYSE:SO), which represents 8.8% of the portfolio. Stimulus packages like quantitative easing increase the risk-taking ability of investors, which is demonstrated by the better performance of high beta ETFs following QE1 and QE2. However, the impact of stimulus packages with regards to increasing risk appetite seems to be fading away following QE3.
Since the market crash in 2007, investors are more cautious about their investments, and have become more risk averse. Generally, investing in the utilities sector is considered less risky due to the nature of business in the sector. XLU offers a high dividend yield of 3.86% and has a beta of 0.47. In the recent inclination towards higher dividends, the utilities sector has been a favorite of investors.
The Federal Reserve has made a number of attempts to stimulate the economy. On November 25 2008, the Fed announced Quantitative Easing 1 (QE1), under which it purchased $600 billion worth of MBS and agency debt. In March 2009, the program was expanded by an additional $750 billion. On November 3, 2010, the Fed announced QE2, under which it aimed to purchase $75 million worth of long-term securities every month, totaling $600 billion in all. After both Q1 and Q2 failed to stimulate the economy, the Fed has now announced QE3, under which $40 billion worth of MBS will be purchased on a monthly basis. There is no end time given for QE3. These types of stimulus packages usually build investor confidence and increase their appetite for risk.
Any central bank's monetary easing efforts result in higher-risk appetites in investors, and a decreased attraction to low beta stocks/sectors like utilities.
Quantitative Easing 1
One month after QE1, XLU was down -2.6%, whereas other funds like XLF, XHB, QQQ and SPY were up 21%, 28%, 9% and 9%, respectively.

Source: Googlefinance
| | | |
| --- | --- | --- |
| | Dividend Yield | Beta |
| XLU | 3.86% | 0.47 |
| Spdr S&P 500 Etf Trust (NYSEARCA:SPY) | 1.84% | 1 |
| NASDAQ Etf (NASDAQ:QQQ) | 0.9% | 1.09 |
| Select Sector Financial Select Sector SPDR Fund (NYSEARCA:XLF) | 1.55% | 1.5 |
| Spdr S&P Homebuilders Etf (NYSEARCA:XHB) | 0.91% | 1.44 |
Source: Reuters
Quantitative Easing 2
After QE2, XLU was down -1.12% from November 5 to December 23 in 2010, whereas XHB, XLF, QQQ and SPY were up 12%, 9%, 4.9% and 6%, respectively.

Source: Google Finance
Quantitative Easing 3
QE3 did manage to initially increase investor confidence, moving them towards more risky investments. It also resulted in improvements in the performance of high beta funds, a week after its announcement. However, as stimulus packages fail to deliver their purpose, the impact of the government initiative seems to be fading away. As the following graph depicts, there is not much of a performance difference among different funds.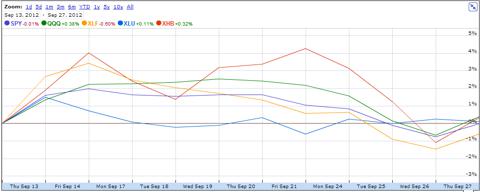 Source: Google Finance
It is evident from the graphs given above that, historically, after quantitative easing measures are taken, the utilities sector tends to underperform. However, investors should be wary of the fact that revenues of utilities adjust to inflationary pressures and this should make XLU a good inflation hedge as well. The fact that other inflation hedges like gold (NYSEARCA:GLD) have been outperforming the market for last few years makes even a stronger case to long XLU.
Disclosure: I have no positions in any stocks mentioned, and no plans to initiate any positions within the next 72 hours.
Business relationship disclosure: The article has been written by Qineqt's Utilities Analyst. Qineqt is not receiving compensation for it (other than from Seeking Alpha). Qineqt has no business relationship with any company whose stock is mentioned in this article