Clothing sales geared towards fickle teen buyers are hard to predict. Guessing right on fashion trends can mean big profits.
Being out-of-sync leads to mark downs and low margins. No companies always get the hottest merchandise while avoiding slow selling lines. The dominant teen retailers seem to take turns basking in the glow of good choices.
EPS and net profit margins can vary tremendously. The best way to play this group is, counter-intuitively, to buy when fundamentals are weak and sell when things 'can't get much better'.
American Eagle Outfitters (NYSE:AEO) had good years in FY 2000 and FY 2001 (ended Jan. 2002) as EPS moved first to $0.43 and then up to $0.48 (split-adjusted). Net profit margins improved to 8.4%.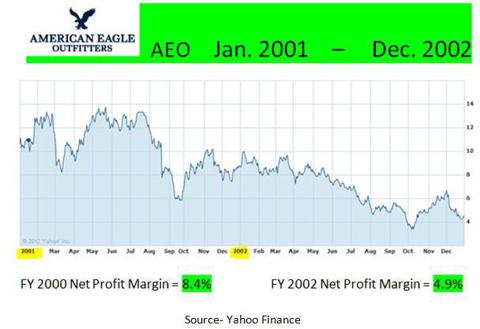 If you bought during early 2001 when margins were high you could have paid $13 to $14. Those same shares were selling for under $4 by late 2002.
From FY 2000 through FY 2002 earnings per share had dipped only 4.7% The shares dramatically over-reacted. AEO shares gave up more than 70% of their value.
Fast forward to the end of FY 2006. Net profit margins had again expanded, this time to an even higher 13.9%. The stock peaked above $34. Those who bought the good news later wished that they hadn't.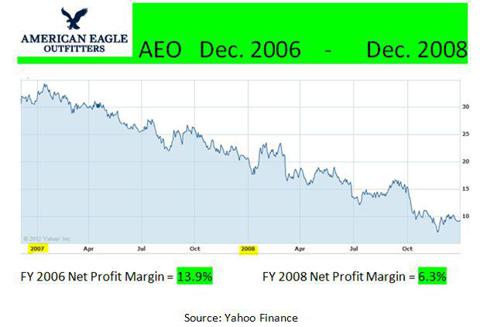 AEO shares fell 79.9% ($34.80 to $7.00) as 2008's EPS declined by 41.8%. Those willing to ignore poor momentum and negative analyst commentary could have bought after margins had been cut in half.
Bottom fishers could have traded out near $20 for a better than 180% gain by the close of 2009.
Making money in American Eagle was easiest if you were a contrarian.
Abercrombie and Fitch (NYSE:ANF) is a good-quality teen retailer that everyone loves to hate right now. EPS hit $5.20 and net profit margins peaked at 12.7% in fiscal 2007 (ended Jan. 2008). Enthusiastic buyers paid as high as $82 on all that great news early in 2008.
Predictably, that ended badly. ANF fell off a cliff during that year's recession. ANF shares bottomed momentarily at $13.70.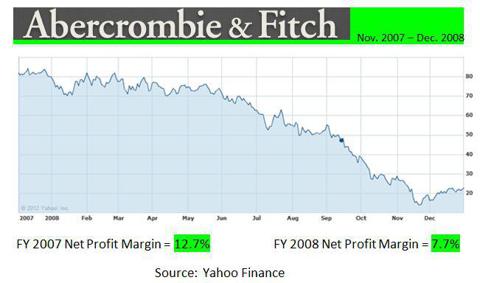 Buying when the news was good proved to be a bad strategy. Traders who entered ANF after profits and margins had already been decimated, were rewarded with the chance to go from below $20 to above $78 in about 2.5 years.
Today, trailing 12-month reported EPS are very low. Abercrombie's net profit margins are as bad as they have ever been. This is likely to be a transient opportunity for brave souls who like the rebound possibilities.
ANF shares are now offered at $32.38 even though FY 2012 and FY 2013 estimates are now centered on $2.53 and $3.15 respectively.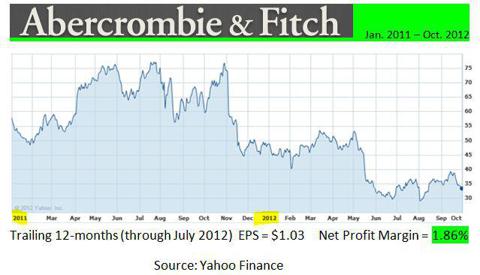 Morningstar carries a $42 fair value and rates ANF with 4-stars (out of 5). Even that modest goal is 29% above the current price.

Standard & Poors views fair value a tad higher at $43.80. That leaves room for a 35% share price improvement. S&P gives ANF a nice quality score. These shares are not junk.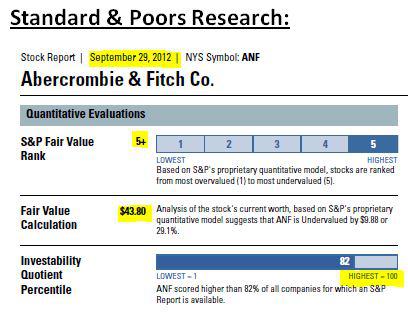 Value Line assigns Abercrombie an 'A' for financial strength. They see good things resuming over the next few years.

From today's quote you don't need a move back to $80 to make a good gain. ANF's 10-year median multiple has been 16x. A return to that P/E on next year's estimate would support a $50 target over the next 15 to 18 months. Abercrombie's secure 2.12% current yield adds to the appeal.
The worst of the calendar year highs from 2004 through 2012 was $42.30. Seven of the last eight years saw peaks of $54 and above.
To get a stock market bargain you need to be willing to buy what others are selling in despair. ANF is a nice choice for investors with a 12- 24 month horizon.
You can now get in more than $10 under 2011's dead low. You're also within a few bucks of the 2010 - 2012 panic selling nadirs.
Disclosure: I am long ANF. I wrote this article myself, and it expresses my own opinions. I am not receiving compensation for it (other than from Seeking Alpha). I have no business relationship with any company whose stock is mentioned in this article.