Auto sales for the month of September are in, and after a strong August, Ford (NYSE:F) left much to be desired with the release. September is one of those weird months that has a combination of new and old model years on the lots, and that hurts sales for Ford. Automakers don't have a cult-ish following that needs the new product immediately after the release, think Apple customers (disclaimer: I purchased an iPhone 5 already). As always, there are positives and negatives from the release, but this month, the negatives outweighed the positives.
Negatives:
Truck sales declined 8.7% year over year, primarily as a result of the discontinuation of the Ranger line. Sales were flat excluding Ranger sales.
Fusion sales declined 37.0% year over year, but are still up 3.0% year to date.
Total Lincoln sales declined 3.1%.
Lincoln MKS sales declined 33.9% while the MKX declined 6.9%
Positives:
Small car sales totaled 24,628 vehicles in September - the company's best U.S. small car sales since 2002 and a 73% increase year-over-year
I know I said trucks were a negative for the month, but they are still on track for their best year since 2007
Total retail sales were up 4% year over year, which means higher margins for the Company's bottom line
Transaction price increased 0.8% year over year to $32,048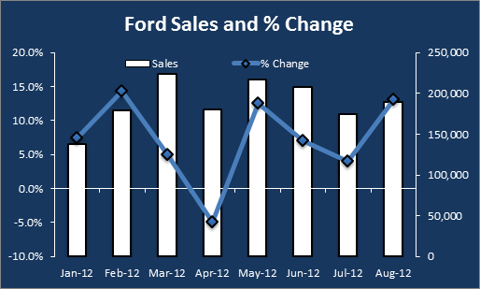 Despite some of the positives above, I was rather unimpressed with Ford's month. For the whole auto market in total, the month delivered approximately 14.96 million vehicles on an annually adjusted rate, which marks the best month since 2007, but Ford appears to be losing share. It is the second largest automaker in the United States, behind GM. However, what continues to impress me about Ford is the transaction price. As the bullet above shows, the Company had an average transaction price of $32,048, which makes it third for the month, behind Toyota (NYSE:TM) and Volkswagen (OTCPK:VLKAY). Ford started the pricing trend in the auto industry and now other automakers are following suit. General Motors (NYSE:GM) said its average transaction improved 2.4% year over year to $29,577. The total incentive for the industry was down 6.7% compared to September of 2011.
Ford's stock is in a holding pattern, which when taking all the positives from the year into account, really baffles the mind. GM and TM are up 16.8% and 16.2% year to date, respectively, with the S&P 500 up 15.0%. However, Ford is down 9.0% through the first nine months of the year.
Right now, the likely departure of CEO Alan Mulally is hanging over the company's head, but I still see Ford trading higher. The stock is currently trading with a forward PE of 6.61 and a PEG of only 0.76. That being said, I don't think Ford really takes off before Europe begins to turn around. Europe is the largest auto market in the world, and has been extremely weak over the past few years. GM and Ford will be relatively range bound as long as Europe continues to be such a problem.
Disclosure: I am long F. I wrote this article myself, and it expresses my own opinions. I am not receiving compensation for it (other than from Seeking Alpha). I have no business relationship with any company whose stock is mentioned in this article.