One of our favorite business models in the world is Rackspace (NYSE:RAX), a provider of managed hosting and cloud computing services. In our opinion, the company is sitting at the helm of one of the most powerful and disruptive technology changes over the past 100 years - the shift from premise-based to cloud-base IT infrastructure such as data centers and software distribution.
OUR RACKSPACE THESIS:
IT infrastructure is undergoing a rapid shift towards being delivered over the internet vs. on-premise as it offers superior quality for a lower cost. We expect the managed hosting / cloud computing industry to grow 20% annually for the next few years.
Rackspace will take market share due to superior customer service and adopting OpenStack, an open source framework for delivering cloud computing technology.
High degree of recurring revenue, enabling steady revenue and earnings growth. Driven by only 1% annual churn. High level of financial visibility deserves premium valuation.
Virtualization technology and open source community will drive margins much higher as the business matures. Virtualization increases revenue per server, and utilizing open source for R&D enables rapid innovation at minimal costs as the "crowd" does the heavy lifting. At maturity, the business will be a cash cow.
Rackspace is likely to be acquired due to the company's integral nature in delivering the modern internet.
CUSTOMER SERVICE WILL WIN THE DAY:
This is the most under-appreciated aspect of the "story" by the average investor. At its core, Rackspace is a service company delivering premium-quality technology outcomes. Most investors, because they have never run a real business, don't fully grasp the power of taking care of the customer and the competitive advantage Rackspace enjoys with their focus on fanatical customer support. Companies are entrusting their mission-critical technology infrastructure with Rackspace, so there needs to be an obsession with customer service for long-term success.
As shown in the chart below, Rackspace's churn is remarkably low at ~1%. This suggests that the company is delighting their customers and there is little incentive to switch to a competitor. This enables Rackspace to build a "sticky" business and post above-average revenue growth.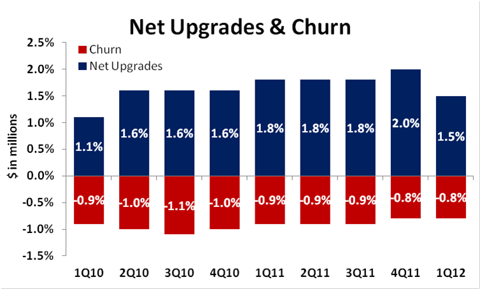 The upside to good customer service is a solid base of recurring revenue that enables the sales force to seek new business to "build the base" versus just trying to fill the void from departing customers. This reality is evident by the steady increase in Rackspace's revenue quarter-over-quarter.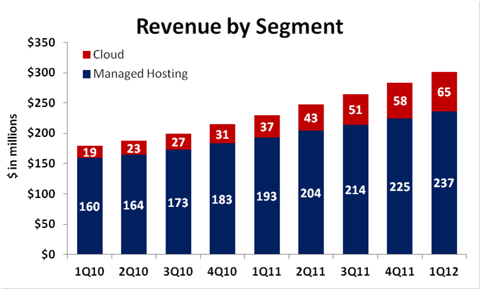 RISING REVENUE PER SERVER = HIGHER MARGINS AND RETURNS:
Virtualization is one of the key trends playing out in the data center. Such technology enables businesses like Rackspace generate more revenue on the same amount of hardware - increasing margins and lowering capex. This is a powerful combination for a higher ROIC.
The chart below shows the rising revenue per server: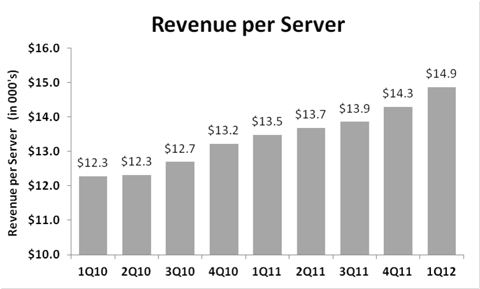 As such, Return on Invested Capital has been rising: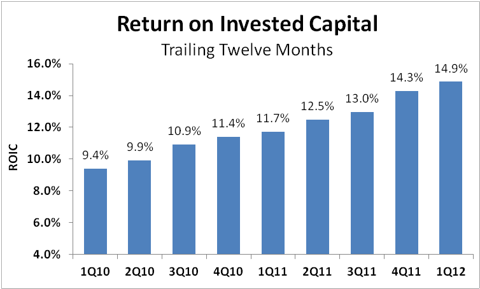 There are some people like Herb Greenberg of CNBC that mistakenly call Rackspace a commodity business. He argues that Rackspace is simply selling hardware such as servers and this business will undergo massive margin compression. However, what he fails to realize is that the business is about delivery on-demand IT infrastructure which requires massive technological expertise and margins are very much protected. The previous chart, showing a steady rise in Return on capital, proves that Herb Greenberg is wrong. If there was margin pressure at Rackspace, ROIC would not be able to increase.
Below is another chart that defends our stance that Rackspace is an amazing business model and not one at risk of commoditization: rising net margins.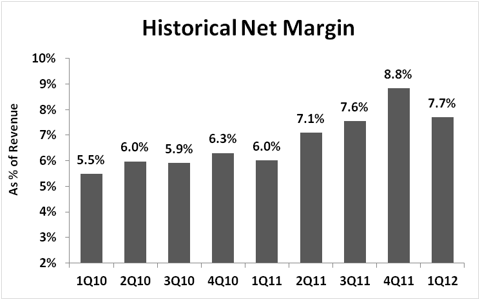 Rackspace has demonstrated improving net margins over the past 9 quarters as the business matures. This is impressive given the company has posted 30% annual revenue growth over this time period, which places a "growth penalty" on the financials. Specifically, a company growing so rapidly faces margin pressure because they are investing in hardware and people ahead of the revenue opportunity, placing downward pressure on margins. Rackspace's ability to drive net margin higher during a hyper phase of growth implies substantial margin expansion opportunity as the business continues to mature.
THE TECHNOLOGY FOUNDATION FOR THE INTERNET:
The company's services, along with their competitors, are so instrumental to the proper working of the modern internet we think the company deserves a premium valuation. Specifically, we are comfortable paying 50x forward EPS and 15x EBITDA for this business. We have a hard time finding a business model that has such a long runway for growth, such a sticky business, and innate competitive advantages.
The best way to demonstrate Rackspace's profit potential at maturity is to show incremental EBITDA margin. As seen below, every $1 in new revenue generates about $0.40 of EBITDA. Like the tower operators, it doesn't require a lot of additional costs to layer on new revenue. This is why we think the business will be a cash cow at maturity.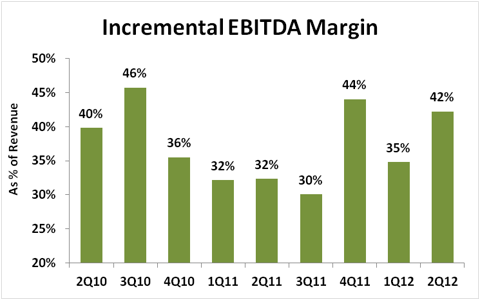 RISKS TO OUR LOVE AFFAIR WITH RACKSPACE:
The company competes with several 800-lb gorillas, so management needs to continue executing the game plan:
These companies are aggressively pursuing the cloud computing space, but they are doing so because the market is so large, fast-growing, and lucrative. We think there is plenty of room for many of these players to succeed, but the competitive landscape will certainly create headlines that will worry RAX investors and potentially create near-term earnings misses.
Additionally, the pace of technological change is stunningly fast in this industry, so there is a risk that Rackspace gets leap-frogged. However, we contend that the company's emphasis on utilizing open source code to build their cloud products will protect against this risk.
In order to assess if the company is meeting our elevated expectations, we'll constantly monitor churn, revenue per server, and incremental gross margin. In our opinion, these metrics provide the best insights into the health of the business.
Disclosure: I am long RAX, RHT. I wrote this article myself, and it expresses my own opinions. I am not receiving compensation for it (other than from Seeking Alpha). I have no business relationship with any company whose stock is mentioned in this article.