FONAR (NASDAQ:FONR) is one of those stocks from my investment childhood. In fact, it's probably the first stock I ever speculated on, when I opened my first brokerage account many years ago (early 90s). I am happy to say that I have made money on this stock, which is better than most people can say who have bought this stock it in the past.
This company was always on the verge of something exciting, but could never get its act together. For example, Raymond Damadian, M.D., fonder, president and CEO of FONAR is credited with the discovery that is the basis for magnetic resonance scanning in 1970. The company has a score of patents and has been successful in challenging much bigger companies in numerous patent infringement cases. On May 27, 1997, the U.S. Supreme Court ordered General Electric (NYSE:GE) to pay FONAR $128,705,766 for its infringement of FONAR's patents. The company has also obtained satisfaction from nearly every one of its competitors in the MRI industry, including Toshiba, Siemens (SI), Shimadzu and Philips (NYSE:PHG).
FONAR was incorporated in 1978 and is the first and oldest MRI manufacturer in the industry. FONAR introduced the world's first commercial MRI in 1980 and went public in 1981. Even though FONAR virtually started the MRI industry and has had a head start against everybody, the company never became a world class medical manufacturing company.
And not only did it not become a giant in the industry, it made many mistakes along the way and at some point it was selling stock to survive. As a result, it diluted long time shareholders to death.
As evidence, let's look at the long term chart below: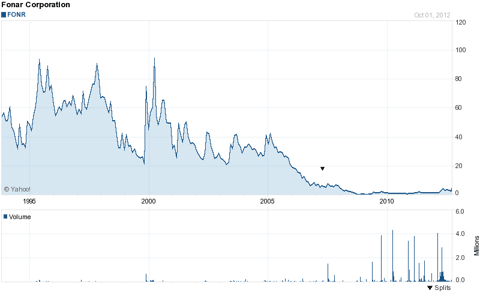 The above chart is linear to make a point. The point being that those who have been long time shareholders with a buy and hold strategy have seen mythical losses. Having been reduced to a penny stock many years ago, on April 17, 2007 the company announced a 25-1 reverse split.
However, just as past performance is not indicative of future returns, so are past losses not indicative of future losses. In other words, yes this stock has had a lousy history and yes, it has given shareholders nothing but losses, but there comes a time when one has to ask, if things might be different this time.
The question is, has Fonar turned a page? Well the verdict is still out, however, for first time after many years that I have been observing this company, the balance sheet is extraordinary healthy.
As per their latest results (10/1/12), total assets increased 6% to $33.6 million for the year ended June 30, 2012, as compared to the previous fiscal year when total assets were $31.6 million. Total cash and cash equivalents were $12.0 million, total current assets were $25.9 million, total current liabilities were $21.1 million, and total long-term liabilities were $1.5 million. Also, total stockholders equity was $11.1 million. Let me point out that for many years stockholders equity of FONAR was negative. It is a good sign that things are back in the black.
Their earnings were even better. Total net income for the year ended June 30, 2012 more than doubled, an increase of 108% to $6.9 million, from $3.3 million for the year ended June 30, 2011. Diluted net income per common share was $0.91, an increase of 65% over the previous year of $0.55. The company has very little long term debt and its current assets are more than enough to cover all liabilities.
Trading at a PE of around 5 and with an excellent balance sheet, I think this stock deserves a much better valuation. But then again, this company has a very long history of producing losses and I think the market will need a while to believe that this time things are different. But then again, nine consecutive quarters of profitability should be more than enough evidence to convince the market that something really is different this time around.
In order for this stock to really take off, besides bottom line results, management needs to focus on building a good relationship with shareholders and with market participants. The huge loses many investors have incurred over the years are not easily forgotten. Trust is earned and not a given. Management has to do a far better job of regaining the market's trust.
So does one buy this stock today focusing on valuation, or does one ignore valuation and focus on the past? I think one should buy, because markets tend to be forgiving when the earnings situation has changed. As a result, the stock gaped up on the recent news and probably has more upside to go.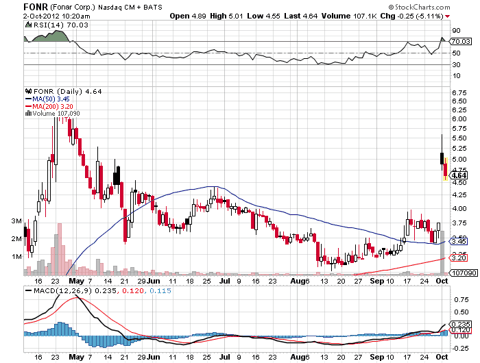 Overall, I like the company's valuation and how management has turned the company around over the past several years. With a solid balance sheet and good earnings growth, I think this stock will see much higher prices, even taking into account managements past follies.
Disclosure: I have no positions in any stocks mentioned, and no plans to initiate any positions within the next 72 hours. I wrote this article myself, and it expresses my own opinions. I am not receiving compensation for it (other than from Seeking Alpha). I have no business relationship with any company whose stock is mentioned in this article.