Advanced Micro Devices (NASDAQ:AMD) is one of the world's largest semiconductor manufacturers. The company manufactures microprocessors, graphics processors and embedded processors. Recognized globally as a manufacturer of PC hardware, AMD is the second largest global supplier of microprocessors (x86 architecture), and a major player in the graphics processing supplier industry. The company has faced sales declines due to a global slowdown in PC sales and a sluggish global economy. The company will release its earnings on the 18th of this month, which can act as a catalyst. Therefore, we have a neutral rating on AMD and are waiting for sales to stabilize before we recommend a buy.
The California based semiconductor giant has two main business segments; Computing Solutions and Graphics. The Computing Solutions segment is responsible for the designing, manufacturing and marketing of microprocessor products, used in servers, desktops, laptops, mobiles and tablets. The Graphics segment also develops top of the line driver and supporting software products, considerably broadening their application to a wide range of operating systems and applications.
| | | | | | | | |
| --- | --- | --- | --- | --- | --- | --- | --- |
| $ millions | 2007 | 2008 | 2009 | 2010 | 2011 | Q1 2012 | Q2 2012 |
| Computing Solutions | 4,701 | 4,559 | 4,154 | 4,817 | 5,002 | 1,203 | 1,046 |
| YoY | | -3% | -9% | 16% | 4% | | |
| QoQ | | | | | | | -13% |
| Graphics | 903 | 1,165 | 1,183 | 1,663 | 1,565 | 382 | 367 |
| YoY | | 29% | 2% | 41% | -6% | | |
| QoQ | | | | | | | -4% |
The table above shows company revenues from its two major segments. As we can see in the table, the revenue growth has slowed down. The slowdown has been much more significant in the Graphics segment, where a 41% growth in 2010 came down to -6% in 2011, and to -4% in Q2 2012. The revenues from Computing Solutions decreased to $1046 million in Q2 2012, a 13% decline QoQ. There are a number of reasons for this decrease in revenues. The computing industry dynamics have changed in the last couple of years, shifting to handheld devices, rather than laptops and Personal Computers. Companies like AMD and Intel (NASDAQ:INTC) have suffered due to this shift in demand because their focus was on PCs, whereas Qualcomm (NASDAQ:QCOM) has relished the increase in smartphone hardware demand.
CFO Resignation
The resignation of the company's CFO has had a toll on share performance. The shares took a 12% hit after Thomas Seifert announced that due to "personal reasons" he was leaving AMD. Seifert had filled in as acting CEO last August, until Read was appointed CEO a few months later. Investors had a lot of confidence in Seifert, and he was considered to be the ideal choice to control costs. The company is looking to reduce operating expenses to return to profitability; which is why the stock plunged after the departure of a CFO.
Ratings
Out of 33 analysts, 20 are giving AMD a hold rating for the current month, whereas four have a buy rating. In September, Longbow and UBS downgraded AMD to neutral from buy. If we look at the Hold column in the table below, we can see a steady increase, whereas there is a steady decline in the Strong Buy column. This shows the increasingly negative outlook of analysts regarding AMD.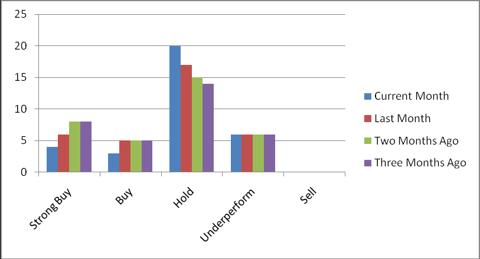 Valuations
AMD has the lowest Forward P/E amongst its competitors. It is still pretty close to Intel's P/E of 10.3x, but much lower than Qualcomm's 15.1x. Qualcomm has a high P/E due to its involvement in the smartphone industry, in which it is a market leader.
| | | |
| --- | --- | --- |
| Company | PS | Forward PE |
| AMD | 0.4x | 9.4x |
| Intel | 2.1x | 10.3x |
| Qualcomm | 5.7x | 15.1x |
| Nvidia (NASDAQ:NVDA) | 2.0x | 13.0x |
Source: Yahoo Finance
The financial strength of AMD is far weaker than the industry, which further explains its low valuations. The Debt to Equity ratio is 137%, as compared to the industry average of 3.19. Interest Coverage is 3.9, as compared to the industry average of 61. Quick Ratio and Current Ratio are both approx. half the industry average.
FINANCIAL STRENGTH

Company

Industry

Sector

Quick Ratio (MRQ)

1.02

2.56

0.86

Current Ratio (MRQ)

1.37

3.19

2.72

LT Debt to Equity (MRQ)

137.15

24.6

9.59

Total Debt to Equity (MRQ)

180.93

43.55

18.01

Interest Coverage (NYSE:TTM)

3.89

60.09

68.95
Source: Reuters
Conclusion
AMD has seen a decline in sales due to a slowdown in PC market and a general slowdown in global economy. The competition in the semiconductor industry is tough, and we do not see a major turnaround. We believe, the stock is correctly priced and investors should wait for the next big catalyst which is the 3rd quarter earnings, on 18th October. AMD has given a revenue target of $1.3-$1.4 billion. The average analyst estimate of the revenue target is $1.39 billion with an average EPS of $0.02. We believe that Windows would give AMD's sales a boost but investors should wait for next quarter's results.
Disclosure: I have no positions in any stocks mentioned, and no plans to initiate any positions within the next 72 hours.
Business relationship disclosure: The article has been written by Qineqt's Technology Analyst. Qineqt is not receiving compensation for it (other than from Seeking Alpha). Qineqt has no business relationship with any company whose stock is mentioned in this article.