In 2011, gold hit the $1900 levels, and the price of silver was over $49. Despite solid gains in the last several days, both silver and gold are far from their previous peaks. However, I think that there are several fundamental factors that should lead to further appreciation of gold and silver price.
If you believe in a positive outlook for these precious metals, the simplest way to bet at it is to buy ETF on gold (NYSEARCA:GLD) or silver (NYSEARCA:SLV). Another way is a long position on gold producers ETFs (GDX, GDXJ) or silver producers ETF (NYSEARCA:SIL). A more aggressive approach, however, would be a long position on silver and gold miners. In my opinion, one of the most interesting companies in the sector is Coeur d'Alene Mines Corporation (NYSE:CDE).
Coeur d'Alene Mines Corporation is the largest U.S.-based primary silver producer and a growing gold producer. In 2011, the company produced 19.1 million ounces of silver (eighth place in the World ranking of silver producers). In 2012, the company expects to produce between 18.5 million and 20.0 million ounces of silver and between 210,000 and 230,000 ounces of gold.
Coeur d'Alene Mines Corporation's operating segments include Palmarejo (Mexico), San Bartolomé (Bolivia), Kensington (Alaska, USA), Rochester (Nevada, USA), Martha (Argentina) and Endeavor (New South Wales, Australia).
In the last six months, the company performed better than the most of the other companies in the sector. The table below presents the performance of several silver producers and the Global X Silver Miners ETF.
| | | | | |
| --- | --- | --- | --- | --- |
| | 5 days | 1 month | 3 months | 6 months |
| Coeur d'Alene Mines Corporation | +0.31% | +26.78% | +66.00% | +22.78% |
| Global X Silver Miners | -0.83% | +16,83% | +34,60% | +12,68% |
| Silver Wheaton Corp. (SLW) | -1.73% | +13.34% | +46.13% | +18.12% |
| Hecla Mining Company (NYSE:HL) | -2.33% | +23.28% | +40.42% | +44.36% |
| Pan American Silver Corp. (NASDAQ:PAAS) | -3.52% | +23.12% | +28.37% | -1.77% |
| First Majestic Silver Corp (NYSE:AG) | -3.33% | +16.26% | +58.7% | +38.35% |
Source: finance.google.com
Coeur D'alene Mines posted excellent results for the second quarter of 2012 (total sales: $254.4 million, EBITDA: $102.6 million, net profits: $23.0 million). The company's valuation is also attractive - with a forward P/E 11.43 and PEG ratio 0.75.
The company also implemented a $100 million share repurchase program that clearly reflects its strong cash position. Lately, analysts too boosted their price target on shares of the company (Sterne Agee to $36.00 and RBC Capital from $29.00 to $35.00).
Furthermore, in September and August, insiders purchased shares of Coeur D'alene Mines, with around 7,000 being bought.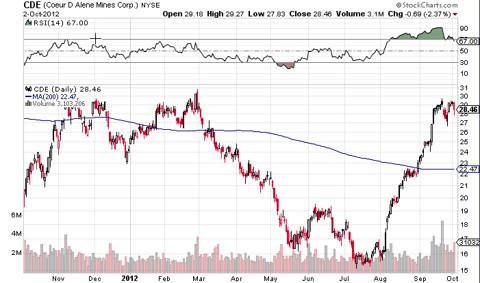 Source: StockCharts.com
Technical analysis shows a very strong upward trend, with resistance levels at $30.88 (previous 52-week's high). A correction of the share price is quite probable at the current level, and may provide a good opportunity for purchasing shares.
Disclosure: I have no positions in any stocks mentioned, and no plans to initiate any positions within the next 72 hours. I wrote this article myself, and it expresses my own opinions. I am not receiving compensation for it (other than from Seeking Alpha). I have no business relationship with any company whose stock is mentioned in this article.