Chipotle Mexican Grille (NYSE:CMG) is one of the fastest-growing companies in America, currently growing revenues at an annual rate of 23.5%. This is due to a combination of opening new restaurants, and also increasing sales at current locations. However, the stock has been on a roller coaster ride lately, trading at an all-time high of $442.40 this past April, a remarkable run considering the stock had traded as low as $36.86 in late 2008. One bad quarter and a few pessimistic analysts later, the stock has retreated 31.5%, closing at $302.96 Monday amid negative comments by well-known hedge fund manager David Einhorn.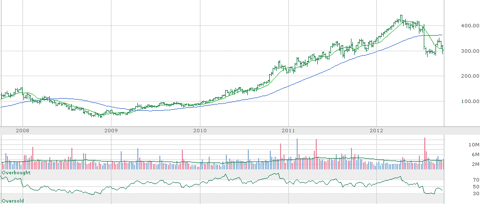 Einhorn claimed that Chipotle's valuation "doesn't make sense", and that food cost and employee healthcare premiums are on the rise. He also said that Yum Brands (NYSE:YUM) poses a serious threat to CMG's growth, with their Taco Bell restaurants introducing the "Cantina Bell" menu. He said the Taco Bell products are comparable to Chipotle's, with lower prices and more locations. However, the company claims this is not threat at all, that it makes a far superior product and has loyal customers.
Over the past 12 months, CMG has grown its earnings per share by 36.3%, compared with a 20.6% growth average across the restaurant industry. CMG currently trades at 38.4 times earnings, a significant premium to competitors mainly due to their growth prospects. Analysts expect significant upside in the stock, with an average 12-month price target of $400.53 amongst the 17 analysts covering the company. The company is expected to grow at a 20% annual rate for the next 3 years, and quite possible for much longer. The company has only recently started to open international locations, with only four of its restaurants operating outside of the USA.
CMG is also branching out into other genres of food. Just recently, the company launched their first non-Mexican eatery, called ShopHouse Southeast Asian Kitchen, in Washington, D.C. The company says the new concept is largely based on the business model that has worked so well for Chipotle, using fresh, healthy ingredients and having customizable menu items.
With all of the growth projected for the company, an earnings multiple of 38 is very reasonable. Analysts are currently estimating 2012 earnings at $9.13 per share, expected to climb to $10.91 in 2013 and $13.31 in 2014. This gives us a target price of $346.94 for the end of this year, in just 3 months. Using the 2013 and 2014 projections, we would expect CMG to end those years at $414.58 and $505.78, respectively.
Admittedly, there is a lot of uncertainty surrounding CMG in the upcoming months, as we wait and see how their new restaurant concept does, and how Taco Bell's new Cantina menu performs with consumers. Instead of purchasing the stock outright, I recommend playing CMG with January 2014 calls using a vertical spread. Just to clarify, this would be the second of the three price targets I mentioned ($414.58). My trade is to buy the Jan '14 $300 calls for a debit of $51.00. Then, sell the $350 calls of the same expiration for a credit of $30.60, for a net debit of $20.40. I like this trade mainly because the strike prices are very conservative, relative to both our target price and Chipotle's historic valuation. If Chipotle is valued at or over $350 at expiration, our trade makes its maximum profit of $29.60, or a 145% gain on the initial investment. Breakeven for this trade is $320.40, which is only a 5.75% gain over the current share price in a 15 month timeframe, and a price that CMG was trading at only a week ago. This trade produces a great risk/reward ratio for a patient investor in a company that has plenty to be bullish about.
Disclosure: I have no positions in any stocks mentioned, but may initiate a long position in CMG over the next 72 hours. I wrote this article myself, and it expresses my own opinions. I am not receiving compensation for it (other than from Seeking Alpha). I have no business relationship with any company whose stock is mentioned in this article.