By Sabina Bhatia
On June 27th, 2012, we discussed Jakks Pacific (NASDAQ:JAKK), when the company tripled its forecast on "Brave" products. This was a great strategy for the company that wanted to be ahead of the curve come Christmas. Additionally, JAKK and Oaktree Capital (NYSE:OAK) ended negotiations for a possible takeover. Today, we wanted to re-introduce JAKK for a few reasons, namely: 1) JAKK is one of the eight consumer stocks with significant short covering, and 2) valuation still looks interesting for those looking for consumer stocks before holiday season.
JAKK is one of the eight consumer stocks with significant short covering. Although this might be significant information to get our attention, we want to focus on what the investors might be thinking:
Valuation: After market close on Friday, the company lowered its 2012 guidance due to less than expected product sales. Revenue guidance dropped to $690-700 million from $720-728 million and EPS to $0.68-$0.74 from $1.04-1.08. Jakks was too optimistic about its 2012 guidance for its new toys from Monsuno and Winx Club. The stock is now trading at $13.76 and close to its 52 week low of $12.18. Trading at an EV/EBITDA multiple of 8.9x, JAKK once again looks like an attractive takeover candidate. Remember that Oaktree was initially interested in the stock at $20/share. As per the 13F filings, we know that Oaktree has sold its last 5% interest in the company, but given where the stock is trading today, it might attract other suitors. Even with the stock at a more conservative range of $16-$17, it would be equivalent to an EV multiple of 9x.
Additional positives for the stock include a strong balance sheet with $222 million in cash, Short-term borrowings of $0 and total long-term liabilities of $99 million. A strong balance sheet is key for retailers in this weak economic environment where survival of the fittest is key.
Top competitors of Jakks are Mattel (NASDAQ:MAT), Hasbro (NASDAQ:HAS) and Leapfrog (NYSE:LF)
As of September 2012, the top holders of JAKK stock as of Fidelity Investments, Dimensional Fund, and Vanguard Group. In June, the top holders of the stock were Fidelity Management, Dimensional Fund, and AQR Capital Management. We would also like to point out again that Oaktree has sold its remaining 5% of the stock.
Conclusion: Although Jakks has missed earnings and the holiday season looks like another challenging period for the company, the stock valuation is still worth a look given the company's strong balance sheet and potential for a possible takeover.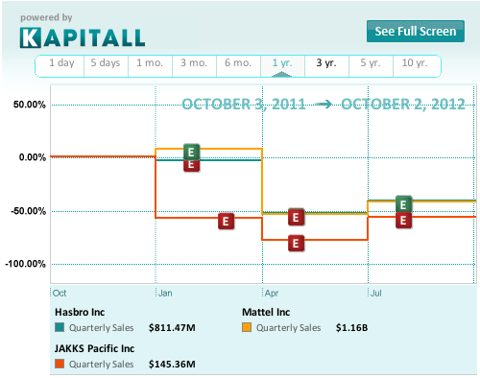 Disclosure: I have no positions in any stocks mentioned, and no plans to initiate any positions within the next 72 hours. I wrote this article myself, and it expresses my own opinions. I am not receiving compensation for it (other than from Seeking Alpha). I have no business relationship with any company whose stock is mentioned in this article.