Greenway Medical Technologies (NYSE: GWAY) is a relatively obscure $550 million IT/Healthcare services company that attracted a lot of attention on August 29th 2012 with the release of Q4 2012 results.
Greenway specializes in ambulatory care providers, which is proving to be a very lucrative market for IT services. Revenue growth is coming in at approximately 24%, while raw profit margins were stated to be particular good at 60% for Q4 (16% after adding everything else).
16% overall profit margins aren't all that impressive for a software/service company in Greenway's industry, but the company expects that their efforts to further increase operating efficiency will make an impact in future quarters.
The real success of the last quarterly report was in the outlook for fiscal year 2013, which implied that the very positive trend set by Q4 2012 was going to continue. Margin is expected to hover around 56-57%, which should allow earnings (or bottom-line) growth some breathing room to match revenue (or top-line) growth.
Greenway has been particularly interesting in recent trading sessions due to its high trading volume, which is supporting its rise to a new 52-week high with some conviction.
Here is price volume from the last 5 trading sessions on the New York Stock Exchange: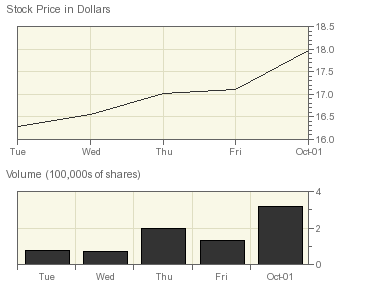 I found GWAY today (October 2nd) due to the even larger trading volume that was posted - 695,646 shares. It's obvious that GWAY is continuing to garner investor attention. If you are a momentum trader, GWAY might be the right stock for you.
Disclosure: I have no positions in any stocks mentioned, and no plans to initiate any positions within the next 72 hours. I wrote this article myself, and it expresses my own opinions. I am not receiving compensation for it (other than from Seeking Alpha). I have no business relationship with any company whose stock is mentioned in this article.