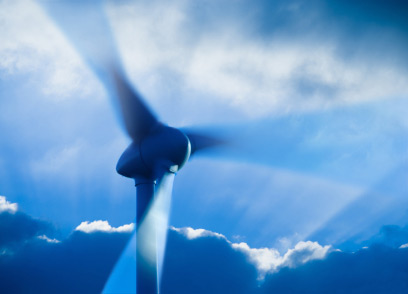 Thursday I had the pleasure of interviewing Carey Callaghan, the CIO and Co-Manager of the American Trust Energy Alternatives Fund [ATEAX].
This open-ended fund, which can be purchased either through their website or through Fidelity Investments, just started at the end of June 2008.
It is a unique fund with some uniquely positive distinctions over other alternative energy funds. Paul Collins is co-manager and he is also the founder and president of the holding company, American Trust Company, a private bank. The advisor to the fund is American Trust Investment Advisors.
For the sake of brevity: The motivating factor behind the fund is what Carey called the "... twin challenges of Peak Oil and Global Climate Change." The way the managers of the fund see it, these "twin challenges" are long-term secular trends. They will create a number of opportunties for companies.
We can expect that they will be transformative trends over the next decade that will impact all of us. Carey said, "We look beyond the 'usual suspects' that an alternative energy fund would invest in." They look for "critical suppliers" of green technologies (a.k.a. "critical path companies," such as Owens Corning Inc. NYSE:OC) which create the fiberglass composite used for making the blades for wind turbines and resource-based investments (i.e. natural resource companies).
The fund likes asset-intensive companies that are adopting clean technologies like the Honda Motor Company (NYSE:HMC) and utility companies.
OC is a Pickens Plan stock from Carey's point-of-view partly because they create fiberglass for wind turbine blades, cars, and insulation. Insulation, as Carey pointed out, saves almost half of residential energy consumption that would otherwise be lost. Energy efficiency is by far the most cost effective way to cut back on energy waste.
OC receives 34% of its revenue from manufacturing and selling insulation.
OC has, according to Carey, a free cash flow yield of 4.5%, so it throws out some cash. Earnings are surpressed right now due to the housing market slump. It has an 8.8 times enterprise value to EBIDTA  ratio (the lower the number,  the better), which is a little bit high. The EBIDTA is depressed now and the stock is trading close to its 52-week low.
OC sports a 2008 PE ratio of around 6 and a 2009 PE ratio of around 9, so it is reasonably priced. It has an 86.5% profit margin (ttm) and a return-on-equity (ttm) of 51%. It operates in four segments: Display Technologies, Telecommunications, Environmental Technologies, and Life Sciences.
Tomorrow I'll bring you the rest of the interview and two other "Pickens Plan" stock ideas that Carey shared with me. ATEAX is the kind of fund many investors have been waiting for and it has come along at a most auspicious time. Stay tuned for more important details.
Disclosure: none