Announcing its $6.1 billion deepwater Gulf of Mexico acquisition from BP (NYSE:BP) and Royal Dutch Shell (NYSE:RDS.A) on September 10, Plains Exploration & Production (NYSE:PXP) communicated to investors the plan to monetize its natural gas assets to partially finance the purchase. The assets designated for sale include PXP's Haynesville Shale and Madden Deep interests. Conversations with potential acquirers are already underway. The proceeds from the sale will be used to pay down the $2 billion bridge loan which is part of the financing structure. The sale of the equity investment in McMoRan Exploration (NYSE:MMR) (51 million shares), if necessary, is also not out of the question.
As Plains has every incentive to complete the sale quickly, it would not be surprising if a transaction was announced before year end. PXP's CEO James Flores indicated the expected sale price range of $1.5-$2.0 billion for the Haynesville and Madden Deep assets, and stated that he is very comfortable that the lower end of the estimate can be delivered. The anticipated divestiture would provide an important valuation data point with direct implications for Chesapeake Energy (NYSE:CHK), who is PXP's joint venture partner in the Haynesville and the operator of the JV. Even without the transaction, the value range indicated by Plains allows to derive conclusions regarding the estimated value for Haynesville assets that may be of interest to CHK investors.
Plains Exploration's Madden Deep Assets
PXP owns a 14% working interest in the 64,000 federal Madden Deep Unit and Lost Cabin Gas Plant in Wind River Basin, operated by ConocoPhillips (NYSE:COP). The Madden Deep Unit produces natural gas from multiple stratigraphic horizons including the Lower Fort Union, Lance, Mesaverde and Cody sands and the Madison Dolomite at depths ranging from 5,500 to 25,000 feet. Some of the gas produced from the Madden Deep Unit requires processing at the Lost Cabin Gas Plant to remove high concentrations of carbon dioxide and hydrogen sulfide. Plains estimates its proved reserves in the Madden Deep at 141 Bcfe. The company's net production from the Wind River Basin during Q4 2011 was 27 MMcfe/d.
Within the guided $1.5-$2.0 billion total sales proceeds, I allocate $200-$300 million to Plains' Madden assets. The estimate reflects, in addition to the value of natural gas reserves, the significant value of the Lost Cabin Plant which is strategically positioned to provide CO2 to existing and potential EOR projects associated with several large depleted oil fields in the Rocky Mountain region.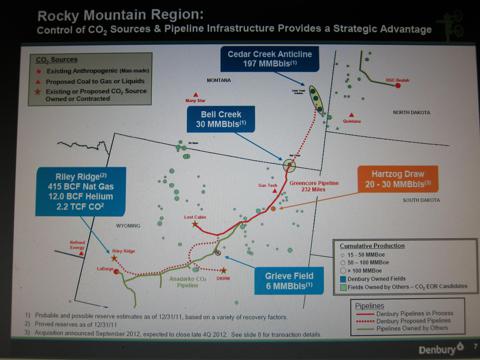 (Source: Denbury Resources' September 20, 2012 Presentation)
Plains Exploration's Haynesville Assets
As of December 31, 2011, Plains had mineral rights to approximately 432,000 gross acres (84,000 net acres) in the Haynesville Shale that Plains acquired from Chesapeake (implies current 19.44% interest in the Joint Venture with CHK). The acreage includes approximately 54,000 net acres of leasehold that is also prospective for the Bossier Shale.
Chesapeake and Plains' Haynesville joint venture dates back to 2008, the peak year of the gas shale boom, when Plains agreed to pay $3.3 billion for a 20% interest in Chesapeake's approximately 530,000 net acres in the Haynesville "Core." The consideration included $1.65 billion in cash and $1.65 billion in drilling carries. I estimate the NPV value of the consideration at the time of the announcement at $3.0 billion which translated in approximately $28,000 per acre.
Plains has disclosed that during 2011 it released 20,200 net acres that "were deemed to be outside of the primary focus area" and divested 3,000 net acres. During the period from 2009 to 2011, Plains also acquired approximately 7,300 additional net acres in the Haynesville at an average price of approximately $12,200 per acre. While no detail with regard to these recent acreage additions was disclosed, it is possible that the acquisitions were a "block-up" activity or, more likely, "top leasing" to secure leases that could not be converted to HBP status in time before the expirations.
Plains estimates its proved reserves in the Haynesville at 742 Bcfe. The company's net production from the Haynesville during Q4 2011 was 200 MMcfe/d.
Interestingly, Plains suggests over 11,000 unrisked potential drilling locations for its Haynesville JV based on 80 acre well spacing (4,000 laterals). Dividing 432,000 gross acres by 80, one would arrive at approximately half of the suggested location count. Even if one were to add the Bossier acres, the location count comes out at 8,870, still well below the suggested. This data point hints therefore toward the possibility that Chesapeake and Plains are envisioning developing the Haynesville with laterals in both lower and upper portions of the formation, effectively doubling the well density in certain parts of the play. The concept has been discussed in the industry and is illustrated by the slides from a QEP Resources' (NYSE:QEP) presentation.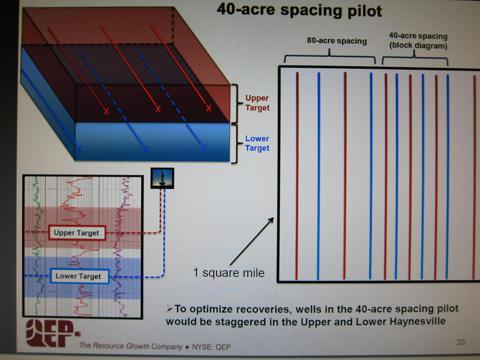 (Source: QEP Resources November 14, 2011 Presentation)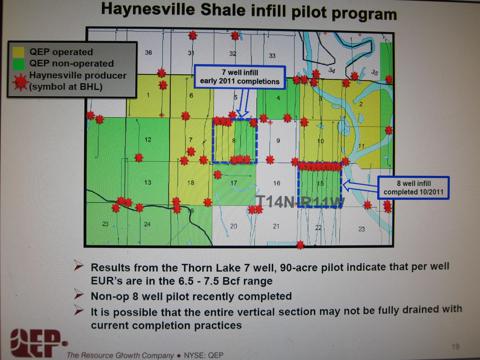 (Source: QEP Resources November 14, 2011 presentation)
Subtracting the estimated value of Plains' Deep Madden Assets (I use the $250 million midpoint) from the $1.5-$2.0 billion total sales proceeds guidance, the value of the Haynesville assets comes out in the range of $1.25-1.75 billion. Using a $400-$500 million value estimate for the proved developed reserves, the implied value per undeveloped acre is approximately $10,000-$15,000, in line or perhaps slightly higher than Plains' last year's "block up" purchases.
Value Implications for Chesapeake
Based on the valuation range for Plains' Haynesville assets, the implied value of Chesapeake's interest in the JV is $5.2-$7.2 billion. However, given its operated nature, Chesapeake's interest should be valued at a premium. For illustrative purposes, a 20% premium would lead to a $6.2-$8.7 billion valuation range.
Haynesville accounts for approximately 27% of Chesapeake's natural gas production but has a more prominent weight in the company's natural gas portfolio in terms of undeveloped potential and capability to scale up production quickly. While Chesapeake has a vast portfolio of resource assets and the Haynesville is no longer a company-defining asset, a sale by PXP at the low end of the guidance (at $1.3 billion or lower) would be a disappointing "read-through" to Chesapeake from a valuation perspective (also casting a shadow on other dry gas assets). On the other hand, the sale at the high end of the range ($1.7 billion or higher), which I personally believe is a more likely outcome, will highlight the "hidden" value in Cheaspeake's portfolio and would prove that natural gas assets can sustain their M&A value even in a severe downcycle.
In addition to Chesapeake, the read-through from the anticipated sale will be of high relevance for other Haynesville-focused operators such as EXCO Resources (NYSE:XCO), QEP Resources, EnCana (NYSE:ECA), EOG Resources (NYSE:EOG), Goodrich Petroleum (NYSEMKT:GDP), Comstock Resources (NYSE:CRK), and several others.
Disclaimer: This article is not an investment recommendation and does not provide a view on the value or price direction of any security. Any analysis presented in this article is illustrative in nature, is based on an incomplete set of information and has limitations to its accuracy, and is not meant to be relied upon for investment decisions. Please consult a qualified investment advisor.
Disclosure: I have no positions in any stocks mentioned, and no plans to initiate any positions within the next 72 hours. I wrote this article myself, and it expresses my own opinions. I am not receiving compensation for it (other than from Seeking Alpha). I have no business relationship with any company whose stock is mentioned in this article.