Although the Opening Ceremonies for the Beijing Olympics don't start until tonight, some events have already begun. Likewise, the flow of traffic online for the Olympics got an early start this year, reaching an early peak during the height of last month's qualifying competitions.
NBC's official Olympics site (NBCOlympics.com) is gaining steam leading up to tonight, as are the Olympics sections on two popular sports websites: ESPN.com and Yahoo! Sports. The official website for these summer Olympics (en.Beijing2008.cn) lags behind, currently finishing out of the medals.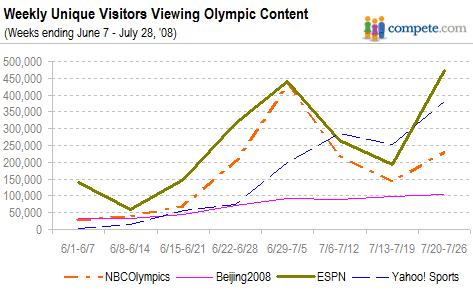 Although Beijing2008.com and NBCOlympics.com come in first and third respectively as search destinations in a broad match for the term 'olympics' since early May, neither is attracting as much Olympics interest as ESPN or Yahoo! Sports. It appears as though users looking for information though search engines are more inclined to use the Olympics-specific sites, while those foregoing search are more likely to use familiar sports sites.
The Olympics sites will of course see a huge spike once the games start, but the spike may be even bigger this year than for previous contests. The chart below compares traffic to NBC's official Olympics site in the months leading up to and during the Games in 2004 and 2008.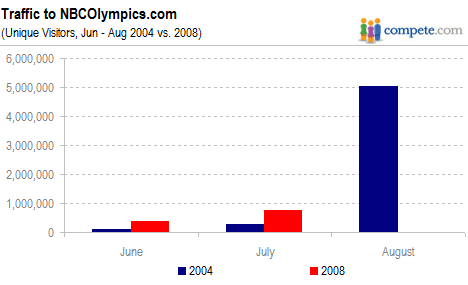 Whether driven by the controversy over protests during the torch relay, the air quality in the city, or a heightened interest in the actual events, NBC's Olympics site has seen three times more traffic in June and July of 2008 than in 2004. There are still question marks about whether Beijing will be a success as an Olympics venue, but signs are already pointing towards the games being bigger than ever online.