Introduction
Since July 2012, Google's stock has experienced a tremendous 29% rise in price. At this rate, Google (NASDAQ:GOOG) could overtake Microsoft (NASDAQ:MSFT) and Wal-Mart Stores (NYSE:WMT) in short order and become the third largest company in the U.S. While its prime rival Apple (NASDAQ:AAPL) remains engulfed in lawsuits, Google is enjoying rich quarterly profits. In this article, I analyze Google's move to buy Motorola Mobility, how it will change Google's revenue structure - and, of course, what this means for investors. So should you buy Google now, as it currently hits all-time highs? Let's have a look.
Google Profile
Currently, Google's primary source of revenue is advertising; in 2011, 96% of its total revenue came from advertisers. Google's massive reliance on advertising is sometimes overlooked. A recent report stated that Google's advertising revenues are larger than that of the entire U.S. newspaper industry. More importantly, 80% of all the mobile revenue generated by Google comes indirectly through its rival's Apple iPhone. However, now that Apple has decided to develop its own maps, and exclude YouTube from the preinstalled apps on its iPhone, Google is rather vulnerable. as Apple has 23% of the smartphone market share.
It seems that Google management had anticipated Apple's moves, and, to make up for the lost revenue, Google has acquired Motorola Mobility. This purchase will allow the company to achieve a greater integration between its hardware and software development - something which has allowed Apple to have a competitive advantage.
Tracking Financials
Based on its rapidly rising online revenue, Google recorded revenue of $12 billion for Q2 2012 compared to $9 billion in the Q2 2011, a 33% year-over-year increase. It is set to overtake Facebook (NASDAQ:FB) next year, in total revenue generated by advertisements. Google also does not provide its investors with a dividend, and has been heavily criticized for this - but more on that later.
As of October 3, 2012, Google's price-to-earnings ratio of 22.3 is far below the industry average of 28.9. The 52-week range is from $480.60 to $765.99 The ttm ROE is 19.0, which is much higher than the industry average of 13.7. The company's debt situation and cash flow are extremely positive - the debt/equity ratio of 0.1 is considerably lower than the industry average of 1.0. Google can afford to take on large amounts of debt, and still have a favorable debt/equity ratio. Since the technology industry has weathered the economic meltdown, with the beta of 1.09 Google looks relatively safe from potential market threats.
Stock Performance
Since June 2012, Google has gained at least 30%, and with this gain, it recorded its all-time high. With this in mind, the company's market cap of about $248 billion currently makes Google the fifth largest company in the world.
As Google has ventured into numerous industries, the advertising giant faces many competitors in various segments. When compared with the S&P 500 and the Dow Jones Industrial Average, Google's graph below illustrates its ability to consistently outperform the two market indices.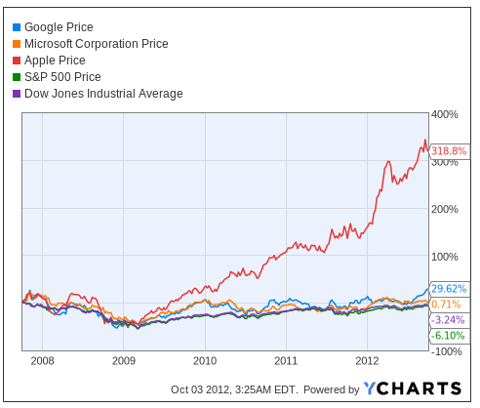 Apple remains Google's biggest competitor. Analysts have compared Google to Apple in countless evaluations. However, keeping in mind the more advanced stages of Apple's products, it would be perhaps unfair to make a direct comparison. While Google aims to gain revenue from advertising avenues, Apple's revenue increases simply by every additional product sold.
At the moment, Google is more directly in competition with Microsoft. Google has managed to outperform Microsoft over Q3 2012, due to its new sustainable and diversified advertising strategy, which has become the backbone for Google's latest surge of growth. Yet Microsoft remains a technological leader because of its dominance in the personal computer sector. Apple, on the other hand, is the only company that has managed to outpace Google's stock price on the market.
What Does the Future Hold?
Google earns no revenue from selling its operating system, since it is free and available to the public. The operating system is a vehicle for Google to earn advertising revenue. This is where the company aims to break with tradition. By buying Motorola, they can simultaneously utilize two business models.
First, Google will obviously continue its existing advertising model. Second, it will follow an additional business model similar to Apple's, which allows Apple to manufacture hardware, optimize software and sell products under its own name. Google aims to hit Apple where it hurts the most. Apple's main selling point is its diversified product portfolio. With no significant competition at the moment, it is easy to see why Apple iPhone and iPad are market leaders. However, if Google launches a diversified line of products of its own, Apple will be given a major run for its money.
It is important to note that the last time Google tried to take on Apple, the Cupertino giant bombarded and eventually buried Google's flagship Android manufacturer - Samsung (OTC:SSNLF). Currently, Google does not compete with Apple directly as it has LG, HTC and Samsung as its proxies to compete with Apple. Undoubtedly, Google has lost this round as Android manufacturer Samsung was ordered to pay $1 billion to Apple. With the acquisition of Motorola, along with an improved product, Google also has protection in the courtroom because of Motorola's 17,000 patents.
Make or Break For Investors?
So what does the above-mentioned mean for an average investor? Simply put, with two revenue generation models at work, Google has a larger potential to grow in the stock market. So much so that it could potentially become a great buy of the decade. I expect Google to compete closely with the Apple for the title of U.S.'s largest listed company, and perhaps dethrone it as well.
Google earns four times more from Apple's iOS devices than from Android. With Apple insistent on marginalizing Google, the only logical step for Google is to challenge Apple on its own terms, with a Motorola Nexus device. Google's current record breaking-stock price might seem like a luxury, but with this perspective in mind, Google can potentially be a very profitable stock, even at such a high price. With Microsoft increasing its dividends by 15% and Apple rolling out its first dividend in Q2 2012, Google can be expected to soon follow suit, especially since the company paid a stock split dividend earlier in the year.
Out of ten Wall Street analysts estimating the company, six indicate a "Buy" rating and two - "Outperform," and two recommend a "Hold" Thus, Wall Street's positive positions are primarily in line with my position. The discounted earnings plus equity model, developed by EFS Investment partners and applied to Goodle, suggests that the company is currently trading at a discount. EFS's fair stock price valuation indicates that the GOOG's stock currently has at least 10% upside potential to reach its fair value. While Google has experienced enormous success with its advertising model, it needs to react effectively to Apple's actions and utilize its hardware arm - Motorola. While continuing its unparalleled standing in online advertising, Google has cleared the way to venture into the cellphone and tablet industries as an integrated product provider.
Bottom Line
I expect Google's stock to continue rising for the time being, and eventually increase at a faster rate as Motorola launches its next generation of Android phones. Whether the stock will ultimately win the race against Apple to reach $800 and beyond, only time will tell. But in the long run, I believe Google will outpace Apple, hands down.
Disclosure: I have no positions in any stocks mentioned, and no plans to initiate any positions within the next 72 hours. I wrote this article myself, and it expresses my own opinions. I am not receiving compensation for it (other than from Seeking Alpha). I have no business relationship with any company whose stock is mentioned in this article.