Aerospace & Defense ETFs Hover Over Bear Market Territory
Aerospace and defense ETFs may be stuck in bear market territory, but the situation has more to do with the broader stock market in general and not the sector itself.
As Scott Sacknoff on Seeking Alpha explains, the recent quarterly earnings from many companies in the sector have been up, with significant gains in revenue and earnings.
The mystery continues as valuations decline despite steady trends and strong business. The sector is about 21% off its October highs.
Why is aerospace in a bear despite all that?
Among the possible reasons could be:
Poor overall market conditions: Investors have pulled out of aerospace and defense to capture gains in other areas, and for now, aren't comfortable with getting back in.
Boeing (BA): It's one of the largest firms in the sector, and it has seen a 30% valuation decline.
The November presidential elections: Aerospace and defense/homeland security are shaky during these events.
The good news is that much of the negative news has already been priced into valuations and the defense budget should remain stable no matter who wins the Presidency.
FocusShares ISE-CCM Homeland Security (NYSE:MYP), up 0.1% year-to-date
PowerShares Aerospace and Defense (NYSE:PPA), down 16.2% year-to-date
iShares Dow Jones Aerospace And Defense (BATS:ITA), up 15.5% year-to-date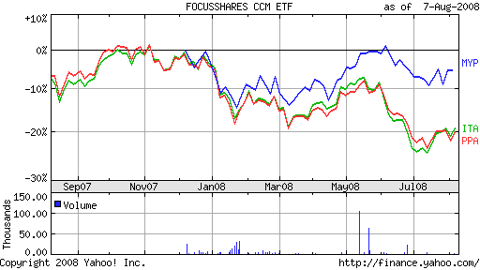 All Aboard! ETFs Could Benefit from a New Railroad Era
Fuel prices have retreated a little, but they're still high, and railroads are looking more appealing as a means of transportation. ETFs could be the beneficiaries.
Shippers are more likely to deal with longer transport times and more inconsistent service of rail lines as costs for truck transportation have increased drastically with these fuel prices.
As the staff of SupplyChainDigest explains, the end result of this is expected steady growth in rail volume for years to come. Despite a slowdown as of late, economists feel that there will be strong growth in imports continuing over time.
Railway transportation will also provide environmental advantages as many companies look to reduce their carbon footprints. Politicians may even take action to favor rail movement because even though rail movement is impacted by fuel costs, it is much less than trucking. Today, locomotives get nearly 80% more mileage from a gallon of diesel than they did 30 years ago. They are capable of hauling a ton of freight nearly 400 miles on a gallon of fuel, which is three times farther than the capabilities of a truck.
The advantages of rail carriers also seem to be noticed by investors. Despite the rest of the U.S. stock market being down in 2008, Burlington Northern (BNI) is up 26% this year and Union Pacific (NYSE:UNP) is up 32%. Similarly, European and Asian countries are investing billions into passenger and freight rail infrastructure.
One ETF that could potentially capitalize on a new golden era of railroads is the iShares Dow Jones Transportation Average (BATS:IYT).
IYT is up 14.4% year-to-date and four of its top 10holdings are major rail freight carriers in North America. Burlington Northern accounts for 11.2% of the fund, CSX (NYSE:CSX) is 5.2%, Norfolk Southern (NYSE:NSC) is 5.3%, and Union Pacific is 9.3% of this ETF.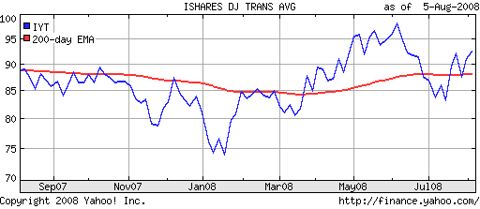 US Dollar Index Above Its Trend Line, Giving a Jolt to Bullish Dollar ETF
Last week, the bullish dollar ETF has benefited from a certain milestone: the U.S. Dollar Index closed just above its 200-day moving average for the first time since October 2006, reported Bespoke Investment Group.
The dollar rose to a seven-month peak on Wednesday against the yen and a six-week high against the euro, as oil prices slid to a three-month low, raising hopes that economic growth would pick up. In trading Friday morning, the dollar hit its highest point since late February, Tali Arbel for the Associated Press reported.
Lucia Mutikani for Reuters reported that the rise in the dollar has been spurred on by a renewed appetite for risk after Tuesday's equity market rally and commodities sell-off. The dollar jumped to 109.71 yen, which is its highest level since early January.
Demand for the euro fell before the European Central Bank held a policy meeting on Thursday. Reuters polled 61 strategists and most expect the euro to trade around $1.54 for the next three months before falling to $1.50 in six months and $1.44 a year from now.
The ICE Futures US Dollar Index tracks the dollar's performance against a basket of six currencies.
PowerShares DB US Dollar Index Bullish (UUP) could benefit if the dollar keeps moving in a bullish direction. It's down 2.8% year-to-date, but up 1.4% in the last month.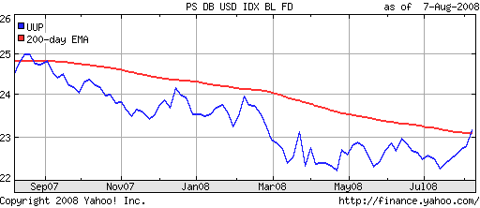 For full disclosure, some of Tom Lydon's clients own shares of UUP.