On May 1, 2012, I suddenly found my Conoco Phillips split into Conoco (NYSE:COP) and Phillips 66 (NYSE:PSX) as the international energy company divested its chemical and midstream operations. Four months later it is time to look at these two companies and make some decisions. Or, in the words of the 1982 release by the British punk rock group The Clash, Should I stay or should I go?
Darling, you gotta let me know
Should I stay or should I go?
If you say that you are mine
I'll be there till the end of time
So you gotta let me know
Should I stay or should I go?
First Some Background
By 2008 I had pulled into a mostly cash position. Oil had rocketed to what I felt was an unsustainable $145/bbl. Sure enough the Lehman Brothers fiasco ignited a financial meltdown with world-wide implications. Within a few short weeks oil cratered below $37/bbl. I was convinced the $35-$40 price level was just as unsustainable as the earlier high prices and busted out on an energy buying spree.
I wanted to open a position with Conoco Phillips, but there were other stocks that seemed even better bargains at the time. With my war chest spent, yet still wanting to take advantage of this once-a-decade buying opportunity, I decided to enroll in the company's Dividend Reinvestment Plan (DRiP). I began buying $100 in shares each month. Since then I have gradually accumulated shares ranging in price from $36.4554 to $80.1409, taking maximum advantage of dollar cost averaging.
Back to 2012 and by the spinoff date I had accumulated through regular purchases, dividend reinvestment and additional cash purchases around 77 shares. Conoco Phillips shares retreated the days before the ex-div date and on April 30, the shares closed at $71.40. My gain to date was a paper value of about $5498 from my $4000 investment.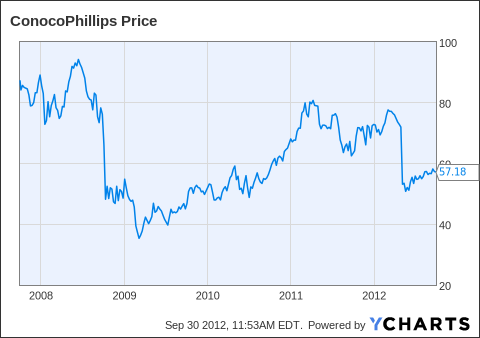 COP data by YCharts
Spin-off
The next day I was the proud owner of the same COP shares, but these were now under their new name Conoco. They came with a for-tax cost valuation of $56.10/share. I was also now the proud owner of 38 shares of the new Phillips 66 with a for-tax cost of $33.34. Since that day the shares have gone their separate ways: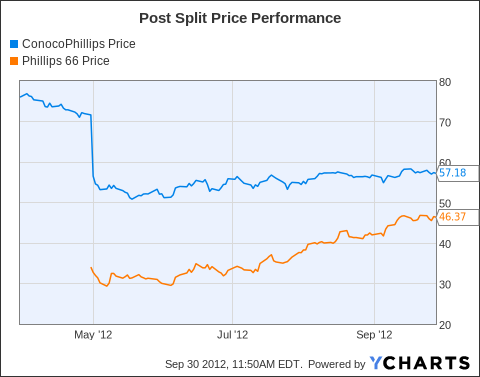 COP data by YCharts
Conoco's shares have stayed relatively flat with a 1.9% rise in four months. Meanwhile Phillips has charged forward to its recent price of $46.37, an eye-popping 39% rise since its inception. With additional purchases and reinvested dividends my cash investment stands at $4425, Conoco's shares are now worth about $4942 and Phillips 66 about $1818 for a total valuation of about $6760.
A little back-of-the-envelope figuring tells me that is roughly a 13% annual total return since November 2008. In the same time frame the S&P 500 Index went up about 12.72%. So I essentially matched the performance of getting into an ETF. Okay, but I look for better.
Now my question must be what should I do now? Should I continue with my DRiP investments for both companies, trim out one or is it time to move on?
I'll always tease,tease,tease
You're happy when I'm on my knees
One day is fine and the next is black
So if you want me off your back
Well, come on and let me know
Should I stay or should I go?
Conoco
Conoco has earnings per share of $5.18 for a PE Ratio of 11. It offers a 4.62% yield off a payout ratio of 49.7. The payout is a bit high but still easy for the company to continue without danger of being forced to cut the dividend. It has a book value per share of $37.84, cash per share of $0.86 but cash flow per share of $10.22. Conoco kept much of the debt of the two companies, so the current ratio is 0.9 - uncomfortably low, although long-term debt is reasonable. Essentially the company is a cash flow monster, but with the spin-off is tight in the short term financially.
Phillips 66
Phillips currently has earnings per share of $7.78, tangible book value per share of $23.73 and cash per share of $4.95. Its price per earnings over the trailing twelve months is a low 6. It has a solid current ratio of 1.3 and it has practically no long term debt. Partly because of the healthy balance sheet, industry analysts are starting to weigh in that Phillips will sharply raise its dividend at the company's first shareholder meeting in October. This in turn should raise the yield and the stock price.
But that is now. What about the future?
Should I stay or should I go now?
Should I stay or should I go now?
If I go there will be trouble
And if I stay it will be double
So come on and let me know
Conoco's Future
Stock market investor extraordinaire Peter Lynch mentions in his book "One up on Wall Street" that companies that spinoff units generally make their progeny as debt free and financially strong as possible. Conoco certainly did that. However in the process it has had more problems dealing with the short-term impacts of the spin-off than Phillips has.
Long term the company should be able to ramp up production in a world that seems to have an insatiable need for oil no matter the economic forecast. Once the legacy issues are settled Conoco should be able to ride an incredible cash flow machine to higher levels.
I first mentioned in another article that the final two months of presidential election years ends with a stock market rally. With Conoco at such a low PE, and its juicy dividend yield, I expect Conoco to rally higher by New Year's.
Phillips 66 Future
Two weeks ago I wrote a more detailed look at the incredibly favorable business environment Phillips 66 is operating in right now. I believe Phillips is the strongest player able to take advantage of regional oil supply imbalances. The crack spreads refiners are so dependent on are at multi-decade highs and cash is gushing in. As explained in the article a host of companies are diving in to build up the transportation infrastructure to overcome the oil market imbalances, but it takes a long time to build pipelines. I expect the market imbalances, and refiner crack spreads, to stay favorable over at least the next 18-24 months.
Phillips first announced a dividend resulting in a 1.73% yield and supported a ridiculously conservative 2.6% payout ratio. Essentially the company could easily afford to increase its dividend by a multiple of 10 and still easily meet it. Instead it is using the cash to heavily reinvest in its chemical units. Once the economy eventually turns up, the company will be well set to take advantage of any market opportunities. For the moment, I think that is an excellent idea.
So what is the final word?
The indecisions bugging me
If you don't want me set me free
Exactly who I'm supposed to be
Don't you know which clothes even fits me?
Come on and let me know
Should I cool it or should I blow?
To me, Phillips is a no-brainer and a definite stock to continue to accumulate for value and growth into the foreseeable future. In fact I am planning on bumping up my monthly investment in the new company's DRiP program. I'll stay.
Conoco is more problematic, but I think I will hang onto it for a bit longer. It is taking longer to settle in after the Phillips spin-off but Conoco has an excellent future so long as oil does not go down below $70/bbl. I am going to continue to accumulate Conoco in its DRiP but at a slower rate. I'll stay.
Disclosure: I am long COP, PSX. I wrote this article myself, and it expresses my own opinions. I am not receiving compensation for it (other than from Seeking Alpha). I have no business relationship with any company whose stock is mentioned in this article.