U.S. light vehicle SAAR was 14.96 million units in September, marking a 14% YoY and a 3% MoM rise in sales. Sales were driven by pent-up demand, cheaper and easy credit access, and improved sales of fuel-efficient vehicles. The figure came out to be well above Bloomberg's estimate of 14.5 million and Edmund's estimate of 14 million. Car sales rose by 23.5% while truck sales improved by 3.9%. The interesting thing to note was that the rise in sales was brought about by Asian OEMs, who witnessed a 22.8% YoY growth in sales. In sharp contrast, the Detroit 3 (Chrysler, General Motors (NYSE:GM) and Ford (NYSE:F)) only witnessed a 3.4% YoY rise in sales.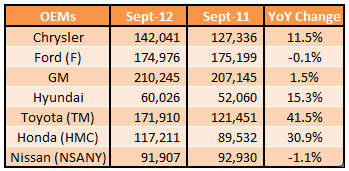 The table shows the seven major OEMs, responsible for around 80% of the total vehicles sold during September.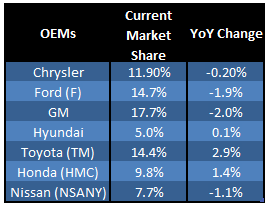 The table given above shows that GM and Ford lost big chunks of their market shares to Japanese companies over the past 12 months. However, the number might be misleading because the tsunami that hit Japan last year disrupted supplies of Japanese OEMs, thus leading to depressed market shares.
The table above is missing Kia's sales. Kia, another Korean manufacturer, has obtained much of the market of the Detroit 3 (D3). With a market share of 4%, Kia was able to increase its sales by 35% YoY. Volkswagen (OTCPK:VLKAF) has also been impressive throughout the year with its Audi brand. It reported a 34% rise in sales. BMW and Mercedes improved their sales by 3.5% and 9%, respectively. European OEMs' market share reached 9.6%.
The interesting aspect of this month's numbers was that estimates were beaten not due to incentives, but due to pent up demand. Incentives were down 10% YoY for September.
Some other important trends were observed (the comparisons are between 2012YTD and 2011YTD):
Small cars were mainly responsible for the beating of estimates, with a 23.7% rise in sales.
Luxury pickups were also a success, reporting the highest YoY gain of 30.7%.
Luxury cars also recorded a 10% increase in sales. Only Lincoln, Jaguar and Cadillac reported a loss in sales.
Large cars experienced a downfall of 88%.
Ford
Ford's sales were disappointing for the Street. A 2.3% rise in sales was expected. The reason stated by Ford's management was that sales of the Ford Fusion did not meet expectations, and were down 37% YoY. This can be attributed to limited supply of the 2013 re-designed Fusion because of the new model change-over. Brand sales were flat YoY. The 91% gain in Focus cars was offset by the decline in sales of the Fusion. The market had anticipated a truck rally that did not come through as the F-Series reported a YoY rise of only 1.2%. Inventory ended at 64 days' supply; more than the 57 days' supply at the end of August.
General Motors
GM could not meet expectations as it reported a sales increase of only 1.5% rather than the expected 2.8%. Following are the line-up wise sales: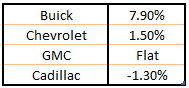 The full-size pickup truck inventory ended at 240,810 units (116 days' supply), down from 122 days' supply at the end of August. GM plans to bring inventory levels to 80-85 days' supply, which amounts to 200,000-220,000 units. The good news for GM is that The Cadillac XTS and Chevrolet Spark are off to a good start. Also, investors are happy to have learned from Barclays that the average transaction price for GM cars and trucks rose by $2,600 and $2,300, respectively, which was well in line with the plans that the company had announced recently at its investor conference. The plan entailed ensuring that prices do not fall in the process of revamping its entire lineup of vehicles in the coming few years.
Conclusion
The SAAR of 14.9 million is the best since March 2008. However, it is to be noted that the major part of the surprise came from Asian OEMs and not the D3. The trend is certainly favorable towards smaller and more fuel-efficient cars. Macroeconomic conditions are in favor of the U.S. Auto Industry. The PMI Index of 51.5% (greater than 50 is positive), a rise in consumer sentiment of 4 points, low interest rates, housing sales being up by 24% YoY, and housing starts being up by 28% YoY, are all positive signals for the market. GM and Ford, with high market shares, stand out as the main expected beneficiaries from a rise in auto demand in this region.
Ford's stock provides a solid dividend yield of 2.23%. The earnings for the stock are expected to rise by an annual rate of 11% for the next five years. Although numbers for September are not as positive as those for the month of August, Ford is surely a growth story in the long run. Ford did experience an increase in the sales of Focus, but they were dented by the weaker than expected Fusion sales. Fusion will remain one of Ford's most promising models for several years to come. The market expects it to be a big success. Therefore, we maintain our buy recommendation for the stock.
We also maintain our buy recommendation for GM given its stable improvement in margins, steady restructuring of operations, declining full-size truck inventories and introduction of new models like Cadillac XTS and Chevrolet Spark, which are expected to be successful in future.
Disclosure: I have no positions in any stocks mentioned, and no plans to initiate any positions within the next 72 hours.
Business relationship disclosure: The article has been written by Qineqt's Industrials Analyst. Qineqt is not receiving compensation for it (other than from Seeking Alpha). Qineqt has no business relationship with any company whose stock is mentioned in this article.