Introduction
As an individual investor trying hard to pad the cushion so that I can retire on my terms in the coming years, I have certainly become more conservative in my overall approach to choosing stocks for my portfolio - although my personal tolerance for risk is far beyond that of most individual investors. I believe that you need to find the level of diversification across asset classes, sectors, and market capitalizations that best suits your personal tolerance and style. I've also learned that I can do much of the decision making myself, so while there is a portion of my portfolio stashed in funds managed by others, I maintain control over a significant portion myself. After all, who really cares more about my investment results more than I do? As a matter of routine portfolio rebalancing, I am attempting to determine if I should keep AT&T (NYSE:T) in the portfolio, sell it and pocket the gains, or adjust holdings. Additionally, I want to determine if there is room for an additional DOW communication stock, Verizon (NYSE:VZ).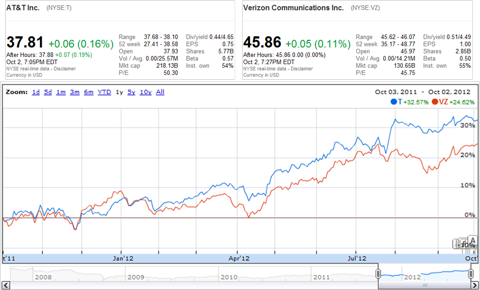 General Comparison
Both AT&T and Verizon are components of the DOW and providers of communications services. Both companies operate wireless and wireline segments, although AT&T additionally operates advertising solutions and other operations segments. AT&T stock is currently priced at just under $38 and Verizon is priced just under $46. Both pay a worthwhile dividend, with Verizon yielding 4.49% compared to AT&T's 4.65%. Both companies are currently valued at slightly above analyst estimates for the next 12 months, and neither company is a screaming buy based on trailing valuations alone. AT&T has a market capitalization of slightly more than twice that of Verizon.
Closer Look -- AT&T
With a forward P/E of 15.5, AT&T is within the band I generally consider. However, the fact that it has run up over 34% in the past 12 months causes me to take extra time in determining if the good times may be approaching an end. Analyst targets range from a low of $30 to a high of $44 with a mean of $36.10, indicating that most anticipate more or less sideways movement in the stock. The stock has had significant momentum over the past year, and the long term growth is forecast to track at 9.9%. The bottom line for me appears that the price based upon fundamentals might be getting stretched, and the dividend is probably the bright spot.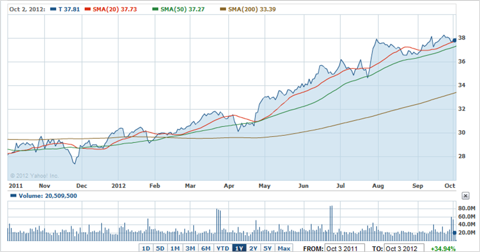 Taking a look at the SMA chart shows that the 20, 50, and 200 day simple moving averages have fallen neatly in line since almost the beginning of 2012. As a result, there has been no reason to consider removing AT&T from my current portfolio, especially considering how the company has continued to slowly raise the dividend over time. As the company's earnings are projected to continue growing at a steady rate for the next several years, I expect to continue seeing small increases in the dividend.
Closer Look -- Verizon
Verizon's forward P/E of 17.2 is still for me in a range I can consider, although when comparing it to AT&T, I will generally tend to go with the company posting the better valuation. However, this is only one small piece of the pie. Verizon has posted a one year gain of 26.1%, which I would consider quite respectable, but it does fall short of what AT&T posted. Verizon's price targets range from $33 to $52 with a mean of $44.40, implying that much like AT&T the analysts hold a generally sideways view of the stock's direction and that it is likely currently overvalued by a slight amount. The company's long term growth is forecast to increase at a rate of 10.8%, giving it an edge over AT&T in that respect, but their dividend is again slightly lower than that of AT&T.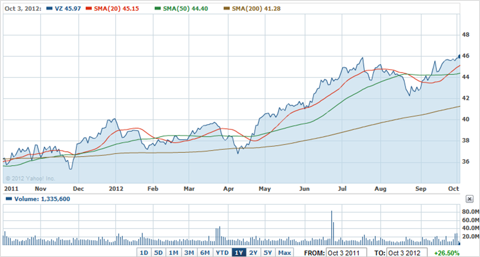 Verizon's SMA chart shows some similar trends with variances. The fluctuations in this stock have caused some instances where the 20 day SMA has dipped below the 50 day SMA only to have it correct upward once the stock price rebounds. Verizon also has a history of continued dividend increases even throughout the 2008-2009 period when many companies had to suspend dividend payments. Future earnings for Verizon are also projected to grow for the next several years, although it is projected to grow faster on the front end and then the rate may taper off while still remaining positive.
The Bottom Line
Valuation on AT&T and Verizon is strikingly similar. Despite that, I believe that AT&T may still hold a slight edge on Verizon in terms of future valuation based upon the more steady earnings growth rates and ratio comparison. Although at this point I do not see the need to adjust my holdings in AT&T, I intend to closely monitor the stock's moving averages for indications that would indicate a trend reversal. Given the similarities between the two companies, I also do not see the need to add Verizon to the portfolio as I do not believe that one will behave significantly different than the other. If I were long in Verizon, I would probably stay that same course as well.
Disclosure: I am long T. I wrote this article myself, and it expresses my own opinions. I am not receiving compensation for it (other than from Seeking Alpha). I have no business relationship with any company whose stock is mentioned in this article.