Some economists believe the economy is on a slow but continuous recovery. There's absolutely nothing wrong with the economy improving, and I would love it if that was the case. Nonetheless, I do not agree that the economy is on its way to recovery, at least not yet, because some data shows otherwise. Forget about what economists are saying and ponder on what the copper to gold ratio is telling you.
When the world is doing well, copper tends to gain more relative to gold, and the copper to gold ratio increases. When there is uncertainty, and the world is slowing down, gold gains more relative to copper, and the copper to gold ratio decreases. For example, between June 2008 and January 2009, copper dropped from $4.00 to $1.44 per pound, while gold increased from a low of $862.25 to as high as $919 during the same time period.
According to the graph below, during the recession between 2007 and 2009, the copper to gold ratio reached a low of 0.1, a level not reached since the late 1980s.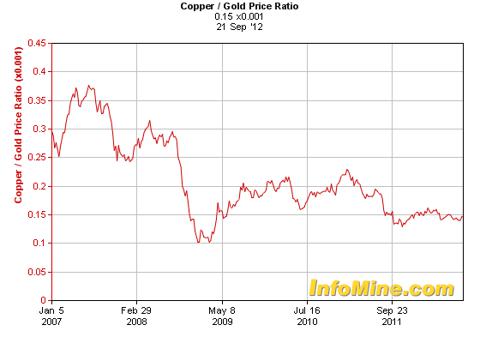 *Please note the ratio in the graph uses USX as a unit for pricing copper while gold is quoted in $ per ounces.
Since there is not much demand for real assets in the market, investors are flocking to gold as a hedge against money printing from central banks and against systemic risk. Currently, copper is trading at USX378.75 while gold trades at $1,775.70, yielding a ratio of 0.21, which is a sign of a still fragile economy. The ratio average over the last 22 years is about 0.25, and the pre-crisis ratio was around 0.35. My concern going forward is that because of fear of inflation and a slower global economy, investors will drive gold prices higher, copper will drop, and the ratio will decline again.
Risks
When you look at gold performance relative to other commodities historically, gold has been a great indicator of inflation. If this holds true in the next five to ten years, we will also experience high levels of inflation.
Opportunities
Right now, copper is on the cheap side relative to gold when compared to the historical average of 0.25. Also, copper has risen 10.31 percent year-to-date, while gold has appreciated almost 12 percent. I anticipate gold will continue to rise at a higher rate than copper, because of the uncertainty about the slowdown in the Chinese economy, an anemic economic recovery in the United States, political unrest in the Middle East, and the recession in Europe.
Outlook
In the past, this ratio moved almost in tandem with the S&P 500. In fact, the index trailed behind the copper to gold ratio trend. However, this has not been the case recently, primarily due to the Quantitative Easing efforts from the Federal Reserve. As a result of more money printing, the S&P 500 rallied while simultaneous demand for gold increased, which caused the trend to move in opposite directions. This is a problem, in my opinion. First, if this disparity will reconcile in the short term, it may imply a decline in the S&P 500. Second, a rally in the market seems artificial, as the main catalyst for the rally has been the money printing efforts from the government. Think about it: some companies are simply increasing their cash hoard and not hiring or expanding their core businesses, mainly from fear of uncertainty. Others are artificially increasing earnings per share by buying back shares of their stock, which may help short term, but longer term, it is not a catalyst that will increase revenue. I believe the copper to gold ratio is a decent indicative of the overall economy, and if the ratio correlation with the S&P 500 is revered, subsequently the market will adjust and the S&P 500 could decline.
Disclosure: I have no positions in any stocks mentioned, and no plans to initiate any positions within the next 72 hours. I wrote this article myself, and it expresses my own opinions. I am not receiving compensation for it (other than from Seeking Alpha). I have no business relationship with any company whose stock is mentioned in this article.