The ailing housing market is driving widening losses at Fannie Mae (FNM). According to their latest earnings report, released on August 8th, Fannie Mae showed a net loss of $2.3 billion for the second quarter alone. This comes on top of a $2.2 billion loss reported for the first quarter of this year. This time the loss was primarily driven by higher than expected mortgage defaults and foreclosures. Fannie Mae reports that based on their mortgage portfolio performance in July, they expect things to get worse going forward. Loss reserves were increased by $3.7 billion in the quarter with more cash expected to be reserved against losses in Q3.
According to President and CEO, Daniel H. Mudd, "Our second quarter results reflect challenging conditions in the housing and mortgage markets that began in 2006 and have deepened through 2007 and 2008."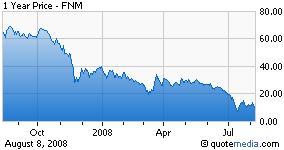 The consensus of analysts' earnings estimate for Q2 was a loss of only 69 cents a share. The announcement of a $2.54 per share loss renewed expectations that Fannie Mae would need a government bailout package to survive. Mudd, however, told investors that Fannie Mae was still financially strong and a bailout would most likely not be needed. If Mudd is wrong and the government does indeed need to bail them out, the equity investors would be hurt the most.
The company predicted that 2008 would be the peak of the crisis and that conditions would likely improve starting next year. In the meantime, Fannie Mae has taken steps to preserve their working capital. One of the most visible of those steps for investors is the slashing of the common stock dividend from a previous 35 cents per share to a paltry 5 cents per share. This move reduced the stock's yield to about 2% annually, compared to the previous double digit yield.
As a result of the announcement, Fannie Mae was trading down more than 17% in early trading on Friday morning. Just minutes after the opening bell, Fannie Mae had plummeted to $8.30 per share, but recovered to $9.00 within the market's first hour. Indeed, with another bad quarter expected ahead, investors apparently see more downside for the stock in the near term. If Fannie Mae sees recovery more than six months away, it is difficult to see a reason to hold onto the stock, especially in the absence of a meaningful dividend.
Just two days earlier, Freddie Mac (FRE) reported a loss of $821 million due to foreclosures and delinquent loans. Freddie Mac and Fannie Mae together account for nearly $1 of every $2 of outstanding mortgage debt in the United States.
Disclosure: None