No exploration company seems to have made as big a bet on natural gas as Apache (NYSE:APA). The company is drilling all over the world, including Argentina, Australia, Canada, Kenya, and Egypt just to name a few places. The company just struck natural gas at a depth of 10,335 feet at Mbawa 1 in the Indian Ocean off of Kenya, for example. Apache estimates that it has encountered 170 meters of gas in that field, where it owns a 50% interest. Its partners there include Origin Energy Ltd (OTCPK:OGFGF) and Pancontinental Oil & Gas (OTC:PCOGF).
So is this bet paying off for Apache's investors? As you can see, the market doesn't seem to think so. Apache's share price spent most of the summer treading water.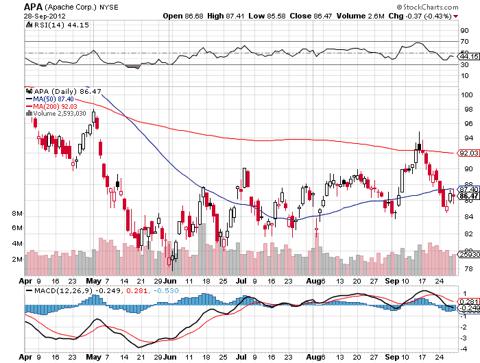 Yet the market might be wrong here, because Apache's fundamentals seem to be strong. The company displayed sales growth of 39.7% and income growth of 50.3% in the last year, which gave it a net profit margin of 19.52%. In 2011 Apache had a return on assets (ROA) of 8.81%, which was up from 6.98% in 2011. Apache's assets also increased in value to $52 billion in 2011 from $43.42 billion in 2010. Apache's share price seems to defy the numbers, which indicates a value buy. But is it?
Big Natural Gas Holdings
Judging by the company's holdings, it is. Apache produced 185 million cubic feet of natural gas from its offshore wells in Australia in 2011 alone. Apache also owns undeveloped assets in Australia, including 35 exploration permits, 16 production licenses, and 10 retention licenses. These give it access to 8.8 million gross acres for exploration down under.
Apache also has large natural gas holdings in Canada and the United States. These give it liquid natural gas production of 5,958 barrels per day. In its holdings in the central United States, Apache produced 22,111 barrels per day of liquid natural gas (LNG). Apache also produced 864 million cubic feet of regular natural gas in the central United States and 632.5 million cubic feet of natural gas in Canada.
No Nukes Is Good for Apache's Bottom Line
The natural gas production gives Apache a major new source of cash flow because of the increased demand for liquid natural gas in Japan. Experts are predicting that the shutdown of nuclear reactors in Japan will create a record demand for LNG in that country. The latest estimates indicate that Japan's LNG demand will increase by 19% by 2020. Japanese demand for LNG is so high that there is not even enough tankers to haul the gas to market in Japan. Golar LNG (NASDAQ:GLNG), the biggest owner of natural gas tankers, is reporting record profits based on increased Japanese demand.
The good news for Apache and other LNG producers is that Japan isn't the only country planning to shut down its nuclear power plants. Germany is planning to do the same thing by 2022. The shutdown of nuclear plants helps LNG producers because LNG burning turbines are used to replace the nuclear reactors. Apache's gas holdings put it in a perfect position to take advantage of the growing opposition to nukes.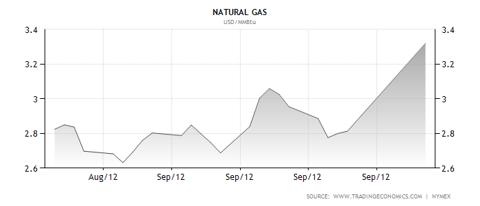 As you can see above, U.S. prices for natural gas are also going up. This seems to reverse a trend of falling prices for the last few years. The reason for the rise is unclear, but lower levels of drilling and the potential for export of natural gas in the U.S. might be driving up prices.
Political opposition might stop any plan by companies like Anadarko Petroleum (NYSE:APC) and Apache to export U.S. natural gas. The Sierra Club has filed a lawsuit against a liquid natural gas export facility that Dominion Resources (NYSE:D) is developing in Maryland. There is also some speculation that the Russian government is secretly bankrolling or manipulating opposition to fracking in order to keep gas prices higher to increase profits for its gas company, Gazprom (OGZPY.PK).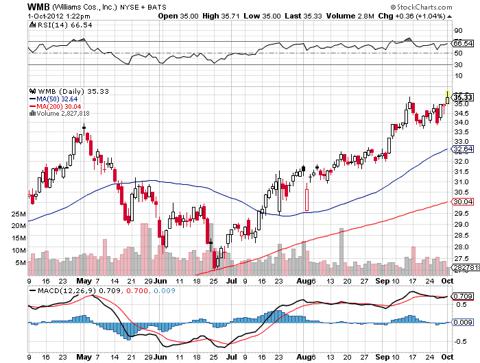 There are also plans to develop natural gas export facilities on the West Coast, including one in Oregon capable of liquefying natural gas for shipment to Japan. Veresen (OTC:FCGYF) has filed plans to build a $5.4 billion plant to liquefy natural gas in Coos Bay, Oregon. The purpose of this plant is obviously to export natural gas to Japan. The plant is supposed to be capable of exporting one billion cubic feet of gas a day if and when it gets built. The Williams Companies (NYSE:WMB) plans to build a big new pipeline to bring gas to Coos Bay as part of this plan.
If large scale natural gas exports from North America begin, Apache is certainly in a position to take advantage. Apache is a value play that is making money now, but has potential for big new profits in the near future.
Disclosure: I have no positions in any stocks mentioned, and no plans to initiate any positions within the next 72 hours. I wrote this article myself, and it expresses my own opinions. I am not receiving compensation for it (other than from Seeking Alpha). I have no business relationship with any company whose stock is mentioned in this article.