The merger and acquisition world is sitting on some dry gunpowder right now. Cash rich companies and private equity firms have historically high levels of cash, and 2013 may provide companies the spark to do something. For investors, this means companies, that are struggling or undervalued now, may be ripe for a big pay day.
M&A activity runs up stock prices, often to 20%-40% above pre-announcement price levels. This is good for long term investors, who can get some positive returns from often lagging positions. It can also be good for traders who can cash in if they make wise trades to position themselves into the hunted companies.
First up, private equity firms are sitting on cash hoards totaling more than $1 trillion. This staggering sum includes around $200-$300 million raised around five years ago. By the terms of their funding, most firms either have to use their "dry powder," an industry term for ready cash, or return the money.
Most private equity firms are generally hedge funds or other investment vehicles that are looking at any situation where they can make a profit. One method is to locate underfunded or over indebted companies in which a sharp cash infusion can turn around sluggish performance.
Casebook: Supervalu (NYSE:SVU)

A textbook example of this is reports over Supervalu, Inc. Our Seeking Alpha Market Currents has been reporting the last few weeks that private equity firms KKR & Co, LP (NYSE:KKR), PPG and Cerberus Capital Management are looking to buy at least parts of the grocer/retailer. Supervalu owns a number of underperforming brands, including Albertsons, Jewel-Osco and Sav-a-Lot.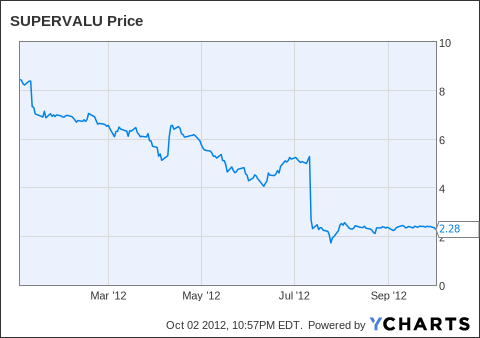 As you can see, the company's share price has been in a long dive. The company has reported an annualized loss on earnings of -$5.06. It has over $6 billion in long term debt, which is eating it alive. It did rework part of its debt in August 2012, which will take off part of the pressure, however, a white knight can make the painful struggle to profitability happen faster and easier.
Reports are that most of the suitors are only wanting to buy choice parts of Supervalu, while the company is hoping for one knight to sweep up the whole company. With the price hovering just above $2.25 for several weeks, it is hard to say how high the stock will go if a solid takeover or merger bid is made.
Casebook: Ancestry.com (NASDAQ:ACOM):

A second method is for the PE firms to find a company with high growth and cheap valuations. Recent reports have private equity company TPG as well as the European firm Permira sniffing around Ancestry.com.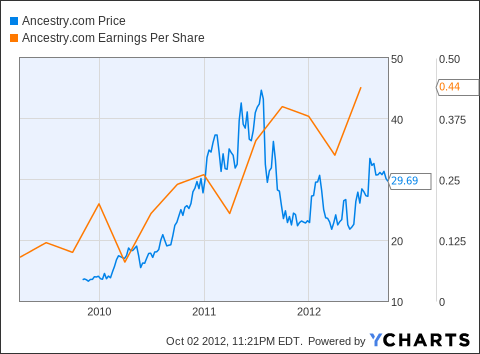 The online family history resource has seen steadily rising earnings, but the share price has not matched its growth. With a loyal subscription basis of over one million customers and almost no debt, there is a lot to love here.
However, there is an even bigger elephant in the room besides private equity firms. Public corporations are even greater cash hoarders than their private equity friends. Over the last few years of economic angst, many companies have shed debt and collected piles of cash. Corporate America is now sitting on a pile of over $5 trillion dollars and is simply waiting for some impetus to get it moving.
M&A activity is starting to pick up. While deal activities at the end of 2011 and 1Q 2012 were sharply down, year-over-year, 2Q activity was sharply up. Meanwhile the activities of 3Q, just closed out, are expected to be higher over 2011. In fact, many opinions are circulating there would already be more activity, save for the unsettled future of Washington's 2013 fiscal and tax policies.
And getting back to Ancestry.com, can anyone tell me why mega M&A scions like Apple, Inc (NASDAQ:AAPL) or Microsoft Corporation (NASDAQ:MSFT) haven't swooped in yet? What, no Google, Inc (NASDAQ:GOOG) looking to add to its collection?
Casebook: MetroPCS (PCS)

And activity is growing. The Deal Reporter in the UK's Financial Times is reporting MetroPCS is in talks with a number of suitors, including DISH Network Corporation (NASDAQ:DISH) and Sprint Nextel Corporation (NYSE:S) although the greatest buzz has been about a potential merger with Deutsche Telekom-owned (OTCQX:DTEGY) T-Mobile USA. Metro PCS is a largely pay-as-you-go mobile service that has been firming up its own turn around.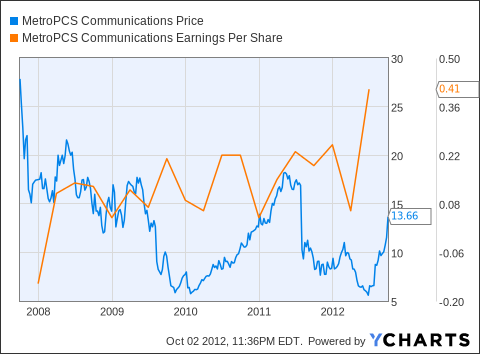 Its stock is sharply rebounding but earnings are accelerating even faster.
Other stocks that have had swirls of M&A about them include NetApp, Inc (NASDAQ:NTAP), Leap Wireless International, Inc (LEAP), Illumina, Inc (NASDAQ:ILMN), BMC Software, Inc (NASDAQ:BMC) and Allscripts-Misys Healthcare Solutions, Inc (NASDAQ:MDRX).
Of these Illumina and Allscripts look like highly likely potential candidates. Illumina reportedly is facing a higher, $60/share bid for the company from Roche (RHBBY.PK). The biotech company earlier rejected a $51 bid and is now trading at around $51. Meanwhile Allscripts is facing a shareholder revolt, demanding the sale of the company to unlock owner value.
A big run-up in M&A activity can bring a field day to nimble investors looking for some solid solid, short term gains. With vast stores of dry powder sitting ready, we look for a single spark to set off an M&A explosion.
Disclosure: I have no positions in any stocks mentioned, and no plans to initiate any positions within the next 72 hours. I wrote this article myself, and it expresses my own opinions. I am not receiving compensation for it (other than from Seeking Alpha). I have no business relationship with any company whose stock is mentioned in this article.