KBR Inc.'s (NYSE:KBR) presence in attractive markets, its leadership in Liquefied Natural Gas and improving backlog and revenue mix, makes it an attractive long term play. I believe that KBR should be trading at 14.3x 2013e P/E (historical spread of 0.31x with the FY1 S&P500). This gives a price target of $44. A recent (July 2012) announcement of an acquisition in the space (CB&I and Shaw) places an 8.9x multiple on EBITDA. This gives a price target of $55.
KBR Global Map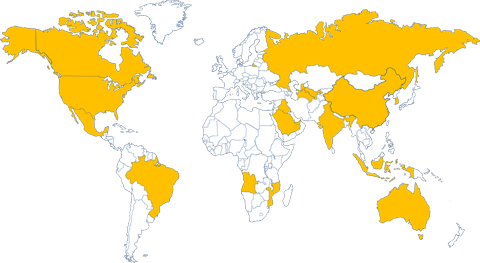 Source: 10K and Q (for country data)
(1a.) High Growth Markets
| | |
| --- | --- |
| | A weighted average of the estimated construction spending in KBR' s markets reveals that construction spending is expected to grow by 6.9% till 2020. |
Source: 10K and Oxford Economics (for construction spending estimates).
As shown in the Global Map, KBR is present in about 14 markets. Countries like Canada and Australia have been already recognized to be powerhouses in oil and gas, minerals, coal etc. Others like the BRICS have been widely quoted in terms of the growth that they are exhibiting/have the potential to exhibit. For the purpose of this forum I want to focus on those marginal countries/areas that investors are discounting when they view the markets that KBR is present in. Though I believe that the above mentioned countries are extremely important and contribute significantly to KBR's revenue stream, the following countries may enable KBR to outperform expectations.
Mozambique - The U.S. Geological Survey estimates that over 250 trillion cubic feet (7.1 trillion cubic meters) of natural gas may lie off Kenya, Tanzania and Mozambique, compared to 186 trillion cubic feet for Nigeria, Africa's biggest energy producer. Mozambique in particular is in a place to become one of the world's largest exporters of LNG. Additionally the World Economic forum ranks Mozambique 123rd on its list of 142 countries in infrastructure. This gives E&C companies that have a relationship in this country to perform related work in order to develop infrastructure. KBR is already doing pre FEED work for the Anadarko Mozambique LNG project.
Gulf Cooperation Council, specifically Qatar - Gulf states are embarking on their biggest spending spree on record as they lavish funds on domestic projects-from new housing and hospitals to mosque restoration and job creation-largely as a defensive response to the Arab Spring uprisings that toppled other Middle East governments last year. Government outlays in the region are set to reach $488.6 billion this year, according to recent Institute of International Finance estimates, up 35% from 2009's figure. In all, governments in the Gulf-including Saudi Arabia, the United Arab Emirates and Kuwait-have pledged $157 billion in additional spending directly following the Arab Spring uprisings, according to a Bank of America Merrill Lynch report from last year. That amounts to about 13.4% of the region's 2011 GDP. Qatar is expected to spend $125 B in the next five years on construction and energy projects. Additionally, it is scheduled to host the 2022 Football World Cup and significant amount of money is expected to be spent to building high end stadiums, hotels etc. KBR was awarded a contract by the Public Works Authority of Qatar to provide program management services and engineering support to deliver a package of thirty (30) major roads that comprise the Doha Expressway Program. The Doha - Bahrain causeway is expected to be the largest marine causeway in the world.
(1b.) Higher Capital Expenditure - Not only do the markets, in which KBR is present, possess high growth, they also tend to have a higher Capital Expenditure rate (as a percentage of Revenue).

Source: Factset.
(2) Leadership in LNG
In Japan, the shift from nuclear power generation is expected to create globally $30B of new LNG liquefaction investment. China's LNG consumptions is set to treble by 2020 from 131.7 bcm to 375 bcm. India's natural gas demand is set to double by 2016-2017. Australia next offshore gas production region has one $34B project (Ichthys) under construction and another one set for investment decision in the next 12 months.
Source: KBR Q1 call transcript, World LNG Report 2011 and Bloomberg
KBR is a leader in developing LNG production capacity. "Since 1976, KBR has designed and constructed more than 40% of the world's operating liquefied natural gas (NYSEMKT:LNG) production capacity. During this time, KBR has been at the forefront of the LNG market with capabilities ranging from design and engineering services, to procurement and construction of LNG facilities." "In the last 30 years, more than half of the world's operating LNG liquefaction capacity has been designed and constructed by KBR." - KBR newsroom
Their revenues from gas monetization have more than doubled since 2007 and their backlog from gas monetization stood over $8 billion in the second quarter of this year:

Source: Company 10K and 10Q.
(3.) Improving Revenue and Backlog Mix
Revenues for 2012 are expected to come in lower than 2011. But KBR is at an inflection point, the decline in revenue as a result of the Unites States pulling out of Iraq, is set to be offset by the increase in revenue from Hydrocarbons. Based on backlog and burn rate, 2013 revenues should exceed those of 2011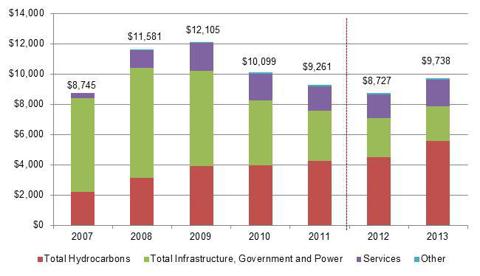 Source: 10K and my estimates.
In 2009, 51.9% of KBR's revenue came from IGP (Iraq alone represented 35% of KBR's revenue). In 2011 46% came from Hydrocarbons (and Iraq represented only 21% of total revenue). This change in revenue mix not only improves the segment EBITDA margins but also sub-segment EBITDA margins.

Source: 10K and my estimates
As evident below, the highest backlog comes from the Hydrocarbon segment. This bodes well for KBR, as Hydrocarbons have higher EBITDA margins and also has the potential for higher growth.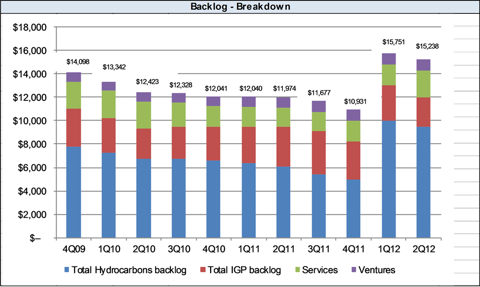 Source: 10K and 10Q.
(4.) Valuation
Relative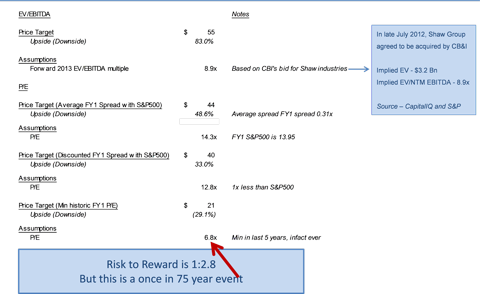 Source: My estimates.
DCF

Source: My estimates.
In conclusion, I believe that KBR is exposed to high growth markets with high(er) capital expenditure spending. This, in addition to its position as a leader in the LNG space and improving revenue and backlog mix, make KBR an attractive long-term play.
Disclosure: I am long KBR. I wrote this article myself, and it expresses my own opinions. I am not receiving compensation for it (other than from Seeking Alpha). I have no business relationship with any company whose stock is mentioned in this article.