First, a big booyah to Cramer for the mention of Sandstorm Gold Ltd. (NYSEMKT:SAND) on his September 28 show. From a postshow transcript:
Jim Cramer LOVES gold. Tonight, he has a new speculative way to play the gold rally. If you can't afford the gold bullion, Cramer says to play the GLD instead. Sandstorm Gold , a sort of "banker for miners", is on Cramer's radar tonight. SAND makes an initial upfront payment to a mining partner in return for a percentage of the future gold produced. This is Jim's lower risk play with a lot of upside, and that's why he likes it so much right now. If you're like Cramer and think gold is going to 2,000/ounce, then SAND is a good play. He says to buy in half right now, wait for a pullback and then go all in.
Or better yet, watch the video yourself.
Secondly, a respectful hello to Peter Schiff who had SAND CEO Nolan Watson on his radio program. I'm an admirer of Schiff, who rose to fame correctly predicting the housing bubble and gold prices. His firm, Euro Pacific Capital, is one of the few with analyst coverage of the stock.
SAND has officially hit the big time. This new attention has been evident in the stock price, which hit an all time high of $13.95 after trading under $10 after the August 20 IPO, an over 35% gain.
(click image to enlarge)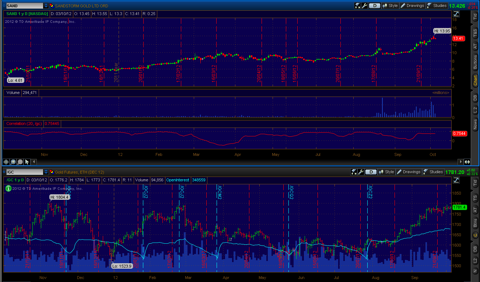 The top graph is SAND's price, the second is volume, the third is a correlation reading with gold futures, and the bottom chart is gold futures. Per Cramer, SAND is highly correlated with gold, with the third graph reading 0.75, but rather than being an affordable alternative to bullion, it has been superior to owning bullion, delivering a larger return.
SAND is superior because even if gold prices flatten, the company will generate huge cash flows via its streaming business model. In addition, a little talked about but important aspect of SAND is its exploration upside potential. In the contracts with the different mines, SAND has terms allowing them to participate in the upside if gold discoveries turn out to be larger than forecast. Therefore, as a shareholder of SAND, you participate in the upside of gold prices, the upside of the mines invested in, and own a share of the cash generated if gold prices are range bound.
It is worth mentioning, you also participate in the downside if gold prices fall.
Adding to the bullish case is the growing volume during the rally. The average volume for SAND in 2012 pre-IPO was 270,000 shares per day -- post-IPO, this has almost doubled to 450,000 shares per day. This is in the midst of historically low volumes in equities.
Google Trends confirms this heightened interest in Sandstorm Gold. The search phrase "Sandstorm Gold" has gone parabolic.
(click image to enlarge)

Behold the power of Schiff and Cramerica.
I'm not a follower of Elliott Wave Theory, but I do find the theory's 5 wave upward impulse action model to be a useful way of examining the behavior of crowds.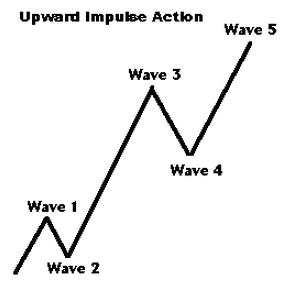 The theory intuitively makes sense. Initially, those in the know -- the hedge funds, institutional players -- will buy the stock, making the first wave. After a brief rally, they'll take some profits off the table, resulting in wave 2. Then retail investors, investment advisors, and Cramerica will join the rally, making up wave 3. They'll take some profits for wave 4, then jump back in when the price is right for wave 5.
When examining SAND from this perspective, and taking into consideration the Google Trends and volume data, it appears that we're at the beginning of wave 3.
(click image to enlarge)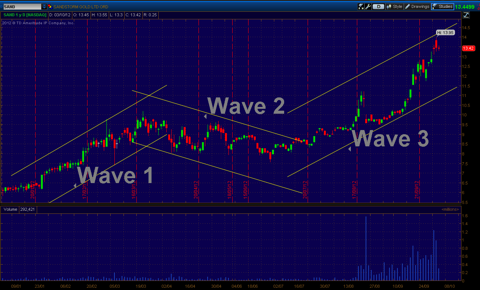 Of course, there are waves within waves, and waves within waves within waves, but I see little use in getting overly technical. The key is that the groundswell is building.
It's also been interesting to see SAND CEO Nolan Watson's prominence rise around town. Vancouver is a small city, and with SAND's headquarters located here, the company and CEO's names are becoming more common place. In fact, I was at an Acumen Fund event this past week, and there was an entire topic of discussion on a recent Ted Talk Watson gave at TEDXVancouver, titled Compassion Kills. It's worth a watch to get a view into the psyche of the management team.
SAND is trading at the top of a channel, making now a poor entry point, but there are indications that the run is just beginning. As I've noted in previous articles, it still lacks analyst coverage from major U.S. banks and, consequently, is not a mainstay in investment advisor's portfolios.
Gold will not rise forever, and neither will SAND, but with the favorable press coverage and the general public just learning about this fantastic company, I believe there is tremendous upside left in the stock price.
Disclosure: I am long SAND. I wrote this article myself, and it expresses my own opinions. I am not receiving compensation for it (other than from Seeking Alpha). I have no business relationship with any company whose stock is mentioned in this article.