Palladium prices have been moving upward with the ascent of other precious metals on central bank monetary stimulus. The ETFS Palladium ETF (NYSEARCA:PALL) is a physically-backed exchange traded fund that has suffered outflows behind the scenes.
Investors have been piling into precious metal stocks and ETFs such as gold, silver and even palladium. However, even as palladium prices have inched upward, the fund has seen minor outflows recently.
"For whatever reason, that has not led to any meaningful uptake in new PALL assets. In fact, the fund saw outflows of just under $1 million of its current $528 million asset tally in the past month even as price appreciation pumped up its total assets from $480 million in the past month. So investors were bidding up palladium, but not via the ETF wrapper," Paul Baiocchi wrote on Hard Assets Investor.
However, the outlook is bullish for investment in palladium, beyond monetary policy.
Half of the current production of palladium goes to catalytic converter fabrication, a key component in automobile manufacturing. Global demand and growth mixed with higher inflation will like palladium.
Future demand of palladium prices will be boosted from the increased auto demand that stems from emerging markets. The metal is key to catalytic converter creation.
Consumer electronics such as cell phones and computers all need palladium. Jewelry manufacturing also demands palladium.
Due to the industrial uses of palladium, the metal is highly sensitive to economic swings and cycles. If the odds swing in favor of stagnating growth and high market volatility, mixed with inflation, physical assets are going to remain in demand.
ETFS Palladium ETF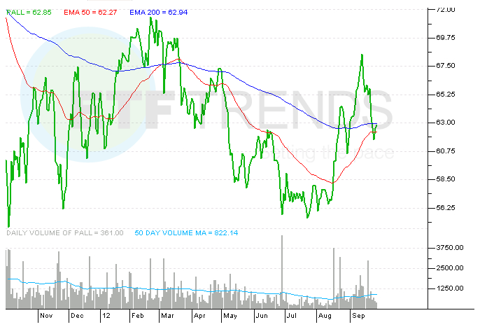 Tisha Guerrero contributed to this article.
Disclosure: I have no positions in any stocks mentioned, and no plans to initiate any positions within the next 72 hours. I wrote this article myself, and it expresses my own opinions. I am not receiving compensation for it. I have no business relationship with any company whose stock is mentioned in this article.