The last few weeks brought lots of losses in the commodity sector and probably  caught most investors by surprise. There was even talk that the commodity bull market has finally found its end.
Really? I don't think so. The only thing that has changed now is the demand for commodity related stocks and some profit taking in the metal and energy market.
It is also interesting to notice that some well-known investment banks are coming out in the middle of the storm with calls that the bull market in commodities is over and it's time to sell now.
Don't let you get distracted by these opportunistic, pro cyclical calls - when the prices are climbing up, the banks are coming out with even higher calls and when the prices are falling, they are telling you the opposite as some days ago.
Remember, they have to generate fees and this can only be done with transactions. Analysts in general are good to explain why something has happened but they are completely incapable to predict what's going to happen in the future. Markets are always volatile and many times influenced by emotions and psychology.
Right now, fear is the element that has led to this major sell off which was the second biggest in a month since 1980. The question you have to ask yourself is: Have the fundamentals changed?
If you think the fundamentals of this secular bull market have changed than the bull market is over. But what if the fundamentals are still the same? I think the fundamentals have not changed because of the following reasons:
So far global growth is keeping up very well and demand is still very strong.
Have the developing countries such as China, India, Brazil, etc. finished their urbanization, their huge infrastructure spendings? No, they are far away of doing so. Per capita GDP is still very low and they are consuming and producing more per person for the foreseeable future. This is all very bullish for commodity demand.
Have there been any major new finds in metals or oil? Supply shortage is still a major issue and probably the even more important factor for rising prices than demand worries.
 Is inflation down? M3 and global inflation is at very high levels and will not subdue soon. The USA is flooding the financial system with huge amounts of US dollar. This will further devaluated the US dollar and put additional demand on real assets such as commodities.
So when inflation is still a major problem, demand remains globally robust and supply is not keeping up with demand, how can the bull market in commodities be over?
Of course, from time to time corrections occur and some exaggerations have to be settled. But right now, the only short term exaggeration was in oil. Base metals are far off their peaks and gold has every reason to be at $ 1'000 or higher.
It's also interesting to hear from some analysts that commodities are in a bubble and even some comparisons to the tech bubble in 2000/2001 are made. The tech bubble was a typical bubble because lots of new companies emerged and lots of new business ideas were developed but real demand did not change due to this digital revolution. The best case for the tech stocks was to gain market share from the old economy companies.
But overall, this was only a shift from one company (old economy) to another company (new economy) and most of them even failed. Investors were completely blindsided in the tech bubble because they thought that new, additional wealth will be created. This was wrong and most of the stocks were indeed in a bubble.
So what about commodities and commodity related stocks? Mining companies are producing real products and there is real demand. The pie is growing and it's not just a shift of production, it is real growth. Commodities are not in a bubble, not from a financial valuation point of view neither from a fundamentally demand/supply point of view. It is not impossible that the commodity sector will end in a bubble (as many secular bull markets have done in the past) but this is still many years ahead.
Another very important fact is the severe situation at the supply side: what about peak gold? Everybody is talking about peak oil, but if you take a closer look on the supply side in gold, you will find out that the production peak occurred in the year 2001. So gold is already in a peak production scenario. The reason why the supply/demand balance was not disrupted, are gold sales from the central banks.
This is absolutely astonishing because since 2001 the price of gold shot from $ 250 to $ 1'000 and production declined. In other words, mining companies are not able to produce more ounces even though the price is much higher! So what will happen if the central banks become net buyers in gold?
Remember, statistically gold is the best hedge against the US dollar. Particularly Asian central banks are sitting on billions of US dollar and have a very significant stake at risk with all the US dollar denominated assets they own. It is a must to diversify more into non US dollar assets and more into asset classes that provide at least an efficient hedge against the US dollar. Commodities and gold will be the choice and therefore strongly support this bull market.
images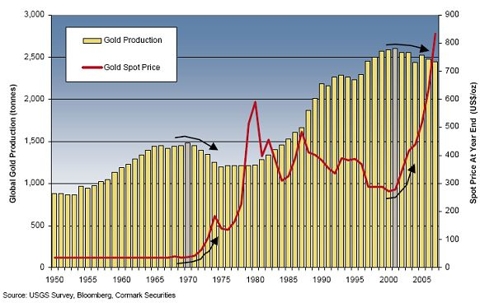 Now, let's turn to the market: the XAU index has lost an incredible 25% since the end of June. Gold corrected in this time only 7%. The well known ratio gold vs XAU skyrocket intraday to over 6 - ratios of > 5 are considered as buy levels for mining stocks and historically, the return in 11 out of 12 occasions after 12 months was 40%.
Going back in time, the ratio is currently on the second highest value since 1984 or in other words: mining stocks can now be bought relatively to the underlying metal for the second cheapest time since the year 1984!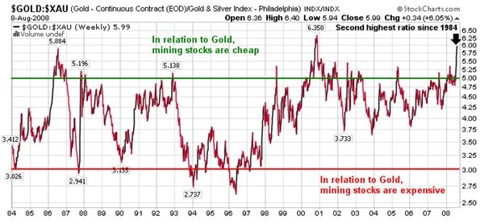 But in my opinion, this gold vs XAU ratio does only work if the fundamentals have not dramatically changed. There have been some negative changes recently such as higher mining costs, lower profit margins and much higher risk aversion from investors. Taking these changes into account, the ratio is still signaling a buy level but only for investors who are able to take the risk and who don't have to sell because of margin calls in case the market is diving further.
I'm very upbeat that mining stocks are offering great entry points now, but can't say if the worst is already over. Selective buying in hammered big cap stocks should work out fine.
As for the juniors and particularly the exploration companies: many will not survive and this is good. There have been too many companies that never achieved anything in years and only absorbed good money. Once the wash out is over, the remaining companies will have a very bright future. Many juniors are trading now on ridiculous levels but as long as risk aversion remains at the current high levels and as long as forced selling is putting pressure on mining stocks, I don't see any substantial recovery soon.
This matters for traders, but not for investors, they can now start buying the pearls for prices not seen for years or maybe not seen since the bull market started in 2001.
Gold is also very close to its 300 day moving average which was a very strong support in the past: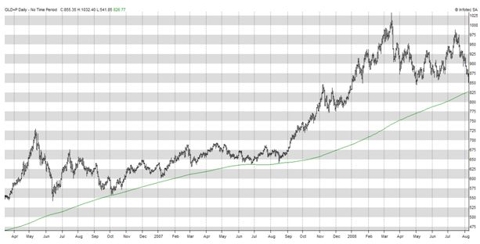 The support is at approximately $825 - I see this level as kind of lowest bottom. Once tested, I expect the bull market in gold will resume its up ward trend and very likely test the $ 1'000 mark at the end of the year. Stocks will eventually follow up as well.
I recommend investors should buy the SPDR Gold Shares (NYSE: GLD) for exposure to physical gold and the Market Vectors Gold Miners ETF (AMEX: GDX) for exposure in big cap stocks included in the GDM index. Investors with enough time and risk ability should also add some junior mining stocks to their portfolio.
But stick to the 'real' companies with existing resources, production or near term production (maximum 2 years away) and a management team with a proven track record.
Disclosure: The author is fund manager for a mining & metals fund. The author's view reflects explicitly his personal opinion.