Microsoft (NASDAQ:MSFT) has long been a favorite of value investors because of its huge stash of cash. The software giant had $63 billion in cash and cash investments in June 2012.
The company was able to spend $11 billion buying back shares in 2011 alone. It is also easy to see where Microsoft gets all that cash from; it currently has a 23% net profit margin and a 27.51% return on equity. Microsoft was able to pass this good fortune on to investors by boosting its quarterly dividend by 15%, or 3¢ a share.
Revenues

Operating Income

Report Date

06/30/2012

06/30/2011

06/30/2010

06/30/2012

06/30/2011

06/30/2010

Currency

USD

USD

USD

USD

USD

USD

Scale

Thousands

Thousands

Thousands

Thousands

Thousands

Thousands

Windows & Windows Live Division

18,818,000

18,778,000

17,788,000

11,908,000

11,968,000

12,089,000

Server & Tools

18,696,000

17,107,000

14,878,000

7,459,000

6,453,000

4,990,000

Online Services Division

2,934,000

2,528,000

2,198,000

(8,122,000)

(2,638,000)

(2,436,000)

Microsoft Business Division

23,963,000

21,986,000

18,909,000

15,688,000

13,827,000

11,664,000

Entertainment & Devices Division

9,585,000

8,716,000

8,114,000

365,000

1,135,000

589,000

Total

73,996,000

69,115,000

61,887,000

27,298,000

30,745,000

26,896,000
Where does Microsoft get all that cash? The largest source is sales to large organizations, such as businesses, governments, and schools. Education is one of the biggest sources of revenue for Microsoft. So far in 2012, Microsoft has generated around $23.99 billion in revenue from its business division. Education sales are lumped into the business division. This doesn't include sales to school through other areas of the company, such as the Windows & Windows Live Division and the Server and Tools Division, which also sell to schools.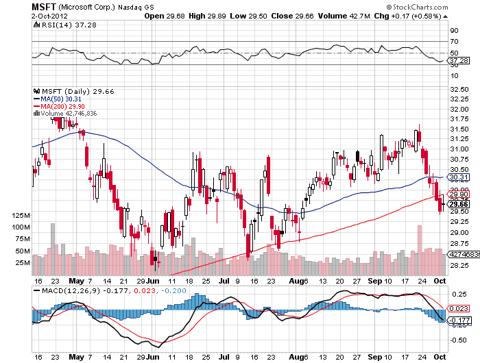 Schools Are Software Dependent
Today's school systems are highly dependent upon computers. Many of them now rely on services, such as Test Designer, which creates tests for teachers to use in almost every subject. Test Designer, created by Tribrio, is used by school teachers, corporate trainers, business professionals, and parents that homeschool their children.
Microsoft certainly understands the importance of education to its future. The company has created a special version of its Office 365, the cloud-based variant of Office for education. There's also a large catalog of Microsoft products for education at its website. Microsoft products for education include Kinect in the classroom, Lync, OneNote, Microsoft Math, and much more.
Microsoft needs institutional markets like education more than ever because of the aggressive challenges Google (NASDAQ:GOOG) and Apple (NASDAQ:AAPL) are making for consumer markets. Education amounts to a captive market for Microsoft and one that can rely on a steady source of income from the taxpayers.
Surface Will Boost Windows Use in Schools
Microsoft is creating new products that can be readily adapted to education, including the Surface Tablet, which is scheduled to come out at the end of October. The Surface is designed with business and institutional customers, like schools, in mind. It is designed to function as both a traditional computer and as a tablet.
So it might be the perfect device for the classroom. A teacher might be able to grade papers or download test templates from Test Designer while watching children out on the playground. She might be able to use it to print out the tests while she's away from the classroom.
The Surface is attractive for schools because, unlike the iPad and the Kindle Fire from Amazon (NASDAQ:AMZN), it operates on Windows, which most schools already use. It also employs programs that most school systems already use, such as Office, Excel, and Power Point. These are programs that most teachers and school officials are familiar with. Since schools tend to be conservative institutions that don't like change, it's a good bet that they will stick with what they are familiar with.
The Surface has some physical features that might appeal to teachers as well, including a keyboard and a larger screen. It is designed more as a functional business device.
The Surface also seems to be priced for institutional customers, such as schools. Steve Ballmer told the Seattle Times that Surface will cost between $300 and $800, which seems like a price range for institutional buyers, a category that naturally includes schools. If Microsoft can persuade half the school districts in the United States to buy every teacher and principal a Surface, it has a money maker on its hands.
Part of the attraction to school districts will be the savings because they will be able to buy fewer computers. Teachers can have just one device that they carry around with them so the school won't have to put a computer in every classroom. Nor will it need a PC in every office.
This, of course, creates an opportunity for education software specialists like Tribrio, the maker of Test Designer. It will be easier than ever before to utilize software in the classroom and easier to access the software via the cloud. Cloud platforms like Microsoft's Office 365 make it easy for individuals with tablets to access services like Test Designer.
Selling software to schools may not be as sexy as a new iPhone, but it's a reliable source of steady revenue as companies like Microsoft and Tribrio understand. That, of course, is something that value investors understand.
Disclosure: I have no positions in any stocks mentioned, and no plans to initiate any positions within the next 72 hours. I wrote this article myself, and it expresses my own opinions. I am not receiving compensation for it (other than from Seeking Alpha). I have no business relationship with any company whose stock is mentioned in this article.