Trinity Biotech (NASDAQ:TRIB) has generated promising revenue growth in the last few quarters. The company seems poised to extend its growth streak, driven by superior test-kits and several products currently under development. Its recently launched Premier Hb9210 has a considerable market potential of $325 million. Sales figures from the latest quarter show a huge sequential growth. Given the solid financial position and a compelling product mix and strategy, we see an upside potential in the stock, which deserves higher valuations. For reasons that are explained below, we have a positive outlook on the stock and rate it as a buy.
Trinity Biotech is a manufacturer of medical diagnostic products for both Clinical Laboratory and Point-of-Care (POC) segments. These test-kits detect several diseases, such as sexually transmitted diseases, infections, autoimmune diseases, diabetes and disorders of the liver and intestine. In addition, the company also provides raw materials to the Life Sciences Industry. It reaches out to over 75 countries, with its own sales forces and with collaborations with distributors and partners. Over the years, the company has expanded both organically and inorganically. Recent transactions include the acquisition of Fiomi Diagnostic in March 2012 and Phoenix Bio-tech Corp. in the beginning of 2011. These companies made products for the detection of syphilis. Earlier in 2007, TRIB acquired the immune-technology business of Cortex BioChem Inc. Generally, the entire Diagnostic Industry is set to gain from the ageing population and a rising demand for rapid test evaluations.
Financial Performance:
One particular factor that has contributed to falling revenues for the last couple of years has been the divestiture of the coagulation product lines in April 2010; TRIB sold it to Diagnostica Stago for $90 million. The product line had lower margins, and since its sale, the company's gross margins have improved (Graph 1).
Graph 1: Gross Margins

Source: Ycharts
Geographically, the Americas remain the largest market, contributing 66% of total revenues for 2011, and their share has been increasing with the passage of time.
Table 1: Americas' share
| | | | |
| --- | --- | --- | --- |
|   | 2009 | 2010 | 2011 |
| Americas | 54% | 60% | 66% |
Source: 20-F
The Clinical Laboratories segment remains the largest revenue earner for the company; it brought in 78% of revenues in fiscal year 2011 and the second quarter of 2012, with the Point-of-Care segment providing the remaining percentage. Revenues for the last quarter came in at $20.8 million, up by 7% from the same quarter last year. POC revenues received a healthy boost from sales of the company's HIV-detector in Africa.
Trinity's latest device, Premier Hb9210, aims at detecting and monitoring diabetes. It was launched in Europe in the second half 0f 2011, and in the U.S. by the end of last year. The device has been a source of revenue increments, and has contributed in the increased revenues from the Clinical Laboratory division. The market views these latest developments in the diagnostics of diabetes as positive, and rightly so. Diabetes is on the rise around the world. Estimates show that 250 million people are affected by it globally. This number could touch 380 million by 2025. Furthermore, figures provided by the American Diabetes Association for 2011 show that nearly 25.8 million Americans have diabetes, 27% of whom are still undiagnosed. Needless to say, the market potential for Trinity's diagnosis device is large, at $325 million (as estimated by Trinity itself). 83 units were shipped last year with an additional 200 devices to be shipped this year, at a price of $25,000, implying a potential revenue generation of $5mn.
In the U.S., the product will be marketed and sold by the existing sales force of Trinity and through the wide distribution network of Thermo Fisher Scientific (NYSE:TMO), which is one of the largest distributors of HbA1c products in the United States. In Europe, Menarini Diagnostic has the exclusive rights for distributing the device. The partnership with Menarini will be particularly helpful; Menarini holds a 40% market share in the European HbA1c market and boasts 20 years of experience. The product offers a number of key advantages such as 1) result generation within 1 minute, which makes it the fastest test in the market, 2) a user-friendly touch-screen, 3) a patented boronate affinity technology, which eliminates interference from hemoglobin variante, and 4) reduced maintenance cost.
Premier Hb9210's sales grew to 52 instruments this quarter, representing a 67% sequential growth. Trinity awaits registration in the under-penetrated markets of China and Brazil, and intends to launch the products in South East Asia, Australia and New Zealand. The new diabetes units will definitely be important for the company's overall revenue growth. The company has several development projects in the pipeline. We forecast increased revenue generation in the POC segment. Below is the list of development projects, extracted from the annual report of 2011.
Table 3: Main Development Projects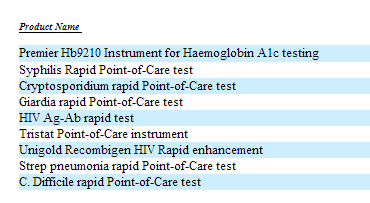 Valuations:
The stock is trading at a 52-week high of $13.84 and an ex-cash Forward P/E multiple of 11x.
Table 2: Competitors
| | | | | | |
| --- | --- | --- | --- | --- | --- |
|   | TRIB | Alera Inc (NYSE:ALR) | Bio-Rad Laboratories (NYSE:BIO) | TMO | Johnson & Johnson (NYSE:JNJ) |
| Ex-cash forward P/E | 11x | 6x | 13x | 11x | 11.5x |
| Expected 5-year growth rate | 11% | 6% | 10% | 11% | 6% |
Given the above industry average growth rate and a PEG ratio of less than 1 (0.97), we believe the stock deserves high valuations. With no debt on the balance sheet, a strong cash position and cash flows expected to increase in the coming years, the company exhibits a strong financial position. Furthermore, the company paid a dividend of 15 cents per share, which represents an increase of 50% on what was paid last year. Trinity also bought back 175,000 shares, for an approximate cost of $2 million. The current dividend yield stands at 1.1%.
Analysts' mean estimate price target is $16. 2012 expected EPS is $0.81 and $0.92 for the next full year, driven by expected sales figures of $85 million and $92.95 million in 2012 and 2013, respectively. In light of these developments, we believe that there is an upside potential in the stock, which is why we rate it as a buy.
Disclosure: I have no positions in any stocks mentioned, and no plans to initiate any positions within the next 72 hours.
Business relationship disclosure: The article has been written by Qineqt's Healthcare Analyst. Qineqt is not receiving compensation for it (other than from Seeking Alpha). Qineqt has no business relationship with any company whose stock is mentioned in this article.