Every investor knows stocks don't go up or down in a straight line. Instead, they trade up, down and sideways.
This unfriendly circuitous route makes finding seasonal tendencies valuable because they give you additional insight into sector, industry and stock sales cycles.
In Q4, investors have broad market tailwinds.
Stocks have a tendency to reward investors in the final quarter and many of those outperforming baskets tend to be the years early winners.
In the following table, I've broken out the Seasonal Investor's large cap universe by sector to see what baskets are most actionable.
Across more than 400 stocks, the average industrial goods stock has gained ground in 7.27 of the past 10 years during Q4, nicely above the 6.64 average for all sectors. Financials and basic materials are also strong bets, with the average in each climbing higher in 6.84 and 6.83 of the past 10.
While every sector has posted gains in at least 5 of the past 10 years, finding seasonally strong winners will be easier within sectors at the top of the ranking than the bottom.
Large cap sector seasonality: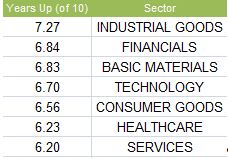 The Best Seasonal Large Cap Stocks.
35 stocks have finished the quarter higher in at least 9 of the past 10 years. But, only Traveler's (NYSE:TRV) has gained in all of the past 10 Q4's, producing a 7.76% median return.
If your watch list includes a number of stocks from this list, there's a good chance you'll be rewarded this quarter.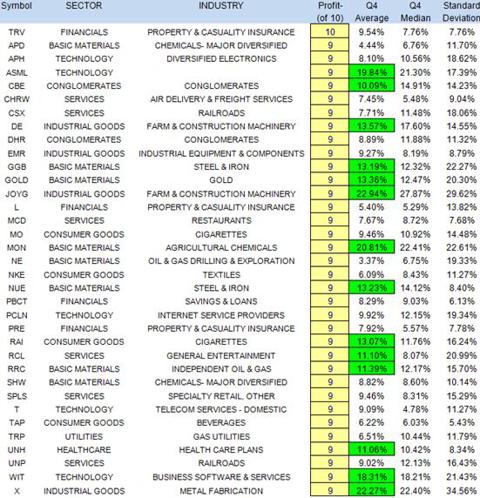 It's also useful to consider seasonality over a shorter period. Using a 5 year window provides insight into shifting seasonal trends tied to changes in product lines, management teams or customer behavior.
Across large cap, 8 stocks have finished Q4 higher in all 5 of the past 5 years.

The list is heavily weighted to services stocks, including logistics company C H Robinson Worldwide (NASDAQ:CHRW), which benefits from the holiday inventory shipping season.
McDonald's (NYSE:MCD) is also strong, with the lowest standard deviation of the group and double digit median returns. Autozone (NYSE:AZO) has been a beneficiary of car owners holding onto their vehicles longer, a trend supporting cold weather induced repair demand. Finally, grocer Safeway (NYSE:SWY) has produced strong returns as families fill carts for holiday meals.
Outside of services, two financials also make the cut. Traveler's offers upside in the final quarter as investors bet catastrophic losses will net higher premium rates and coverage demand. Intercontinental Exchange (NYSE:ICE), a major futures exchange, is strong as energy futures tend to perform well into heating season.
Outside of services and financials, only two other stocks post robust seasonality over the past five years. Priceline (PCLN) , which was weighed down last quarter by currency conversion and sluggish EU holiday demand, has been a strong Q4 performer thanks to holiday travel and winter weather escapes. United Healthcare (NYSE:UNH), which joined the Dow Jones 30 this year, also posts strong year end seasonality, benefiting as an improving job market boosts commercial membership and reform creates opportunities to serve Medicare and Medicaid recipients.
These seasonal tendencies suggest investors should hold onto or add to these positions on weakness early in the quarter for upside into year end.
Disclosure: I have no positions in any stocks mentioned, and no plans to initiate any positions within the next 72 hours. I wrote this article myself, and it expresses my own opinions. I am not receiving compensation for it (other than from Seeking Alpha). I have no business relationship with any company whose stock is mentioned in this article.