Shares of YUM! Brands, Inc. (NYSE:YUM) have returned 37% over the past 12 months. At $66.42, the stock offers a solid dividend yield at 2%, boosted by a recent dividend hike. At the current price, I believe this quality dividend stock offers decent value and warrants a long-term investing commitment, based on the following five reasons:
1. YUM's valuation appears to be attractive, based on the firm's relative financial performance (see table below). Analysts in average predict YUM's revenue and EBITDA to grow at 2-year CAGRs of 9.4% and 11.5% over the current fiscal years, largely higher than the average of 5.6% and 9.4% for a peer group consisting of YUM's competitors such as McDonald's (NYSE:MCD), Chipotle Mexican Grill (NYSE:CMG), and Wendy's (NYSE:WEN).
Although the firm's 2-year EPS CAGR of 16.9% is lower than the peer average, the difference is just subtle. YUM's EBITDA is expected to expand by 0.8% over the same horizon, compared to the group average at 1.1%. On the profitability side, YUM has superior margin and capital return measures. Except for the LTM gross margin, all of YUM's profitability metrics are significantly higher than the peer averages. It is noted that the company's 74% ROE tops the group.
YUM assumes an in-line leverage as reflected by its higher debt to capitalization ratio but lower debt to EBITDA multiple. In terms of liquidity, YUM's LTM free cash flow margin is comparable to the peer average. However, the company has lower interest coverage rate, current ratio, and quick ratio.
Click to enlarge

Overall, accounting for YUM's robust financial performance (i.e. strong growth prospects, high profitability, and in-line liquidity position) as well as the company's solid presence in the high-growth emerging markets (i.e. China, where 44% of the total revenues were generated in FY2011), a solid valuation premium should be reasonably warranted.
Nonetheless, the current share valuations at 11.7x LTM EV/EBITA, 20.8x LTM P/E, and 34.3x LTM EV/FCF represent an average valuation discount of 6% to the three peer-average EV/EBITDA, P/E, and EV/FCF multiples (see table above), suggesting a fairly cheap stock price.
2. Accounting for YUM's earnings growth, the stock trades at 1.5x PEG, which is very comparable to the peer average.
3. Both YUM's LTM EV/EBITA and LTM P/E multiples are only slightly above their 5-year historical averages at 20.0x and 10.2x (see chart below), respectively, despite the fact that the company's revenue growth had increased from 9.1% in FY2007 to 11.3% in FY2011 and EBITDA margin had also expanded from 17.7% in FY2007 to 20.7% in FY2011. It is noted that both the estimated revenue growth rate and EBITDA margin remain robust at 10.1% and 21.3%, respectively, in FY2012.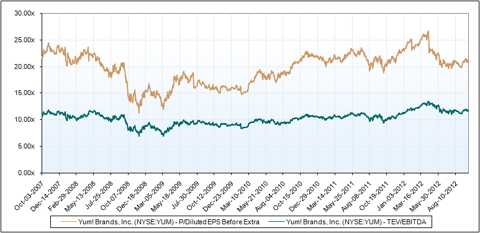 4. From a technical point of view, the stock's 200-day simple moving average has been supporting the upward price trend since late 2009 (see chart below). The stock has recently been trying to drop through the technical price support. But due to YUM's solid financial estimates (see tables below), I believe the 200-day SMA will likely continue to sustain the upward momentum.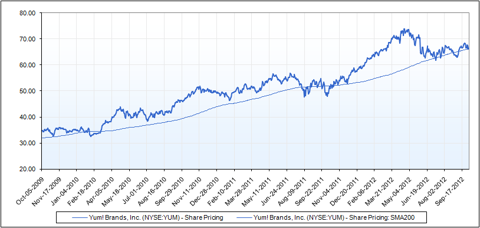 5. YUM appears to have a quality dividend policy and ample financial resource to support the current pace of dividend growth. Since 2004, annual dividend per share had been raised from $0.15 to $1.07 in FY2011 (see chart below). Over the past five fiscal years, the dividend per share had steadily increased at a significant 4-year CAGR of 16%.
Moreover, historically, YUM's annual dividend paid only represented less than a half of the free cash flow generated (except for the 2008/2009 economic downturn) (see chart below), indicating an ample room for further dividend hikes. Additionally, YUM's LTM payout ratio based on the earnings is currently the lowest in the peer group, compared to MCD's 50.3%, Brinker International's (NYSE:EAT) 33.1%, and WEN's 454% (see chart below).
Alternatively, YUM's LTM payout ratio based on the free cash flow at 44.1% is higher than EAT's 28.1%, but significantly lower than MCD and WEN's 66.8% and 405.2%, respectively (see chart below). The relatively low payout ratio suggests a greater capacity to raise dividends.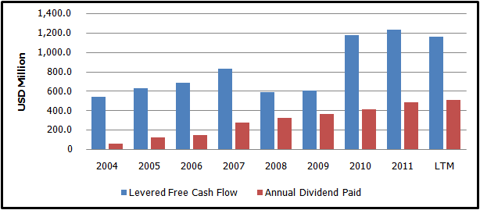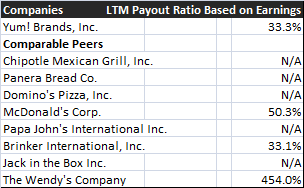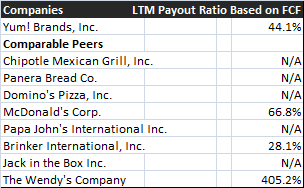 Bottom line, in the light of the tempting valuations and the sustainable dividend yield, I recommend acquiring the shares at the current price. I believe the stock's valuation is partly weighed by concerns over China's overall economic slowdown. However, as the government's strategy is to gradually shift the development focus to consumer spending in order to maintain a healthy economic structure, YUM is well positioned to ride on the government policy tailwind, given the firm's solid market share and strong brand recognition in China. As such, YUM should be a good long-term investment.
Comparable analysis table is created by author, all other charts are sourced from Capital IQ, and all financial data is sourced from Morningstar and Capital IQ.
Disclosure: I am long MCD, YUM. I wrote this article myself, and it expresses my own opinions. I am not receiving compensation for it (other than from Seeking Alpha). I have no business relationship with any company whose stock is mentioned in this article.