Reading gasoline inventories and pricing is complicated by murky data. ETF United States Gasoline Fund (NYSEARCA:UGA) provides a way to trade on the value of gasoline.
Long term: Life requires energy. Oil is finite. Owning conventional oil assets with extraction costs less than $50 a barrel will be very attractive. Shale oil has a much higher risk than conventional oil; new wells produce on average 85,000 barrels the first year, then deplete at 40% per year ("Running with the Red Queen").
Short-term, gasoline seems likely to have more upside potential than oil.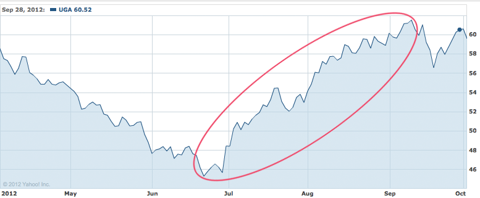 A jump in gas prices looked likely in June 2012. UGA increased from $46 to $60.
(Click to enlarge image)
In August, gasoline inventories looked extremely fragile. I guessed about a 70% probability of a gasoline panic. That panic has yet to occur, but gasoline inventories remain fragile.
A gasoline panic seems likely if inventories drop to about 190 million barrels (21 Days of Supply). A panic does not require a shortage of gasoline, only drivers shift behavior from mostly empty to mostly full tanks. In Sept. 2008,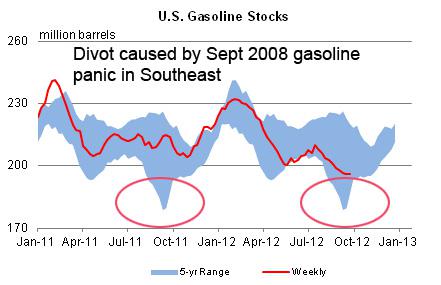 this fear pulled about 15 million barrels out of inventory in the US Southeast and resulted in 3-6 weeks of shortages. The red circles highlight this inventory divot in the graph.
The Sept. 26, 2012 TWIP report indicates the gasoline inventories are at 195.8 million barrels. Nasdaq noted Oct. 2, "Gasoline stocks in the Northeast U.S. now stand at their lowest level since at least November 1990." The US East Coast seem at the greatest risk (green line in the top right of the following graph). Much better and daily data from DOE would be helpful to assessing risks.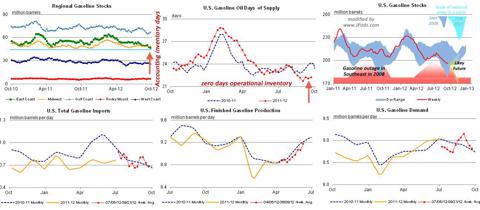 Whether the fragility in the system results in a panic is very difficult to guess. If there is a panic, UGA should be expected to jump another 10% to 50%.
Mitigating the risk of a panic:
Peak driving season has passed.
The hurricane season is nearing its end.
Higher gas prices are suppressing gasoline purchases.
Aggravating the risk of a panic and/or adding to upward price pressure:
Refinery fires in Venezuela and Richmond will suppress gasoline production.
Political, debt and labor instability in the EU may affect gasoline imports from Europe.
Oil is finite.
Existing fields are depleting at about 6.8% per year. New oil fields are smaller, capital intense to develop and much more expensive and energy intense to extract oil from.
Iranian sanctions may reduce oil feed stocks to EU refineries.
Conventional oil fields are depleting.
Political instability in oil exporting countries is a risk.
Israel and Iran have stated mutually exclusive policies that seem likely to result in war. The US military has assessed Iran's ability to close the Straights of Hormuz (20% of world oil) for a while. As noted by Art Cashin on CNBC, "There is no geo-political risk built into this market...."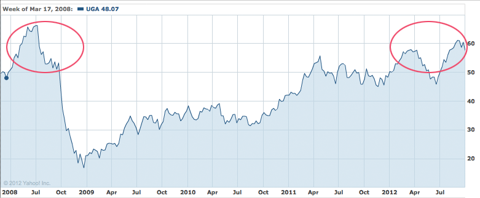 One caution. In 2008, the financial collapse caused gasoline demand and prices to plunge. A crisis in the economy could repeat that behavior. We are at a similar energy prices as in Sept 2008.
Watch every Wednesday's TWIP report. If gasoline inventories decrease, fragility and price volatility will likely increase. Watch for any labor strikes in European refineries to impact inventories in the US East.
Disclosure: I have no positions in any stocks mentioned, and no plans to initiate any positions within the next 72 hours. I wrote this article myself, and it expresses my own opinions. I am not receiving compensation for it (other than from Seeking Alpha). I have no business relationship with any company whose stock is mentioned in this article.
Additional disclosure: Author is a shareholder in JPods, Inc., a Personal Rapid Transit company; an alternative to oil powered transportation.