Apple Inc. (NASDAQ:AAPL), the largest technology company in the world with a market cap of over $625 billion, is undergoing a surprising correction after hitting an all-time high of over $700 last month.
Last week, I mentioned in an article on SA that $640 should act as a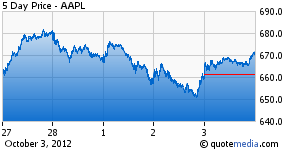 key support level for the Apple's stock in maintaining its "higher top higher bottom" cycle. Meanwhile the stock tested $650 mark and traded below the technically significant $675 level on a sustainable basis.
In this article, I'll explain why investors shouldn't buy the Apple stock in a hurry on this pullback.
Has Apple's Stock Hit Its Peak?
Dr. Steve Sjuggerud has recently argued in an article that Apple may have hit its peak.
At least 40 brokerage firms cover Apple's stock. Yet there is not a single "sell" rating among those brokerage firms. There is only one "hold" recommendation. All the rest are either "buy" or "strong buy".

If the brokerage clients are taking their broker's advice, they have all bought Apple. At this point, there is basically no one left to buy among their clients - no new source of demand for Apple stock to push it higher.
We, however, do nt believe Apple has hit its peak. We expect Apple's stock to test at least $1,000 on the upside anytime in the next two years. Fundamentally it would be impossible for Apple not to grow its earnings by at least 20% annually over the next two years.,
According to investment firm Jefferies, more than 600 million global smartphone subscribers have their contracts expiring over the next 15 months. Most wireless subscribers coming out of a mobile phone contract look to upgrade their mobile phones. Since Apple's iPhone 5 would be the best smartphone to upgrade, Apple will be able to capture a large piece of this market.
The iPhone 5 is equipped with a Qualcomm MDM9615 chip. This new chip supports LTE (long-term evolution) technology. LTE is simply an upgrade from 3G, allowing for faster speeds for downloads and video usage through mobile phone.
This special chip also supports China Mobile's 3G network. China Mobile has over 700 million wireless subscribers. Most of these subscribers are just beginning to upgrade to 3G, along with subscribers in the other 99 countries where Apple plans to launch its new iPhone in the next 80 days. Apple is also releasing a new iPad tablet in early 2013 - and is expected to launch a new television called iTV sometime in the next 12 months.
Is It Time To Buy Apple?
We say no. There's no hurry to buy the stock immediately. After climbing above $700 this year, from below $100 in 2009, we would like to see a prolonged consolidation in the $640-$710 range. During such a consolidation phase, many long-term Apple investors will cash-in on their investments and new investors will take positions in the stock.
Click to enlarge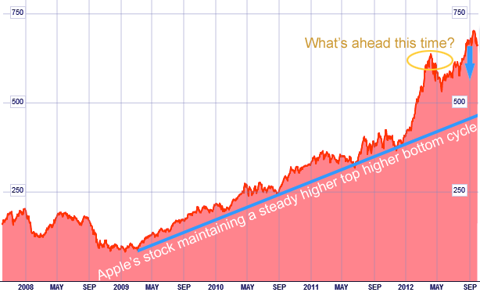 On the upside, we would consider buying only above $710 after a prolonged consolidation. On the downside, we're expecting $640 to hold. But if weakening global macroeconomic growth triggers any sell-off in the stock, $640 will break. The S&P 500 index and its tracking ETF (NYSEARCA:SPY) could witness a new down-trend, along with the commodity and precious metals market.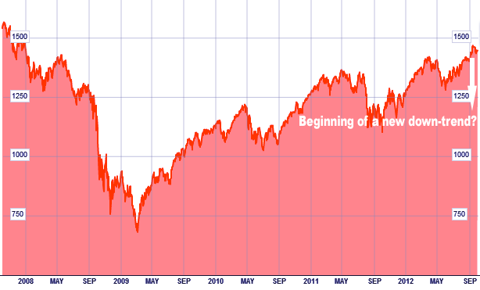 Japan's Tankan survey confirmed the deterioration in sentiment (-3 from -1), with a fourth consecutive negative reading. China's official PMI remained below 50 for the second consecutive month. Europe hasn't yet recovered from the worst economic crisis it has seen. The announcement of another quantitative easing program by the Fed may lead to a risk-off trade, near term.
If $640 Doesn't Hold?
Given the VIX is trading near the historic low levels, any spike in volatility near term could trigger a mild sell-off in the markets. In that case, $640 will certainly break for Apple. If that happens, the stock may succumb under tremendous selling pressure, as this would initiate the formation of a "higher top lower bottom" cycle after a long time; $500 could also be tested. That would be a golden opportunity to own the stock and double your money.
Disclosure: I have no positions in any stocks mentioned, and no plans to initiate any positions within the next 72 hours. I wrote this article myself, and it expresses my own opinions. I am not receiving compensation for it (other than from Seeking Alpha). I have no business relationship with any company whose stock is mentioned in this article.