Catalyst Pharmaceutical Partners (NASDAQ: CPRX) is a specialty biopharmaceutical company focused on the development and commercialization of prescription drugs targeting diseases and disorders of the central nervous system (NYSE:CNS), with a focus on the treatment of addiction, infantile spasms, epilepsy and other CNS indications. Catalyst is developing vigabatrin (CPP-109) for the treatment of addiction to cocaine, methamphetamine and other addictive substances. Catalyst is also developing a more potent vigabatrin analogue (designated CPP-115 by Catalyst) for the treatment of cocaine addiction, infantile spasms and epilepsy, as well as other addiction and CNS indications.
CPP-109 (Vigabatrin)
Vigabantrin is an irreversible inhibitor of gamma-aminobutyric acid transaminase (GABA-T), the enzyme responsible for the metabolism of the inhibitory neurotransmitter GABA. This action results in increased levels of GABA in the central nervous system. This increase in amount of GABA typically has relaxing, anti-anxiety, and anti-convulsive effects. By giving this drug to a cocaine-addict or methamphetamine addict, it prevents them from having withdrawal symptoms and eventually allows them to become free from drug addiction.
Vigabatrin is currently being marketed as Sabril by Lundbeck Pharmaceutical in the US, Canada and EU. Sabril is indicated as adjunctive therapy for adult patients with refractory complex partial seizures (NYSE:CPS) who have inadequately responded to several alternative treatments and for whom the potential benefits outweigh the risk of vision loss. Catalyst Pharmaceutical is trying to get an initial indication for treating cocaine addiction with expanded indication for methamphetamine later. The patent for CPP-109 is protected until 2018 via "method of use" patent. But, the Waxman Hatch provisions would likely extend protection for five years following its introduction, which might extend protection to 2019 or 2020
Market Potential
According to the National Institute on Drug Abuse, Illicit drug use in America has been increasing. In 2010, an estimated 22.6 million Americans aged 12 or older-or 8.9 percent of the population-had used an illicit drug or abused a psychotherapeutic medication. This is up from 8.3 percent in 2002. The increase mostly reflects a recent rise in the use of marijuana, psychotherapeutics and cocaine. The treatment for substance abuse in the United States is likely to increase by 2.5x in the aging population by the year 2020.
images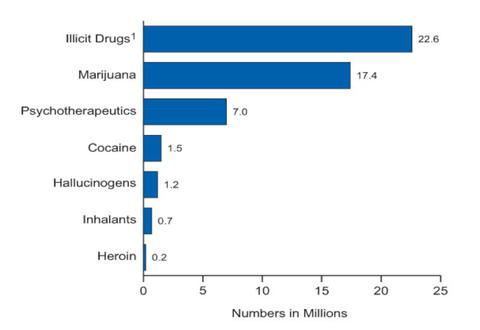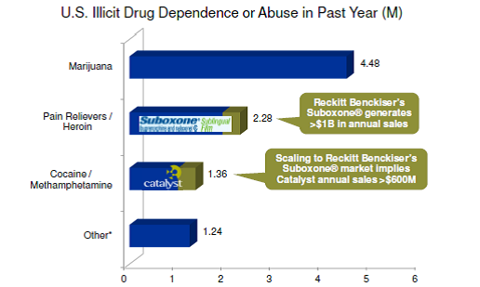 Currently, there is a FDA approved medication for opioid addiction called Suboxone (buprenorphine/suboxone) which has annual sales of more than $1B. By doing a simple inference calculation assuming that there will be 1.36M cocaine abuse in coming years will give you an estimate of $600M market share. Since there is not cocaine addiction drug in market, this will prove a tremendous advantage to Catalyst Pharmaceutical
Clinical Trials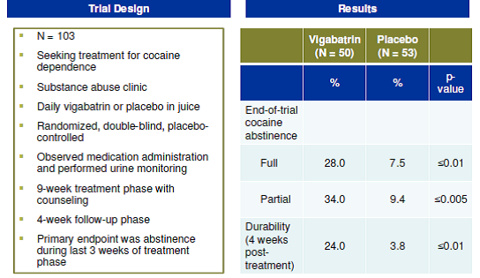 CPRX has completed a Phase II trial (not pivotal trial) that was published in American Journal of Psychiatry in 2009 in which primary endpoint (abstinence during last 3 weeks of treatment phase) was met with p value <0.05.
There were some key points to note for this Phase II clinical trial such as: study done in Mexico, the patients were required to visit the treatment center twice a week to give urine and at that time were given their daily dose under observation and for the other five days of the week, they self-administered the drug. See below for the summary of this trial.
These Mexican studies led to a phase II trial in the US which was similar in design to the phase II Mexican trial. This trial failed to produce a positive topline result which was mainly due to trial design rather than lack of activity of the drug.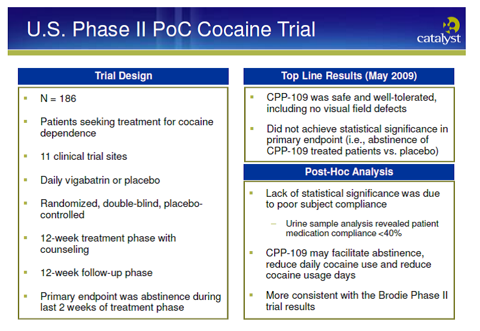 The primary endpoint was being abstinent in weeks 11 and 12 of the 12 week study. This was determined by patient self-reporting and also measuring levels of benzoylecgonine, the major metabolite of cocaine, in urine samples. Treatment adherence was evaluated through pill counts and patient self-reporting.
The study failed to meet its primary endpoint. In a post hoc analysis which looked at urine samples, it was found that 48% of the 61 CPP-109 patients that stayed in the trial were not compliant with their medication. This lack of compliance had a profound negative influence on the trial outcome. The main reason why I think the study failed is because Mexican trial included patient who were prisoners and were required to follow-up with the clinician twice a week. In the US trial, patients were recruited by academic medical centers through radio and TV ads and who were paid for their participation. In addition, US patients were generally unobserved taking their medicine and were less motivated overall to take their medication.
Catalyst Pharmaceutical is now conducting the pivotal phase IIb trial of CPP-109 in which 200 patients will be enrolled. This time the trial is only enrolling truly motivated patients who have a strong incentive to quit. In this trial, patients will receive no payment for participating in the trial. The endpoint of the study is abstinence at 8-9 weeks with patients then being followed through 24 weeks in total.
In addition, this trial is also co-sponsored by National Institute of Drug Abuse (NIDA) and Department of Veteran Affairs. The company had a PR on July 12, 2012
Catalyst Pharmaceutical Partners, Inc. today announced that it expects to report top-line results from its CPP-109 (vigabatrin) Phase II(b) trial around the end of September 2012 versus the previous guidance of early in the first quarter of 2013.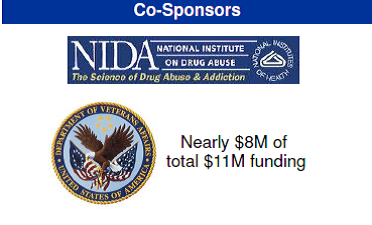 On September 26, 2012 Catalyst Pharmaceutical announced that it has been advised by the Department of Veterans Affairs Cooperative Studies Program (VACSP) (also a co-sponsor) that the availability of top-line results from Catalyst's CPP-109 (vigabatrin) Phase II(b) trial for cocaine addiction to be delayed until November 2012. VACSP now expects to provide the top-line results to the Company during the first half of November 2012.

With this press release, the stock price which closed at $1.81 on 09/25 opened at $1.44 (~15% down from its close). After carefully looking at their financials and the pivotal clinical trial design, I think the selling is overdone here. On August 28, 2012 Catalyst Pharmaceutical already raised $6M in registered direct offering for each share at $1.50. This $1.50 price makes a really good support for this company in short term. In addition, CPRX also released a PR on August 30th announcing the closing of $6M registered direct offering. As you can see, the risk of dilution is very low. Since we are only 1.5 months away from its top-line pivotal trial results, I believe we will see a potential upside to the stock to at least $1.90-2.00. The company has market cap of approximately $51M. Since this is a low float company, the hedge fund managers and traders can manipulate it very easily. The company currently has $13.0M in cash so the risk for offering and/or dilution is not there.
In my personal opinion, the company will see an appreciation in price once we are middle of October which will give it an exact 1 month period. I am planning on taking a Long position in this company at $1.35-$1.40 area if it goes there.
Price Target: $2.00 (Conservative price target)
References:
National Institute of Health. National Institute on Drug Abuse (NIDA). Drug Facts: Nationwide Trends. August 2012 (see here)
Catalyst Pharmaceutical Partners - Investor Relations
Sabril (Vigabatrin) Product Package Insert (see here)
Google Finance
Bloomberg
Reuters
Disclosure: I have no positions in any stocks mentioned, and no plans to initiate any positions within the next 72 hours. I wrote this article myself, and it expresses my own opinions. I am not receiving compensation for it. I have no business relationship with any company whose stock is mentioned in this article.