Bull markets have a certain rhythm. Looking at the chart below of the S&P 500 over the last ten years, observe that during upward legs of the market, the S&P tends to revisit its 200-day exponential moving average every six to nine months. Longer stretches come in the early part of a rebound, and shorter ones at the end.
image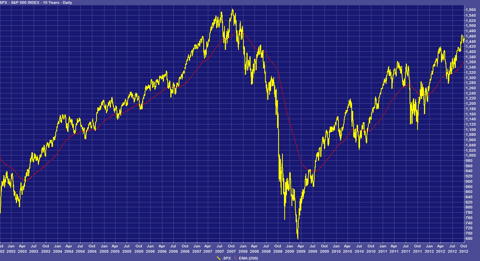 Charts are by no means laws, but they can give some indications of certain things, one of them being the degree of belief in a rally. When investor belief is finally running out, as it was in November of 2007, the S&P retreats relatively quickly to its long-term trendline. In 2007 it came a mere two months after a September break back above it. The market made its usual end-of-year portfolio mark-up run, but the bull was cooked at that point.
Another feature of the stock market is that corrections in a range of 5%-10% are common in late October, even in strong markets. One inference is that with the 200-day currently sitting at 1360, we could lose up to 100 points or so in the near future without damaging the longer-term trend. Given that we are near the top of a long-term channel, it wouldn't be surprising to see some pullback. Nor would it be a shock to see a run up to around 1470 first. The market is by no means cheap here, but it could squeeze out a few extra percent.
A second inference is that if prices were to drop much further beyond that 200-day line, it would be an indication that the current bull's time was up, regardless of any year-end mark-em-up. The last two major bear markets both began in the fourth quarter.
That's a lot of talk about charts, but it's what comes with a trading market. The outlook is quite uncertain at this point, another reason traders resort more to charts. The main bull support points are a bid on the hope trade, namely quantitative easing, the economy might not be falling into recession, and Europe might not fall apart.
I have to say that as a traditional long-term investor, those aren't compelling reasons to be buying stocks. It sounds very much like a late bull-market tune that I've heard before. Earnings growth has slowed or stopped, the global economy is slowing, and the excuse for not selling really boils down to one thing - the market might keep going higher first.
As a long-time investor, though, I'm also aware that however much a late-stage bull market may appear to be staggering, it can keep going a surprising amount of time on momentum and hope. Just getting to the end of the year intact would convince many that the market was more or less safe until the latter part of 2013.
A bothersome point is that the catalysts for rallies this year have not been earnings-driven. Markets have sold off after the first and second quarter earnings seasons. The two drivers of stock prices since April have been the hope or fact of either central bank action or collapse avoidance in Europe.
Investor or hope-trader, you have to be worried that the central bank tool kit is closing in on empty. QE-infinity has undermined the Fed to a certain extent - while it could always announce an expansion of its program, at this point the rally wouldn't last more than a day. I don't doubt that stories of ECB bond-buying still have a few rallies left in the quiver, but the bulk of ECB action has already been telegraphed.
The markets have fallen into the kind of weak complacency that is characteristic of the months leading up to a major breakdown: Yes, there are worries, but somehow we'll get through. An example of the addiction to props could be found in a series of Tuesday morning headlines on Bloomberg.com - German September car registrations down 11% y/y; French car registrations were down 18% y/y; Brazil car sales plunge in September as tax breaks lose punch; and then the kicker: "US stock futures rally, boosted by optimism regarding Spain." It would be funny if it wasn't true.
Another example of hope trading comes from Bloomberg, where one of the most common story lines I see is optimism over China stimulus. That China had a property bubble is well known, that it is hiding its bad debts is also well known, that its export business is suffering is also well known. Will a stimulus program really fix all of that? I have to say that the last Asian country in that position, Japan, passed new stimulus programs for decades without it doing much good.
Obviously there are differences between the two situations, but the similarities are worth noting - a controlled economy that managed to seduce the free-market world into thinking it was outside the rules; a property bubble where the losses could not be recognized for social reasons; a loss of competitive position. While China will not willingly allow its currency to float against the dollar the way Japan did (nor will any other Asian country repeat what is seen in the region as the fatal Japanese error), its cost-of-labor advantage has rapidly eroded.
If you are one of the many who have begun to buy the hope-trade that Europe will muddle through in the wake of Draghi's proposal to buy bonds, I suggest that you take a look at Grant William's thorough analysis of the failing Spanish economy on John Mauldin's website. It's worth it just for the chart comparing the Spanish property bubble to the American one, not to mention the "Target2" dilemma the European banks have.
Both Spain and Greece have youth unemployment rates in excess of 50%. In exchange for even more austerity, the ECB will keep the governments on a kind of minimalist life support. The mystery of how anyone could believe that this was a tenable position will be discussed for many years to come.
In terms of economic momentum, things are indeed better in the U.S. than they are in Europe, where nearly everything keeps contracting and it now appears that France is slipping into recession too. While many indicators have been anemic or negative recently, both ISM readings this week turned up a monthly improvement.
I don't want to rain on the ISM readings, but they could be partly price-driven (as a Goldman Sachs note pointed out), and the non-manufacturing reading can stay positive well into recession. It's definitely good that we're not slipping out of control, but we were due for a rebound from the sharp August-September slowdown.
So long as we aren't free-falling, we will get some positive months from the act of replacing things that run out. But as Dave Rosenberg noted, the drop in real disposable income is a strong headwind. The fall in oil prices might help in the fourth quarter, but oil is falling precisely because traders believe the global economy is falling. Whenever you see equities rallying while energy is plummeting, beware, because equities will usually turn to follow.
Despite these concerns, the market is behaving well this week. I wrote a week ago that after a likely Thursday rally, markets would probably see selling pressure Friday and Monday associated with the turn of the quarter and asset reallocation. After the spike on Monday's ISM print, markets sold off the rest of the day. Now after a couple of up days, prices are apt to stay restrained until the jobs report on Friday.
Yet the jobs report doesn't rate to be the big driver this time around. QE is already in the bag, so it will take a real outlier to make markets care. The release of the FOMC minutes this afternoon could have more impact. But the big move should come Monday, from the EU meeting of finance ministers. There should be news about both Spanish and Greek bailouts. Though it won't won't do anything to help the decline in either country, it might be a good time to be renting SPY, EWP (Spain) and VGK (Europe).
Disclosure: I am long SPY and may initiate a position in EWP and VGK within the next 72 hours. I wrote this article myself, and it expresses my own opinions. I am not receiving compensation for it (other than from Seeking Alpha). I have no business relationship with any company whose stock is mentioned in this article.