Despite the fact that Tesla Motors (NASDAQ:TSLA) is racking up losses, burning through cash as if it was an arsonist, and is way behind schedule with regards to producing the new Model S, the company's share price was able to bounce back 6.6% from its September 26th lows. This was even though the company had to issue nearly 7M shares to raise cash to cover operating expenses and cash burn. We find that looking at Tesla's financial statements gives us heartburn.
We think the reason why Tesla's share price has gone up even though the secondary offering diluted shareholders by over 6.5% is because Tesla's shareholders were happy that there were people foolish enough to buy into the secondary stock offering for Tesla and that the Solyndra on Wheels raised $193M. Tesla's stakeholders should be concerned that the same two entities that backed Solyndra (Goldman Sachs and the U.S. Department of Energy) were backing Tesla.
We were disappointed to see that Tesla's prospectus did not have any indication of the company's estimated Q3 2012 performance. Granted, we were aware that Tesla was struggling because it announced that it was cutting its revenue target from $560M-$600M to $400M-$440M for the 2012 fiscal year and that it was taking longer than it anticipated with regards to delivering on its target of 5,000 vehicle deliveries to customers.
But we would have liked to have the seen the financial results for the third quarter so we can quantify the company's continued struggles, rather than having to wait for the third quarter. We could see that the company's promised it would deliver 500 Model S vehicles during the quarter, yet it only produced 255. We guess that management was just a bit off with regards to its guidance.
Click to enlarge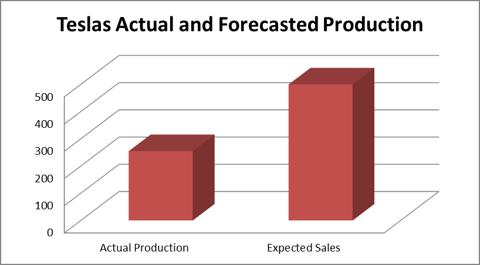 Source: Tesla's Q2 2012 10-Q and Recent Secondary Offering Prospectus
We think that electric vehicle bulls need to approach the industry with a touch of healthy skepticism. Fortunately for investors, we at Saibus Research are here to lend a helping hand with regards to providing a full, fair, balanced, objectively dispassionate analysis of the company. Even though we don't have any shares of Tesla or any other automaker, we have a sympathetic interest in Tesla and other alternative energy-related companies.
We wish all of those firms all the success in the world for at least two reasons. The first reason is that if these companies are successful, then it means that America doesn't need to import OPEC oil and doesn't need to develop its oil and gas resources. The second reason is that because so much of our tax dollars have gone to fund these boondoggles, we hope that success for these firms will result in these companies paying back the funds that the taxpayers were coerced into providing.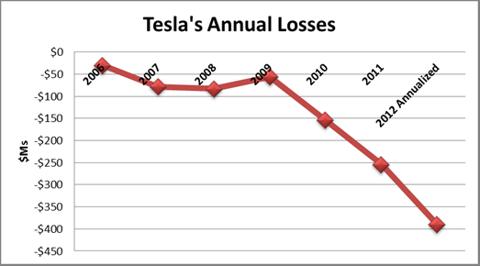 Source: Morningstar Direct
Maxim and Morgan Stanley have a target price of $50 on Tesla's shares. As overvalued as we think Tesla's shares are, we are shocked that Maxim and Morgan Stanley have assigned such a high target price for the company. Tesla is not making any money and it is having to issue raise cash by issuing shares in order to preserve its liquidity.
Considering that Tesla has been racking up losses as far back as 2006 and has a track record of overpromising and under-delivering, we believe investors should avoid or sell their shares until the company regains the trust of the investment community. The CFA Institute's Chartered Financial Analyst Program heavily stresses the importance of suitability and known interest when discussing investment opportunities, especially to the public. Based on the track record of losses, cash burn and dependence on government financing, we believe that the only investors that would find Tesla to be a suitable investment and have known interest in Tesla Motors would be wealthy masochists.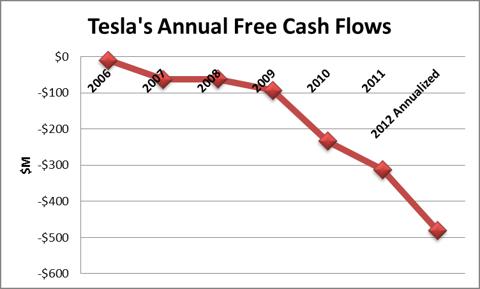 Source: Morningstar Direct
In conclusion, we're glad that this secondary has enabled Tesla to recover 80% of the cash it torched in the first half of 2012. However, we believe that Tesla's stakeholders are being overly optimistic if they think that Tesla will meet the goal of delivering 20K Tesla Model S vehicles to customers next year. The company was originally targeting production of 5,000 Model S vehicles in 2012. As of September 23rd, the company has only produced 255 Model S vehicles in the last three months. We think that Tesla's production goal of 400 units a week by the end of the fourth quarter is quite ambitious, since it only produced 255 total units since starting production of the Model S.
As of Q2 2012, the company's book value per share was less than $.60. The consensus estimated loss per share for Tesla in Q3 2012 was just under $1 a share. Because people were willing to pay 50X Q2 2012 book value for this white elephant on wheels, the company was able to more than double its per share book value even though it is expecting to rack up another $100M in losses during the quarter.
We're not impressed with Elon Musk's purchase of $1M worth of the newly issued shares. Even though Musk owns 28% of Tesla's stock and is the largest shareholder, we think that the 36K share purchase was an insult to the intelligence of Tesla's stakeholders, as well as the investment community. We think that investors should take advantage of this bounce back in the company's stock price and reduce their exposure to the Solyndra on wheels.
Disclosure: I have no positions in any stocks mentioned, and no plans to initiate any positions within the next 72 hours. I wrote this article myself, and it expresses my own opinions. I am not receiving compensation for it (other than from Seeking Alpha). I have no business relationship with any company whose stock is mentioned in this article.
Additional disclosure: This article was written by an analyst at Saibus Research. Saibus Research has not received compensation directly or indirectly for expressing the recommendation in this article. We have no business relationship with any company whose stock is mentioned in this article. Under no circumstances must this report be considered an offer to buy, sell, subscribe for or trade securities or other instruments.