While my call for 1600 on the S&P 500 (NYSEARCA:SPY) this year is almost certainly going to end up being too aggressive, stocks are breaking out yet again. 1500 is one or two good days away, and from there, it's only another 5% to the all-time high set in 2007 of 1576. I am expecting 2013 to be modestly higher, but I will save that argument for later.
After chaotic and deep tests in 2010 and 2011, the 2012 correction proved to be more normal. "Sell in May" failed, and those afraid of the potential post-Labor Day letdown were disappointed. In August, I shared my thoughts on what to do, with a suggestion to shift towards growth and smaller companies. Today, I want to update my thoughts, especially as we have several different near-term factors that could really impact security and sector selection.
While I expect higher prices, there are several different issues investors face. First, we have rallied now four straight months. While we could end up in Q4, it's not likely that we are up each month. The technical tools I use involve time and level. The market's level is ok for now and would be into the low 1500s, but, at least under my system, we could be due for a very mild correction in November (fundamentally, perhaps after the election). I have no crystal ball, but this tells me to be careful chasing extended stocks (at least by late October).
A second issue is pending tax-law changes. I have shared my views recently on what I expect will be a banner "special dividend" season as some companies anticipate a boost in dividend tax-rates. I followed up with another observation that there could be some consolidation related to pending capital-gains tax hikes, an article that leads to the conclusion that Small-Caps could benefit best from both of these trends.
Here is the what I would like to discuss today: Performance chasing. If my thesis is correct that many institutional investors are going to try to play catch-up, you need to be able to anticipate what they will buy. Now, this year is a bit tricky, but historically, this is NOT a good time to buy losers. Typically, one should wait until closer to year-end.
It's a difficult idea for many, the idea of buying a stock that's doing better than the market. It's like paying full retail price! I tend to use many different techniques and styles, and I certainly don't like to pay up either. In a perfect world, I would be able to only buy great stocks right at the bottom. Who wouldn't?
So, if you are one who is underinvested still and looking to get invested now, or, if perhaps you are just looking for some good short-term trading insight, I think that the strategy I am going to share can be helpful: Don't chase losers here!
When it comes to sectors, there is one very big loser this year: Utilities (NYSEARCA:XLU). As of 10/2, the sector is up 1.05% (before dividends) compared to 15% for the S&P 500. The sector has almost no reason to rally at this point: Interest rates are low and perceived to be at risk of rising. The valuations are fairly high relative to their long-term levels (perhaps still cheap to bonds though). Finally, there are some industry issues (regulation, etc.). So, I wouldn't play "catch-up" with XLU.
Similarly, Energy (NYSEARCA:XLE) is a laggard this year, up only 6.5%. Oil isn't acting right, and coal and natural gas sure aren't in bullish trends. Again, one is likely better served looking to other sectors. One laggard that I like is Industrials (NYSEARCA:XLI). A leader? Financials (NYSEARCA:XLF), which are still unloved for the most part.
Turning to stocks, my advice is to buy winners with the right characteristics of decent valuation and good fundamentals. This is a time to buy stocks that are working for a good reason in my view. As an example of this concept, please consider the following screen:
Russell 3000 member
Market Cap > $500mm
YTD Price Return > 20% (leader - S&P 500 is +15%)
YTD Price Return < 30% (avoid runaways)
Price vs 50dma < 110% (avoid runaways)
Note that at this point, there are 224 companies that meet these criteria! Now, lets work on the valuation and fundamentals to narrow the field:
1-year EPS Growth > 5%
1-year Sales Growth > 4%
PE vs. 5-year Average < 100%
Earnings Estimate 3-Month Revisions > 1%
Here is what we get: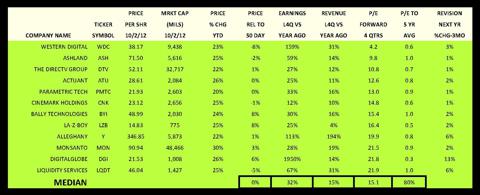 Keep in mind that this is an example and not recommendations. Still, to me some of these look like interesting ideas. I sorted the list from low PE to high, and there is quite a range. Similarly, the market caps are from Small-Cap to Large-Caps. At the bottom, I include the medians, which really tell the story: These stocks, which are all "winners" in 2012, are near their 50dma, have shown good historical growth, and trade at a nice discount to their average valuation over the past five years.
I follow some of these closely, including Liquidity Services (NASDAQ:LQDT) and Digital Globe (DGI). I like LQDT here - it has been under attack from shorts, and I think that their central thesis of losing a big customer was incorrect. The stock has pulled back to support. I believe the stock offers upside to 67.50 over the next year (25PE plus net cash), so this is one that could be good for a trade or for long-term investment. On DGI, they are in the middle of a merger, which, if approved, could draw more interest as it becomes a monopoly. My target there is 28.50 a year out, but it's somewhat complex to explain as it depends upon the merger going through.
Other names of interest to me would include Monsanto (NYSE:MON), which reported today and is down slightly. This stock has a multi-year breakout at work but is still well below its prior highs from 2008. The company seems to be well past the problems it had with generics entering the Round-Up market and is now perhaps being held back by short-term issues related to the drought.
Another one is Cinemark (NYSE:CNK), which I saw present recently at a conference in Dallas sponsored by Hodges Capital (thanks again guys!). The story here is all about Latin America and digital. This one seems like a great combination of growth and value, and I intend to explore it more closely.
Finally, Bally (NYSE:BYI) has bucked the trend, outperforming several of its rivals. I follow another player more closely - Shufflemaster (NASDAQ:SHFL) - but, again, BYI looks like a fine example of a company that has both short-term and longer-term appeal. BYI and its competitors used to trade between 20PE and 25PE consistently before the downturn. There are technology changes at casinos that could drive major upgrades for years to come.
So, to summarize, this probably isn't a time to be looking for losers. Let's do that later this year. For now, it makes sense to find performers, but to avoid overextended charts, as Q4 could prove to be choppy given the elections, fiscal cliff volatility and pending tax law change anticipation. I have shared some ideas for both ETFs and stocks, and I would also continue to suggest that alpha-seekers look into smaller companies with high insider ownership for potential special dividends and M&A take-out.
Disclosure: I have no positions in any stocks mentioned, and no plans to initiate any positions within the next 72 hours. I wrote this article myself, and it expresses my own opinions. I am not receiving compensation for it (other than from Seeking Alpha). I have no business relationship with any company whose stock is mentioned in this article.