I've never had much of an interest investing in gold or gold producers. Warren Buffett captures my feelings about gold very well with the following comments from the 2012 Berkshire Hathaway letter to shareholders:
"Today the world's gold stock is about 170,000 metric tons. If all of this gold were melded together, it would form a cube of about 68 feet per side. (Picture it fitting comfortably within a baseball infield.) At $1,750 per ounce - gold's price as I write this - its value would be $9.6 trillion. Call this cube pile A.

Let's now create a pile B costing an equal amount. For that, we could buy all U.S. cropland (400 million acres with output of about $200 billion annually), plus 16 Exxon Mobils (NYSE:XOM) (the world's most profitable company, one earning more than $40 billion annually). After these purchases, we would have about $1 trillion left over for walking-around money (no sense feeling strapped after this buying binge). Can you imagine an investor with $9.6 trillion selecting pile A over pile B?

Beyond the staggering valuation given the existing stock of gold, current prices make today's annual production of gold command about $160 billion. Buyers - whether jewelry and industrial users, frightened individuals, or speculators - must continually absorb this additional supply to merely maintain equilibrium at present prices.

A century from now the 400 million acres of farmland will have produced staggering amounts of corn, wheat, cotton, and other crops - and will continue to produce that valuable bounty, whatever the currency may be. Exxon Mobil will probably have delivered trillions of dollars in dividends to its owners and will also hold assets worth many more trillions (and, remember, you get 16 Exxons). The 170,000 tons of gold will be unchanged in size and still incapable of producing anything. You can fondle the cube, but it will not respond.

Admittedly, when people a century from now are fearful, it's likely many will still rush to gold. I'm confident, however, that the $9.6 trillion current valuation of pile A will compound over the century at a rate far inferior to that achieved by pile B."
I certainly haven't done much investing in junior mining companies that have not yet even gotten to the production stage. I find predicting cash flows from established businesses difficult enough, so trying my hand at predicting the future for developmental stage companies is usually in my "too hard" pile.
Despite my lack of interest in gold, and my fear of early stage companies, every once in a while I get a sniff of a development story that catches my attention.
This time it is an emerging Nevada gold producer called Pershing Gold Corporation (NASDAQ:PGLC) that has caught my attention.
The Property - Reopening the Relief Canyon Mine
Gold was first discovered on the Relief Canyon property in 1979 and first produced by Lancana Mining in 1984. In 1995, Firstgold Corp. purchased the mine and drilled 182 drill holes over the years through 2008 before the company was forced into bankruptcy. Pershing Gold Corporation purchased the mine from Firstgold's creditors in August 2011.
Since acquiring the property Pershing Gold has:
Consolidated the previously fractionated land ownership to gain control of the lands surrounding the Relief Canyon Mine, which has a NI 43-101 compliant inferred and indicated resource of approximately 248,000 ounces of gold;
Expanded landholdings adjacent to the mine in all directions that establishes the Company as a major landowner in the Pershing Gold and Silver Trend in the Humboldt Range;
Implemented an exploration drilling program with 89 holes completed as of September 9th (with drilling still in progress) at and near the existing mine to augment the historic database consisting of the 591 holes that previous owners drilled;
Identified new mineralization in all directions around the current boundary of the open-pit mines based on the 2011 and 2012 drilling programs;
Significantly improved its understanding of the Relief Canyon mineral system and used this new understanding to develop a new mineralization model for the Relief Canyon ore deposit to guide future exploration;
Initiated activities to recommission the heap leach processing facilities to enable near-term production of gold from Relief Canyon existing dumps and pits as well as ores from other mines;
Hired a team of mining, exploration, management, and permitting experts to put the mine back into production, discover new ore, and guide the Company to its next horizon;
Completed a sophisticated geophysical exploration program that identified numerous targets that may represent buried mineralized systems;
Drilled three holes to test geophysical anomalies outside of the area immediately surrounding the Relief Canyon Mine that discovered new hydrothermal systems and confirmed that geophysics can successfully identify attractive, blind drilling targets;
According to the company, there is little remaining capital investment that is going to be needed to get the mine back to production.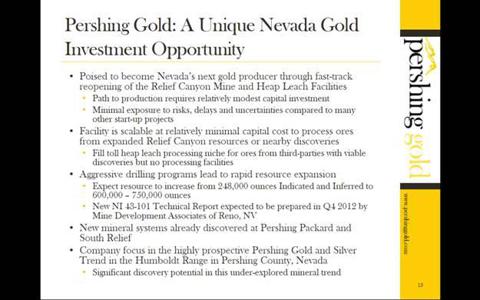 The People Involved Make Pershing Gold Interesting
Every young mining venture has a good story. Where Pershing Gold is different and why it has me interested are the people and parties involved.
Interesting Person/Party Number 1 - CEO Stephen Alfers
In accepting the job of CEO at Pershing Gold, Mr. Alfers gave up a very high ranking position (Chief of US Operations) at the multi-billion dollar Franco-Nevada Corporation (NYSE:FNV). Alfers has 30 years of experience in the mining industry in Nevada, and his move from a comfortable high paying job at a big company to this development stage entity indicates his level of belief in the project.
Interesting Person/Party Number 2 - Large Shareholder and Billionaire Philip Frost
Call me crazy, but I like to follow the smart money. I also like it when the company I own has some very deep pockets behind it in case something goes wrong and some financial assistance is required.
Pershing Gold has that with one Philip Frost who owns 19% of the company. Frost made his fortune by selling drug manufacturer Ivax to Teva Pharmaceuticals for $7.6 billion in 2005.
Having Frost's deep pockets behind the company should greatly increase the chances that access to capital is always going to be available. His big financial interest in the company also lends credibility to the project.
Interesting Person/Party Number 3 - Coeur D'Alene (NYSE:CDE)
Coeur purchased almost 11 million shares of Pershing in a June private placement. Not only does Coeur bring deep pockets like Philip Frost, but their expertise in the mining sector is a further sign that the Relief Canyon mine is more than just another high risk development.
The people involved with the story provide some real credibility to it. What provides more credibility and makes me more interested is that insiders keep making purchases of shares in the open market.
I'm not quite ready to buy shares yet, but the combination that Pershing has of experienced management, deep pocketed and savvy shareholders combined with steady insider buying have the company on my short list.
Disclosure: I have no positions in any stocks mentioned, and no plans to initiate any positions within the next 72 hours. I wrote this article myself, and it expresses my own opinions. I am not receiving compensation for it (other than from Seeking Alpha). I have no business relationship with any company whose stock is mentioned in this article.